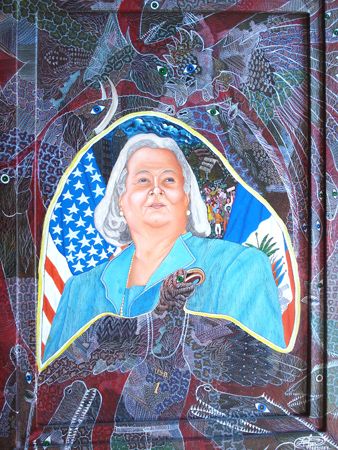 One day last year, before the earthquake hit Haiti, the artist Frantz Zephirin called his gallery in Petionville to say that he'd just met U.S. Ambassador Janet Sanderson at Toussaint l'Ouverture airport. He told the gallery owner that he'd mentioned to the ambassador a portrait of her that he'd done, and he'd told her, too, that that very portrait was on view at his gallery. He was calling now to tell the gallery owner that he would be rushing this portrait over shortly, and could they hang it right away?
Indeed very soon after, Zephirin arrives at Galerie Monnin carrying a large painting. At its center is a heroic portrait, uncannily photographic, of the blond diplomat, framed in a presidential manner by the American and Haitian flags, and surrounded -- less presidentially -- by Zephirin's surrealistic world of animal-like spirits, birds, horses, elephants, and crocodiles.
So the ambassador does stop by the gallery. She likes the painting very much (she is its target demographic, after all), and she says that she wants it. In the end, however, she leaves the country without the painting.
Then the earthquake shatters Port-au-Prince. Since Sanderson has not shown much further interest in the painting, the gallery is stuck with it. They have little faith that they will be able to sell a painting of a U.S. ambassador -- regardless of Zephirin's world-class status as an artist -- to anyone except that very same U.S. ambassador.
They decide to take the problem directly to Zephirin, who'd just done the dark, post-earthquake cover for The New Yorker. Please, they ask, is there some way he can modify his actually quite impressive painting -- modify, say, his artistic vision -- to make it more widely attractive. Meanwhile, Zephirin's been watching the television in the aftermath of the quake, and has noticed that Michael Jackson's "We Are the World" has been re-released to raise money for victims of the Haitian earthquake. So Zephirin, always quick to see a business opportunity, takes Ambassador Sanderson, and with a few quick swipes of his magic paintbrush, says goodbye Mme. Ambassador, Hello, King of Pop.
This King of Pop, it must be said, is the Haitian version, with an even more skull-like physiognomy than MJ's and a felt chapeau worthy of the Baron Samedi, voodoo's Lord of the Graveyard. The same crowd of minuscule and excited Haitians who had been cheering for the ambassador in the earlier portrait can be seen behind the shoulder of Jackson, but now they seem to be engaged in a ritual Haitian carnival parade.
The revised painting was to be on display next week in New York, along with other paintings and photographs from pre- and post-earthquake Haiti. That show, however, has been postponed until Fashion Week, in September. I'll post an announcement when it is rescheduled.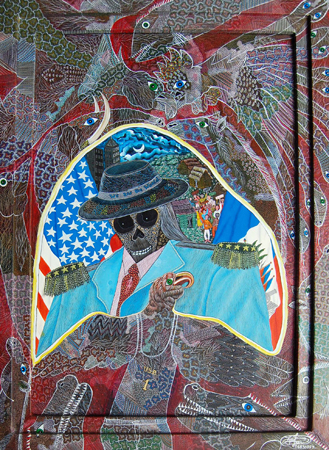 Related
Popular in the Community