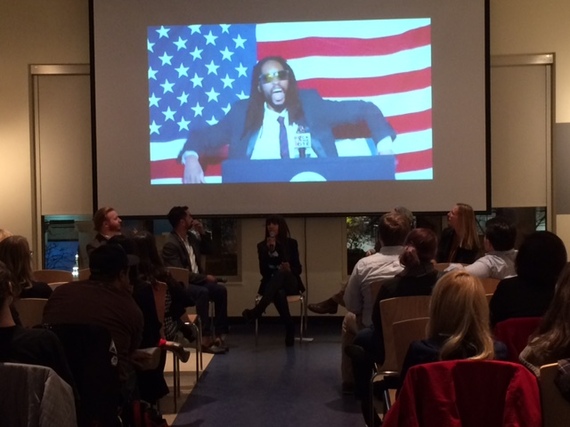 "Understand your user, and assume nothing," says Kate Watts, Managing Director, Huge Washington D.C.
This was just one of the striking comments set forth at a November panel I had an opportunity to moderate in Washington, DC entitled "Learning to Read the Cultural Landscape." In a world where movers and shakers in the public and private sector scramble to compete for attention across platforms where Nicki Minaj's and Kim Kardashian's derriere's are high on the radar of the masses today, the question many professionals ask themselves is how to rise above the noise and capture the attention of today's popular culture, tech-savvy influencer.
In an era ripe with trust deficit coupled with glorification of the self(ie), successful professionals must become better experts at deciphering trends in digital behavior, leveraging lifestyle, and linking into public sentiment in a more consistent and organic manner. In order to address such concerns, prominent individuals from both the public and private arenas came together in rare appearance to discuss challenges, triumphs and tips for the audience consisting of members from non-profits, public policy and commercial spaces.
As audience sipped wine from Washington Wine Academy, welcoming remarks were provided by Intel's Lisa Malloy who noted that the goal to become more entrenched in the modern consumer lifestyle, particularly that of milllennials, has been part of what has led to the company's interest in both wearable technology and Internet of Things. Introductory remarks by marketing software company Constant Contact echoed the need to leverage digital platforms to drive consumer and constituent connection.
Digital, however, is only the first part of the equation of success. As previously quoted by "Gone Girl" author Gillian Flynn, "We have become creatures that we've made up of different flotsam from pop culture." Thus, it is more critical than ever to understand trends, forecast, and values within popular culture, as they actually then intersect with digital platforms, in order to truly obtain to get votes, likes, buys. There is the sharing and shaping between the two that is symbiotic, undeniable, and without a doubt, powerful. Such paradigm shifts were discussed and debated among the panelists during the evening, of which Huge was presenting sponsor.
A key topic during the evening was that of the growing importance of data mining, data capture and data deciphering as part of the recipe for successfully connecting with one's target audience. Chuck DeFeo, Deputy Chief of Staff and Chief Digital Officer at the Republican National Committee and fresh from the recent mid-term election wins, commented, "Big data is actually really about getting small. It's about getting individualized. Down to right message to create; knowing as much about the individual as we can. We are using it to build meaningful relationships, people demanding it."
Dan McSwain, President of Geer and Senior Advisor to Rock the Vote and who drove the L'il Jon online video appeal to vote in the recent mid-term elections, added an important observation leaning more to that of the cultural side. "To reach people today, especially younger people, it's really about surprise and collision. Surprise and collision are great tactical tools that we've seen work, and I definitely suggest them."
Another tip for connecting in the new era came from Craft partner, Brian Donahue who pointed out that many professionals need to become wiser and move from creating messages simply for the self. He also noted that social responsibility and the way in which it is presented will be key for organizations that want to get onto any radars at all. "Younger demographics absolutely expect it, " he added. "The want to participate in the lives they are building for themselves."
The undeniable impact of mastering public sentiment, as evidenced through pop culture norms, coupled with deep comprehension of digital behavior seems to be the wave of the future. And those who will be able to operate within such parameters organically in an era where flux is the new norm will rise to the top. Game on.
Popular in the Community