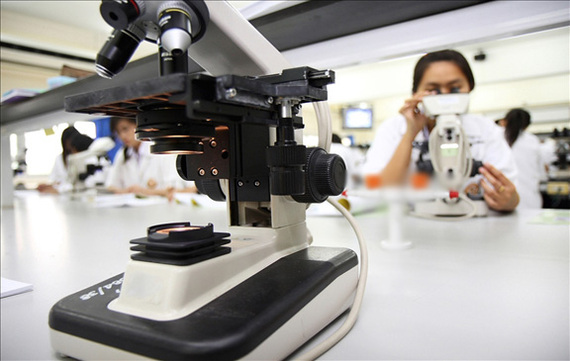 The single biggest issue that most believe is not getting enough attention or funding for research is metastatic breast cancer that is also known as Stage IV. Breast cancer that remains contained in the breast is not deadly. But if breast cancer travels outside of the breast to the brain, liver, lungs and/or bones, that is when the concern begins. As we all know, there is currently no cure for cancer and the popular belief is that there is not enough being done to find one. So I decided to do some exploration about this.
It is true that there has been a great amount of money and research and attention given to early detection but that is only reasonable since the objective is to kill or remove the cancer before it can escape from the breast. New equipment is being designed and brought to the marketplace in an effort to locate cancer sooner so that the treatment can begin sooner than later. New ways are being explored to pinpoint and kill the cancer so that treatment can become minimally invasive. More research is being done to learn about the makeup of the cancer cells in order to find a way to destroy them before they have a chance to travel outside of the breast. Yes, so much about what we are hearing has to do with early detection so that people will do everything they can to be tested and checked in the early stages before the cancer has a chance to become deadly. However, with all of that said that does not mean that work is not being done to help those whose cancer has metastasized.
From what I have learned, all of the major work that is being done in research that many believe only applies to early also applies to Stage IV cancer. Pharmaceutical companies, independent laboratories and colleges and universities all over the world are developing new chemo treatments all the time. They are doing research into the DNA of different cancers and learning that different types of cancers should not be classified by their locations in the body but rather by the similarities they have in their basic makeup. New findings in these areas have improved the treatment programs that doctors are assigning to their patients. I was not able to find any major research group anywhere that has not become more vested in finding the answers needed to treat and eradicate Stage IV cancer.
If you have not already seen some of the results from all of this work, just look at the survival rates of those who are living with Stage IV cancer. It was not very long ago when a survival rate was measured only in months and not in years. Now I am seeing more people who are living for five years, 10 years, and even 20 years or more. In the past, when one or two of the available chemotherapy drugs didn't work for a person, they were pretty much given no hope for life. Now with more options and drug combinations and lessons learned, there are more people living longer and more productive lives.
Of course we don't have all of the answers yet, but every single day I am finding more and more information about new drugs, new therapies, new treatments and the promise of so much more on the horizon. So if you think that nothing is being done to help those who are Stage IV breast cancer survivors, I challenge you to take another look at all that is going on around us. Check out the progress that is being made and put it into context with what has already been done. I think that you will feel so much more optimistic about the future and have hope that the answers will be found that will result in the permanent eradication of breast cancer.