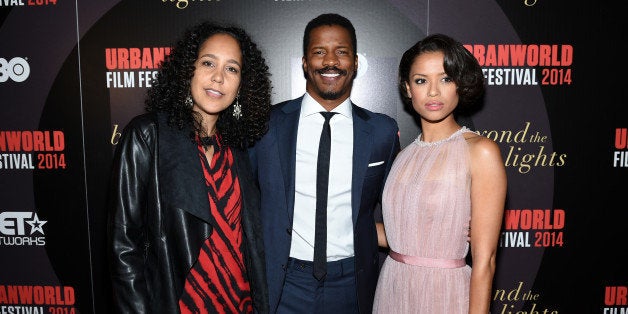 After the first preview audience screening of Love & Basketball a 17-year-old Black boy said, "The movie taught me how to love." Fourteen years later, after the first preview audience screening of Beyond the Lights, a 17-year-old Black boy said, "I didn't really believe in hope and love before but this movie changed me." That is why I make movies. Movies have power. Power to impact society and the choices we make. I want to entertain, but I also want to say something to the world.

I love movies. And I dig a great love story -- the kind that wrecks me, then builds me back up and leaves me inspired. I write what I want to see. I wanted to make a love story with two people of color in the lead. Not a romantic comedy. A love story. Beyond the Lights took incredible fight to get made. Four years of writing, and two years of overcoming "no." Every studio balked. Twice. But I kept fighting. What gave me the courage was Love & Basketball. Every studio turned down that film, too. But I never gave up because I believed in it with my whole heart and soul. I had the same passion for this story. People ask me all the time if I feel discriminated against as a black female director and I actually don't. I get offered a ton of stuff. But I like to direct what I've written. I feel what's discriminated against are my choices, which is to focus on people of color as real people. Those are the films that rarely get made and those are the films that take a lot more fight. But I'm up for the fight, because if we don't fight for this we stay invisible. I want us to look up on the screen and see ourselves reflected beautifully. I want us to look up on screen and learn how to love the right way. I want us to look up on screen and see a black man who is strong, sexy, complicated and real. I want us to look up on screen and see a black woman fighting to find her voice, find her authentic self, and be brave enough to live an authentic life. I want us to look up on screen and be inspired to want more for ourselves, to want to love, and to love ourselves.

There is a perception within our community and the world that black people don't love each other. That we don't fight for each other. That perception is so dangerous. We need positive images to counter the negative portrayals we see every day. And positive doesn't mean perfect. Perfect is boring. I want real.

But more than anything, Beyond the Lights is a really good movie experience. It is the kind of movie that should be shared. That collective explosive reaction to character, story, and music is fun. The advanced screenings have been like revivals. Audiences break into applause during the movie. Phenomenal performances. Insane chemistry between Gugu Mbatha-Raw and Nate Parker. Dope music. Beautifully complex mother/daughter and father/son relationships that are rarely explored with people of color.

You will laugh. You may cry. You will feel. And you may be changed. It is a time to be grateful. It is time to be inspired. It is a time to fight.
Popular in the Community