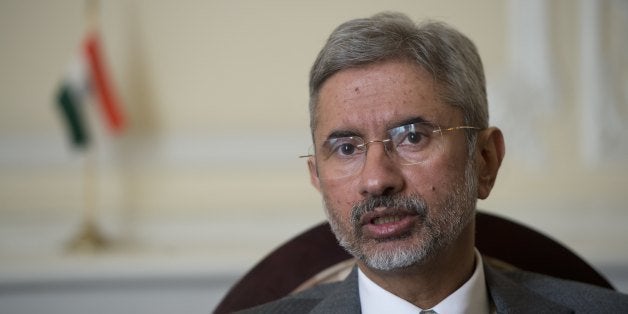 WASHINGTON -- Dr. S. Jaishankar, one of India's most experienced diplomats, has a knack for being in crucial places at crucial times: Moscow in the early '80s, the U.S. (as a political attaché) during President Ronald Reagan's second term, Eastern Europe in the early '90s, Tokyo in the late '90s, and India's ambassador to China from 2009 to 2013. He returned to the U.S. as ambassador last year at a time when ties were deepening dramatically between the two countries.

On the eve of the launch of HuffPost India, Jaishankar touched on the U.S.-India relationship, media and yoga, when he spoke with HuffPost via email just before he left for a trip home to India:
Dr. Jaishankar, thank you for taking the time to speak with us on the occasion of the launch of HuffPost India. We're very excited to do our part in expanding the global conversation. What's your sense of the role of social and digital media in India today?
First of all, welcome to the party. Clearly, social and digital media have a significant role in India. As in other areas, we see the phenomena of leapfrogging on one hand and co-existence of successive generations [of media] on the other. Professionally, it calls for a different set of skills to make the most out of them.
Well, thanks for using that skill on our behalf. We both can remember when the U.S. and India were wary, distant allies -- if allies at all. India was famously "nonaligned" during the Cold War. Now our two countries have moved much closer to each other. I know it's a complex question, but why?

We have had shared values for a long time. What has changed in recent years is the growing convergence of our interests. As for being nonaligned, its Cold War context is overplayed. At the end of the day, it was about freedom of choice and independence of thought. Both remain relevant even if times have changed. The U.S., I believe, is also coming to terms with the reality that partnerships are more appropriate now than alliances.
India is an "Eastern" country with a "Western" commitment to free speech and democracy. Does that give India a uniquely important role in the global politics of the 21st century as they relate to, say, China and even groups such as the Islamic State?

Free speech and democracy are not just Western commitments. India has a very long history of pluralism, which is the underlying value. We have chosen a political model that suits us best. Obviously we would not have done so if we did not think highly of it.
Trade and investment between the U.S. and India have expanded enormously, and I see that India recently announced measures to remove more bureaucratic barriers. What else needs to be done in both countries? Be as blunt and specific as you want!
I prefer a broader answer. We are trying to make India an easier place to do business. It is as easy as that. Which, on the ground, of course, is easier said and more challenging to get done. A lot of that is overcoming process issues rather than changing laws. The bottom line, however, is a change of mindset -- instill that commitment to improve the business climate, as much for our own business as for foreign investors.
What more can our two countries do together to deal with the challenge of climate change?

We are focusing on renewables and trying to get nuclear power cooperation restarted.
The Indian-American community is fast-growing and increasingly influential; the new U.S. ambassador-designate to your country, as you know, is Richard Verma, the first Indian-American named to that post. What's the role -- and what should be the role -- of that community in relations between our countries? How have they been helpful?

The community is a game-changer. It has shaped the American view of India and Indians. Much of the credit for the upswing in our ties goes to those people. As the relationship expands and feeds into the transformation of India, I am confident they will play a still bigger role.
Two related questions. For our U.S. readers, and those elsewhere around the world, what's the most important thing for them to know about India that they probably don't know? And for our new Indian readers, what's the most important thing they need to know about America that they don't know?

Funnily enough, the answers to the two are the same. At both ends, people don't fully appreciate how alike we are. We have a work ethic, an individualism, family values and patriotism that are similar. That is why Indians do so well in the U.S.
What do you like most about life in the U.S.? I would ask what you like least, but you are a diplomat.

Like the most? The American attitude. The "can-do" approach. Least? Baseball. It blocks cricket.
Any advice for us on how to cover the news in India?

Localize.
Can Indian-Americans do us a favor and explain the rules of cricket to sports fans, or have you concluded that that would be a waste of time?

Definitely a waste of time.
I read that Indian officials want to take back control -- marketing and branding control, if you will -- of yoga, the practice of which is booming in the U.S. and around the world. I'm curious to see what that marketing campaign is going to look like! I'm hereby giving you space in The Huffington Post to make the pitch. Which is?

Yoga is a lifestyle, an awareness. Don't approach it as a product. No one is trying to control it. It is a grass-roots phenomenon, which is why it is growing.
Popular in the Community