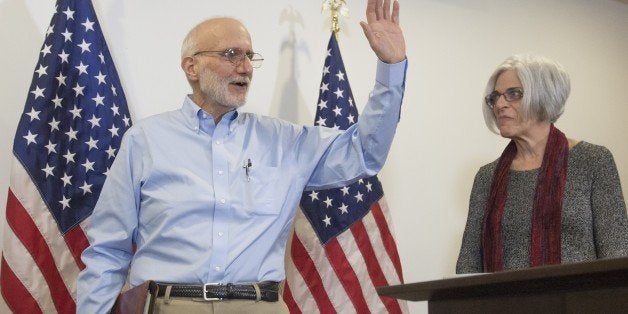 Reports that the Obama Administration is now actively working to normalize relations with Cuba should be welcome news to Americans across the political spectrum. The current state of affairs is an artifact of the Cold War that should have been changed decades ago and serves no national security or economic interest of the nation at all. It only continues as a source of hardship for Cuban-American families and the Cuban people. For many years the only real issue was one of electoral politics in Florida. Both parties believed they could lose votes and the state with any candidate that supported normalization. A recent poll, however, shows an increasing majority of Cuban-Americans support normalization, which is welcome news indeed.
Apparently the "swap" of Alan Gross who was released from jail in Cuba in exchange for three Cuban spies Cuban spies held in the U.S. who have already served lengthy prison terms was critical in moving ahead. Gross was not a spy at all and was simply trying to help install Internet service in Cuba for the Agency for International Development, albeit in violation of existing Cuban restrictions. It's unlikely that the three returning spies are going to engage in future activities harmful to the U.S. either.
In practical terms, Cuba simply doesn't deserve the treatment it has gotten from the U.S. for decades. Most of the national heartburn over Cuba relates to the Soviet Union and Cold War issues long past. Soviet missiles that precipitated the 1962 Cuban Missile Crisis are long gone, as is the Soviet Union. 90 miles from the U.S., Cuba may once have been a possible launching pad for an attack on the U.S., but that threat is long gone as well. Complaints about human rights abuses are always around and in some cases most likely justified, but in reality don't even compare to abuses in other nations with which the U.S. has long had diplomatic relations.
About the only thing left is the fact that somebody named Castro is still in charge in Cuba, but Raul Castro is scheduled for retirement and his likely successor is an economist and manager with good credentials. While he is a socialist, his focus is clearly on Cuban economic development and not hostile actions toward the U.S. The U.S. is perfectly happy with "socialist" leaders in China and Vietnam and will most likely to find this new Cuban leadership acceptable as well. For his part Cuba's retired President Fidel Castro is still around, and spends time in "revolutionary" activities such as reading the Atlantic, and inviting authors of articles he finds interesting to Cuba to talk about them. Not long ago Fidel published a piece in support of Israel and the Jewish people, disclaiming his prior support of Palestinian radicals. You don't find many enemies of America doing that these days.
Cuba today continues to suffer from two major problems. The fall of the Soviet Union left Cuba without a major source financial aid, and market for its sugar crop at supported prices. Secondly the ongoing embargo imposed by the U.S. has had a myriad of disastrous results for Cuba and its ability to interact in world markets. During a trip to Cuba last year I had the opportunity to talk about some of the economic issues and possible future scenarios. Nobody expects the Cuban political system to change dramatically any time soon, or that a non-socialist government would emerge even in the most open and democratic of elections. Looking at examples such as Vietnam it is possible to see how a socialist economy can grow, and even impress lifelong conservatives such as myself. Indeed, last year Saigon enjoyed some 14% real economic growth - which is remarkable for anyplace now.
In a world increasingly filled with Islamic extremists; terrorists; and hostile nations seeking to build nuclear weapons it would be hard to place Cuba in any of these categories. Cuba isn't training terrorists, they are training doctors to the point they have the highest per capita number of physicians in the world and are exporting them to other nations. For decades that have been investing in education, not atomic bombs.
With the Gross issue out of the way hopefully the coming negotiations will lead to restoration of diplomatic relations soon and reopening of the U.S. Embassy in Havana. It will likely require an act of Congress to remove the embargo which continues to plague the Cuban economy, but here even the coming Congress with both houses in Republican hands will see this as an area where they can easily agree with the Administration and move on to a new era of Cuban-American relations long overdue.
Popular in the Community