When we say something is driving us up the wall, most of us instantly know that it is something that is annoying us or irritating us. But to Brent Anderson, he literally thought it meant a car was going to drive up the wall of the house. Brent has autism, and alongside his mother Linda Anderson, was a guest speaker at the first Flutie Foundation for Autism Annual Partner Summit. Like Brent, many people with autism struggle to understand certain types of humor or metaphors. Given their experiences, Brent and Linda have produced a book, Unintentional Humor, documenting his experiences.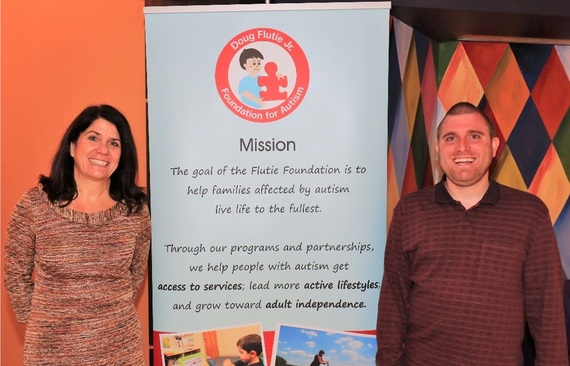 Guest Speakers, Brent and Linda Anderson, from Unintentional Humor..
Unfortunately, the experiences of many people with autism remain less pleasant. Autism affects one in 68 children in the United States, and the rates appear to be rising with every single CDC report. The amount of resources for people with autism remains woefully inadequate, a fact that rings true in many areas including health care, education, and employment. It is therefore heartening to hear about foundations that seek to play a role in tackling these challenges.
The Doug Flutie Jr. Foundation for Autism, named after the son of the legendary American football player, Doug Flutie, recently held its first ever Partners Summit. The summit announced 40 grant recipients, out of 194 applications, with grantees receiving a share of the $400k of support for their programs. This shouldn't have been a surprise for many who are familiar with the Foundation, since 1998 they have distributed over $10 million of such support.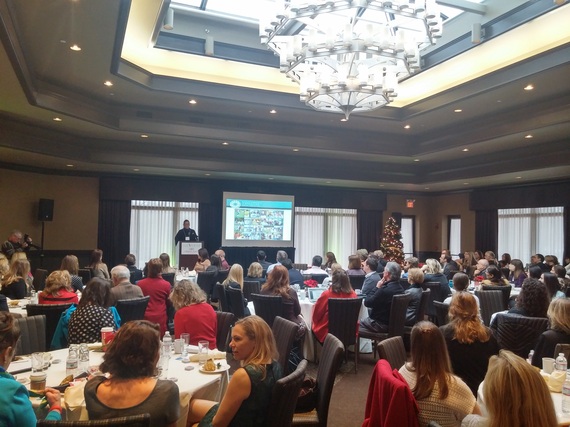 The Flutie Foundation Summit.
The Foundation's executive director Lisa Borges explained that submissions addressing three key priority areas were encouraged. These areas included the promotion of active lifestyles, improving access to services, and enhancing the independence of adults with autism. Particularly notable this year was a rise in applications involving new technology, such as wearable devices.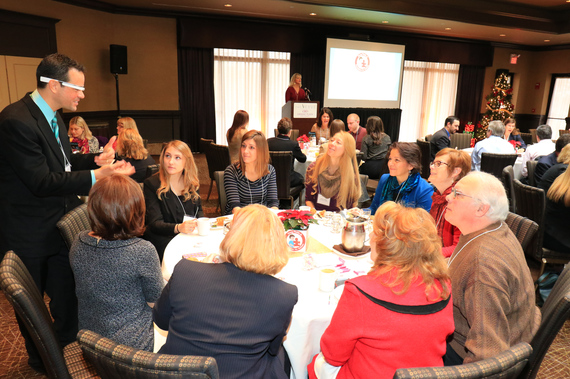 Technologist-Neuroscientist Dr. Ned Sahin of Brain Power explains Google Glass for Autism to a Table of Attendees.

Promotion of Active Lifestyles
I really applaud the focus of the Flutie Foundation on helping people with autism lead active, healthy lives. I have no doubt that Doug Flutie's sporting career influenced the focus on this priority area. In regard to their health, people with autism tend to be heavier, less likely to exercise, and be pickier eaters, when compared to their peers. Therefore an important mission is to establish healthy habits early on. The Foundation gave out a total of 16 grants in this category, including a grant to support the adaptive class program at the Boston Ballet. Over the last 12 years the Boston Ballet has offered unique dance classes to people with autism and Downs syndrome from age 2 through to adulthood; their program is aimed at helping to "foster a love of dance and creative expression for individuals with special needs." The lucky participants are trained by the Boston Ballet faculty, skilled musicians, and therapists. Attendees can showcase their skills at an end-of-year performance held at the Boston Ballet. Other active lifestyle grantees included the New York City Transit Museum, supporting their training program to help people with autism learn to use the NYC subway system.
Twelve grants were made to organizations in order to support the independence of adults with autism. Over the next decade 500,000 people with autism will leave school and become adults. Historically there have been limited services for adults with autism, with most of the investment and research focusing on younger people with autism. In fact we know that the majority of adults with special needs live at home (and don't have other options), and also remain unemployed. Spectrum Designs Foundation, one of the grant recipients, attended the Flutie Foundation event to give a presentation about their work. Spectrum Designs runs an employment training program for teenagers and adults with autism in New York State. The company has a specialized print shop where it produces a range of customized apparel using a range of specialized techniques including screen printing and embroidery.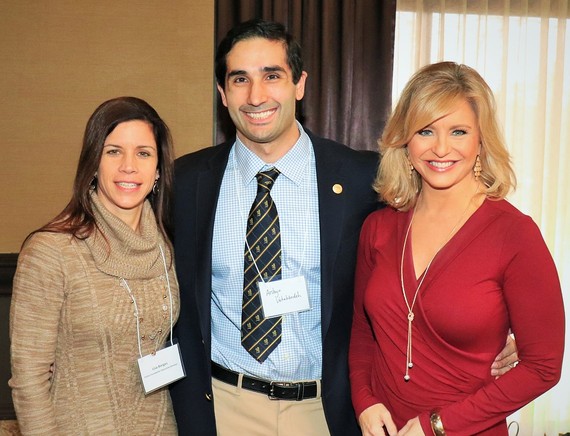 Lisa Borges, Executive Director of the Flutie Foundation. Arshya Vahabzadeh M.D., Harvard Medical School, Paula Ebben , WBZ-TV anchor and event emcee.

Access to services
The foundation also made an active effort to make grants available to directly support community organizations and schools. The focus of these projects was to help obtain educational and technological equipment, improve access to advocacy services, and also provide other services that could enhance the quality of life of people with autism. Among the projects funded by the foundation was the "Wings for Autism" initiative. In this program, children, their families, and aviation professionals, get a chance to rehearse the process of going through an airport and travelling by plane. The project is aimed to improve the experience for people with autism and decrease the stress by allowing for a practice run through the airport. Families can go through security, obtain boarding passes, and even board a plane as part of the project.
Related
Popular in the Community