Saturday night I attended the G'Day USA Gala Awards show in Los Angeles where host Nicole Kidman and AACTA President Geoffrey Rush honored top film talent in Los Angeles. The Australian Academy of Cinema and Television Arts is equivalent to our Oscar celebration and G'Day USA has been promoting the talents of our friends down under since 2004. Their stateside celebration has gotten grander every year.
The Hollywood Palladium was SRO and the red carpet talent very impressive, including Scarlett Johansson, Naomi Watts, Russell Crowe, Patricia Arquette, John Travolta, Rachel Griffiths, Keith Urban and Chris Hemsworth who received an Excellence in Film Award. Geoffrey Rush told me "even though we started back at the SoHo house ten years ago, which was a much more intimate celebration, I love this evening, this building has great history, it's grand and for the performers it still feels like an 'actor' experience."
G'Day USA honors prominent Australians from film, television, music , arts and culture, and Rush kept us laughing from the stage, one time having all the Americans try to say "G'day' properly, which we all failed miserably at, and then had the Aussies show us how to do it. "I am a qualified speech therapist," he pointed out.
AACTA fetes International Awards across seven categories and Birdman scored four of them including Best Film (Alejandro Inarritu) , Direction, (Alejandro Inarritu), Lead Actor (Michael Keaton) and Screenplay (Alexander Dinelaris, Nicolas Giacobone, Armando Bo, and A. Inarritu). Julian Moore won lead actress for Still Alice, Patricia Arquette won best supporting for Boyhood, and J.K. Simmons won best supporting for Whiplash.
Russel Crowe was asked to the stage to receive his AACTA Award for Best Film (Water Diviner) as he missed the Australian Award Show just two days earlier in Sydney due to scheduling conflicts. He handed his award back to Kidman so he could have his hands free as he spoke, admiring her stylish gown, explaining best film was a tie this year between his film and with Babadook, already being recognized as a classic horror film.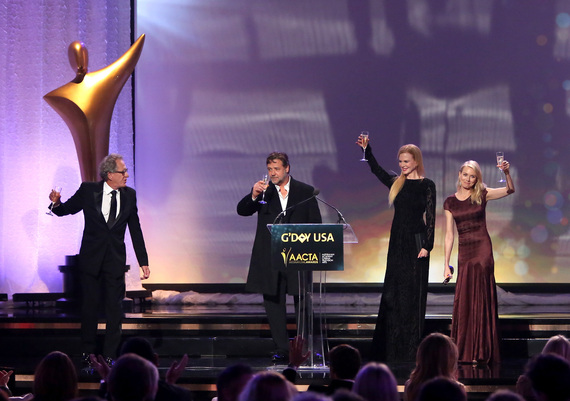 Chris Hemsworth was presented his Excellence in Film award by Scarlett Johanssen who gave him a glowing introduction where she said on the Avengers set she was just hoping some of his star dust would sprinkle on to her. Hemsworth was very gracious accepting his award, saying "We are welcomed here, and accepted, and I noticed that from day one, which I'm very grateful for." On the red carpet he talked about his childhood dream of living in L.A. and working in the industry, and how that is now only outshone by having met his wife here, Elsa Patakay.
Naomi Watts accepted the award for Director Alejandro Inarritu for Best Film (Birdman) thanking him and the entire cast and crew, who she said bonded during production, and that it was her best experience working on a film.
After the final award, Rush assured the crowd that the Americans "would leave in an hour so they could be at the gym by 6AM, but the Australians will be partying here all night, and meet the Americans at the gym at 6AM to say good night."
The party did continue for quite a while with lavish food and drink by top Australian and American chefs Neil Perry and Tom Colicchio and excellent musical artists, including Human Nature, the Australian quartet who brought their Vegas show to the stage and sang Motown as well as the original artists. Half the guests were up on their feet and dancing for hours.
This American did go home before dawn, just to stay true to form and not to outshine his Australian friends too badly, but was wonderfully reminded of how many of our beloved stars here in America are Australian.
Popular in the Community