Super Bowl Weekend has just ended, and I was very excited for the big game. But I'm not just a fan of the game: I'm a 13-year-old, 5'4'' offensive guard who takes on mostly boys twice my size. I just finished playing my ninth and final season in the Philadelphia-area Catholic Youth Organization (CYO) football program.
Unfortunately, it hasn't come without a fight. During the last two years, the Archdiocese of Philadelphia has tried to shut out me and other girls from playing CYO co-ed football. They've created rules that prohibit girls from playing contact sports due to safety and "touching" concerns. They claim to be acting in the best interests of young people.
I may be young, but I'm old enough to know that these decisions are not only unfair and unjustified, but also illegal because of Title IX regulations.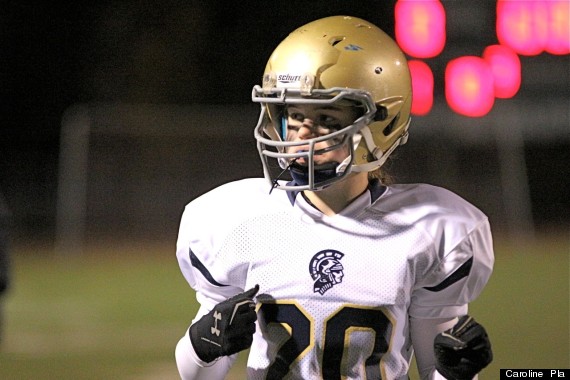 Playing the game has reinforced values born from my faith -- dignity, inclusiveness, community, discipline and respect. I was raised to believe that Catholic leaders would demonstrate these values to us. But recently, that hasn't been the case.
During the 2012 season, the Archdiocese announced that it would be my last season because of a rule that girls were not allowed to play football in the league. Right away, I knew I needed to change this rule for not just myself, but for all girls.
So I started a Change.org petition that received more than 108,000 signatures! I told my story on national news networks and shows, including The Ellen DeGeneres Show, and in March 2013, the Archbishop changed the rule to make CYO football co-ed in Philadelphia. I won my fight, and I was so happy.
But in July 2014, the bishops reversed their decision and made football once again for boys only. They let me in for my eighth grade season, but shut down the opportunity any other girl to play. I could have walked away, but I knew that I had to stay and fight this rule again for girls who want to play football.
I started another petition to continue to push them to do the right thing. Even though this policy no longer affects me, I need to make this change -- no girl should be banned from a game she loves.
My football team, the Romans, just completed our final season together by winning back-to-back championships. No team had done that in the 75-year history of the league. I'm a better person because of this experience. My teammates are my brothers -- we are a family in faith and in football, and I will never forget them.
Through all of this, I learned that no matter who you are, how old you are, whether you're a boy or a girl, it doesn't matter. Everyone has a voice that can be heard; everyone can make a difference if they have the power of determination. If you love something enough to fight for it, then good things will happen. I need you to help me raise my voice so that more girls can follow in my footsteps.
I hope that you join me in my effort to call on the bishops of Pennsylvania to allow young people like me the chance to learn and grow together, not separately. You can sign my petition at change.org/girlsinfootball.
Related