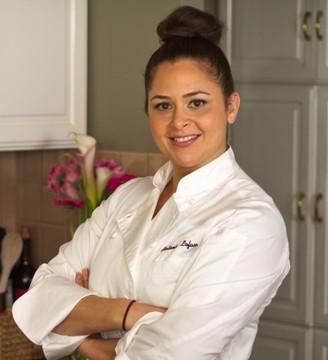 Start with a food competition show, add a talented cook, stir in some drama and charm and you've cooked up a new celebrity chef. Is that enough for success in the highly competitive restaurant business? Chef Antonia Lofaso is proof that it can be enough...if you've also got deep passion, lots of experience and an extremely strong work ethic.
She says:
"Restaurant people are a special breed, there's no other thing on the planet we want to do but cook. We are built with thick skin for a thankless job. Reality television has heightened interest in cooking and now everyone wants to be a chef but they need to understand that it's not an easy career path."
She says that reality food shows are inspiring people to want to cook and learn more about food, cultures and diversity. "It brings together the conversation of life, and that's what food truly is. The down side is that the 'old school' drive and ambition that comes from working long hours in chaotic kitchens for minimum wage is a dying breed. Everyone wants to be a celebrity chef overnight."
Paying Your Dues
Fifteen years into her craft, Antonia has earned her success through sweat, camaraderie, tears, joy and long hours away from family and friends. That, she says, is the tried and true recipe for success. She adds, "The journey is part of the process, its time well spent. My success today is sweeter because of that dedication. I've learned so many valuable lessons from failure and I have no regrets."
Opening a restaurant can be a lucrative spin-off for reality TV chefs who have made an emotional connection with their fans. Antonia now owns two successful L.A. based restaurants, Black Market Liquor Bar & Scopa Italian Roots, and benefits from that fan base who continue to support her efforts. She has appeared as a contestant on Bravo's Top Chef, All Stars and Top Chef Duels. Also, as a judge on Food Network's Cutthroat Kitchen and now as a chef consultant on CNBC's new Restaurant StartUp show.
Reality TV Meets Real Business on CNBC
Antonia loves her new gig on Restaurant StartUp. She says:
"No other reality show talks about the business side of the restaurant industry. Just because you make delicious meatballs doesn't mean you should open up a restaurant. It doesn't mean you can get a team of people behind you to follow you into battle. You can have a great idea but you have to know how to execute. You have to create balance between craft and finance. Chefs have to learn how to make their menu work so that they're not losing quality and integrity in their food while making the best product and working with a decent profit margin."
Antonia adds, "It's fun to do what you love, but in the end there's a bottom line and you've got to know your numbers. My dad used to tell me to 'Take care of the pennies and the dollars take care of themselves.' I still abide by his advice. Two percent doesn't sound like a lot when looking at daily numbers but over a year, that's my daughter's school tuition. It adds up. You've got to know your numbers and analyze constantly."
In a recent episode of Restaurant StartUp, Antonia asked a contestant about her food cost and she had no idea what that actually meant. Antonia says, "She thought it included the forks and knifes. I had to tell her that if you can't chew it, its not a food cost."

She takes the show very seriously and says, "At the end of the day, the show's co-hosts, Joe Bastianich and Tim Love, could be investing their own money in the contestant's restaurant concept. The insight that I offer could make a real difference in their lives. Restaurant StartUp shows the real business side that involves more than food."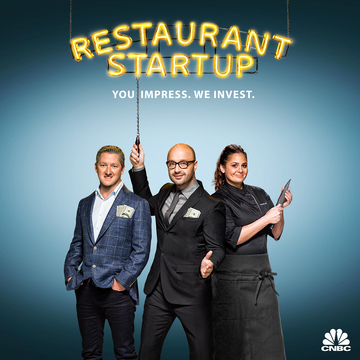 Finding Her Voice
After her initial stint on Top Chef, Antonia was offered many opportunities. She got involved with a restaurant venture that had success on a public level but it wasn't the right match for her. She considers that experience a personal failure. She jumped into the opportunity without any real analysis about what she wanted. The food part of the venture was fine but conceptually it wasn't satisfying for her. However, it was from this 'failure' that she found her culinary voice.
Antonia knew that with her next business venture she would have partners who would be a proper reflection of what she wanted to create. Her ideas and perspective would be relevant. Now, she and her business partners, Mario Gudemmi and Sal Aurora, are made from the same cloth. "We are all from the east coast, from a family of restaurateurs, and we have a simple philosophy about food. We want to give people food that they love and want to eat seven days a week. Food that's inclusive; not just for foodies, not niche. A restaurant that's for everyone will fill up at 5:00 and at midnight."
Being Transparent
In business, in life and on television, Antonia has learned to just be herself. She seems pleasantly surprised that people have been inspired by her authenticity. She says, "I didn't expect this at all. After Top Chef, other moms would tell me that it was great to see me on television; raising a child, experiencing real life problems, being open and honest."
Both at home and at work, Antonia's key to having some semblance of sanity and balance is the team of people who help her get through the day. Her parenting philosophy with her 15 yr. old daughter is quality over quantity.
She says:
"The moments with my daughter are quality time, because I'm present. Working moms are a guilty bunch. We never think we're doing enough. Running a restaurant is time consuming and our family pays a price for that. They like to remind me about it, too! But our relationship is strong. I don't apologize for the work I put in to make our lives better."
She urges people to understand the exhausting nature of the restaurant business before they commit to owning something. It requires constant attention to attempt to have balance in life. Recently, she had to miss a family dinner and stay at work because her grill cook showed up drunk.
She says, "The time I spend with my daughter may be different than her friends' families but this is what I chose and I'm happy with that. I know my daughter is learning from my example of hard work leading to success."
In her restaurants, it's the same unapologetic and optimistic attitude. At the opening of Scopa, she told the entire staff, "Either you believe in me or you don't. I want to surround myself with amazing people who believe in me."
She says that she wants to create leadership and inspiration that makes her employees proud to be part of the success. "Even if it's just a job for them, its about keeping them inspired, excited and passionate. I want people to want to come in day after day and put their best foot forward to help execute my dream. I can't do this by myself. I want to empower others to do their best and know they're valued."

Future Goals
Antonia continues to build on the momentum of her success. In the next few years she plans on writing another cookbook, designing a female chef fashion line and opening two or three more restaurants.
She also wants to find love again and get married... but probably not on reality TV.
Calling all HuffPost superfans!
Sign up for membership to become a founding member and help shape HuffPost's next chapter