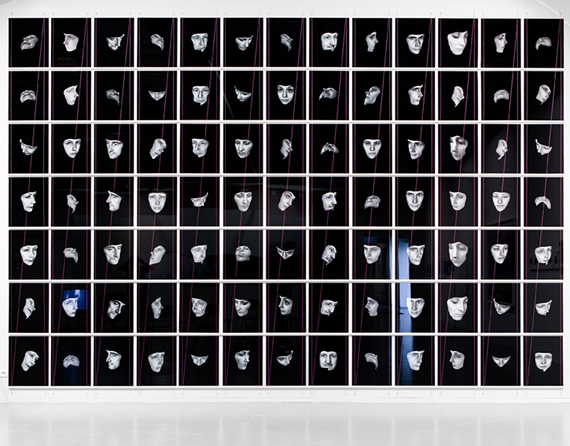 Shtik Fleisch Mit Tzvei Eigen, 2013. Adam Broomberg & Oliver Chanarin / Lisson Gallery
Surveillance.02 is an interdisciplinary exhibit that opens at East Wing gallery in Dubai, 12 March - 30 April, 2015. The artists in the show incorporate camera, satellite, and drone to question corporate and state surveillance, and energy production. As the second in an ongoing series, the Dubai show is the result of three seeds, planted over the course of the past year and a half.
The first seed is Edward Snowden. Without Snowden's revelations, the spirit animating this category of art would not be so strong: his act hovers invisibly behind our interest, whether or not the art explicitly relates to his disclosures, whether or not one supports him.
The next seed came from an idea I had after reading a Wall Street Journal article about photographers who were engaging with spying and voyeurism: that someone needed to assemble, in one place, the best of surveillance art being made now, so that its various expressions could be appreciated side by side. I curate The Half King Photography Series in New York, and knew the space wasn't large enough there. I reached out to a Liza Faktor, a co-founder of Screen, whose vision I trusted. She jumped in with me and we started to do the Surveillance Hustle: burrowing down wormholes of research about pgp keys, early surveillance art (Walker Evans on the NYC subways, Ruth Snyder captured mid-death in the electric chair), Prism, the NSA, GCHQ, Snowden, Greenwald & Poitras, Bentham's panopticon; the intersection of surveillance and race, and gender, and class, privacy rights, freedom vs. security, individual vs. type, convenience vs. privacy.


© Edmund Clark / Dulce et Decorum Est: Virtue Unmann'd, 2015
When you begin to explore this genre, you find a world of photographers, data visualization artists, filmmakers, journalists, coders, hackers, and thinkers who are treating this subject variously: some in a spirit of play and curiosity; some with outrage, to illuminate consequences; and some with a degree of irony and ambiguity. And you also bump into something that struck Liza and me as meta-amusing: the secretiveness being critiqued often shows up in the reflexes of folks who are shaking the bars of the state / corporate cage, hollering to open up.
The third seed grew from Elie Domit. Last summer, Liza received an email from Elie, Director of East Wing gallery in the UAE. He had caught wind of our Surveillance.01 show in New York City. Would we be interested in bringing it to Dubai? Over the course of East Wing's three-year existence, Elie has built a dynamic platform for photography in the context of the Middle East. His drive to show innovative, lens-based media from all over the world is indefatigable. Surveillance.02 is the first time an exhibit tackling this subject has been shown in the UAE.
We want people who come to Surveillance.02 to take away the two salient things we love about these works: first the freshness, elegance, and weirdness of the imagery; and second, the sheer nerviness of the artists' practice. The women and men making this art are placing themselves quietly but directly on the chessboard of national security, the Internet's invisible dominance, our global war on terror, Google's neutral, all-seeing, nine eyes, the fluid notion of privacy. Out of what is morally frictionless, virtual, and distant, they are extracting coherence. Whatever the brand, face, or flag attached, they are engaging with systems of power and control.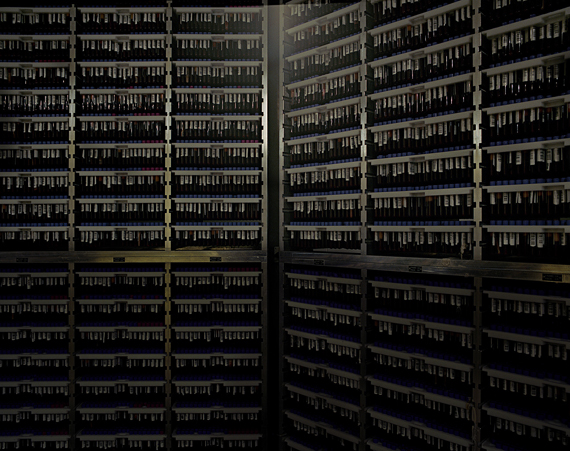 © Yann Mingard / DEPOSIT - deCODE genetics, Reykjavik, Iceland, 2013. Basement, where 500 000 pipettes of blood are stored at -25°C, 2014
Three of the artists in this exhibit are absorbed with the human face and figure. Adam Broomberg & Oliver Chanarin's Shtik Fleisch Mit Tzvei Eigen is a rhyming portrait series that co-opts a four-lens, facial recognition camera developed in Russia for security purposes. With each image assembled via multiple angles, the artists evoke the evasiveness faces acquire when folks haven't agreed to be photographed, and question how knowable a person is based on a data profile.
Massimo Berruti's Hidden Wounds is a more straightforward look at people: an ongoing portrait series of men in North Waziristan who have been affected by drone strike events; some have been injured, others have lost family members. In these intimate, black and white pictures, the men's modesty and somberness underscore their pain.
Another kind of woundedness surfaces in Jenny Odell's series Land Marks. Odell takes satellite photos of energy extraction and storage facilities, and removes most of the natural elements--surrounding forests, for instance. What's left is just the interlaced systems of machinery, the traces and gouges we create in the earth by our thirst for fuel.
Like Odell, Tomas van Houtryve looks at earth from above, in his case from the camera he attaches to his drone. In Blue Sky Days, he has guided his contraption to discover American scenes reminiscent of Yemeni and Pakistani situations that were attacked by U.S. drones.
Similarly, Edmund Clark's video installation Virtue Unmann'd stems from drone strikes but digs into history and Roman poetry. Premiering at Surveillance.02, Virtue explores traditions of virtue and sacrifice in war in the context of drone strikes on tribal areas of Pakistan that border Afghanistan.
Finally, the pockets of absurdity and bizarreness that abound in surveillance art come to the fore with Yann Mingard's Deposit, a five-year documentation of the physical locations and methods with which western culture collects and archives all sorts of data: human DNA and sperm; DNA of extinct animals; seeds; and, of course, the vast quantities of digital data that we generate traveling the pathways of the Internet.
As we continually outline what fits and doesn't fit into this genre, one of our principles has been not to belabor an all-encompassing, massive summarization of the current forms of surveillance art. Instead, we sought to create a flexible, timely response to the phenomenon of surveillance, in whatever manifestations we could most happily arrange. We did that in New York with our first iteration of the series and we aim to incorporate openness as a value in Surveillance.02 in Dubai. All are welcome in the odd, bountiful garden of surveillance.
Related
Popular in the Community