Don't expect to find Marina Diamandis gushing about her gays anytime soon. While she admits overwhelming support from the LGBT community, the Marina and The Diamonds star refuses other pop divas' seemingly obligatory means of addressing it.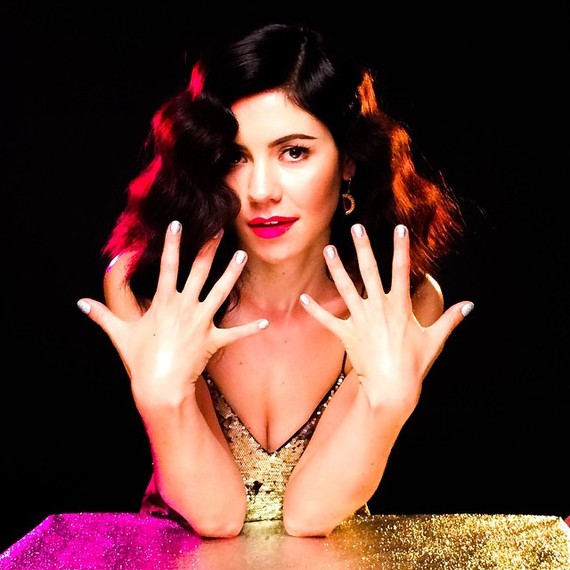 "When you're an artist, you giving a shit does not equate to going 'I love you guys!' five times a day on Twitter," said Diamandis during a telephone interview, "If you want to do something, you do it in action.
"I am always up for supporting anyone who has suffered prejudice or discrimination -- and I always will be," she went on to say of her LGBT following. "But it's not something I have publicly done a lot of yet. We'll see. It is important to me, because it makes up a significant part of my fan base."
Presumably LGBT supporters helped propel Froot, the third studio set by Marina and The Diamonds, to No. 8 on Billboard album charts last month. Still, the singer would rather her support of gay fans be genuine rather than forced.
"Sometimes I feel it's a little contrived," she stated, "I hope you can see what I mean by that, in terms of female pop stars going, 'I love my gay fan base' -- making that a thing. I don't believe in that.
"I would support that all of my fanbase is equal," Diamandis continued, "I hope I can support straight guys as much as I can teenage girls."
VIDEO: "I'm a Ruin" by Marina and The Diamonds, from Froot
It's not surprising Diamandis chooses a path different than most other pop acts in how she addresses fans. Her body of work alone showcases how divergent she is from many contemporaries.
Her 2010 debut The Family Jewels combined indie pop and New Wave influences, whereas its 2012 follow-up Electra Heart -- which produced the global hit "Primadonna" -- featured more electronic, power pop influences. With Froot, Diamandis moves in yet another direction musically.
"It's definitely not a concerted effort to make every album different, but I feel it's part of my character to try new things," she explained. "That's how I feel alive. That's how I feel I'm progressing, if I feel challenged."
Gone are most of the synth-heavy beats fans gravitated toward on Electra Heart, her first No. 1 album in the act's native United Kingdom. In their place are live instruments and a "really raw, human and energetic" sound, as found on lead single "I'm a Ruin."
"It was by doing an electronic album that I realized I was disgusted by it and didn't want to do it any more," said Diamandis with a laugh. "I actually love listening to electronic music and pop music, but for me, I'm over it. I've done that now."
VIDEO: Compare "Blue" from Froot to Carly Rae Jepsen's "Tiny Little Bows"

Describing Froot, Diamandis confessed "it's all over the place." While the electronica has evaporated, pop sensibilities abound on the 12-song set. Standout "Blue," in particular, bears a striking similarity to "Tiny Little Bows" from Carly Rae Jepsen's Kiss, a criminally under-appreciated bubblegum masterpiece. (Is it the sample of Sam Cooke's "Cupid" both tracks share?)
"I'm really happy," she said of the album. "Otherwise I'd have done a different record."
Though the star was pleased by her new direction, Diamandis knows "it was a risk." She confided those around her expressed legitimate concerns regarding the decision to shift gears musically.
"I do remember my record label saying, 'This is very different. What if the fans don't follow?'" she shared. Though she realized it was possible, Diamandis feels fans are smarter than that.
"I can tell they're attached to the person, and what that person is saying," Diamandis concluded, "I don't think they're determined by the genre of music, as long as it's good."
Popular in the Community