It's official! Trixie Mattel is back on RuPaul's Drag Race -- and it's not a moment too soon for supporters of the once ousted Season 7 fan favorite. According to Mattel, after her initial exit, many started to question the show's "reality TV" status.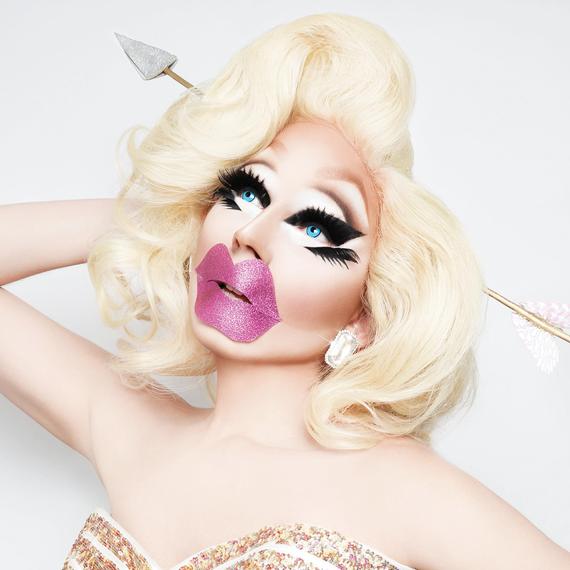 "I think Episode 4, it was the first time audiences felt like they weren't watching a competition, they were watching something scripted," shared Mattel during a video interview filmed amidst national broadcasts of Episode 8, which featured her dramatic return to the series. "That's the problem [fans] had with that elimination."
As viewers of the reality TV competition to crown "America's Next Drag Superstar" are well aware, in episode 4 contestants recorded and shot RuPaul music video parodies. Mattel and long-time friend Pearl Liaison landed in the bottom two, forced to "lip sync for their lives."
Performing a song by Blondie -- "My all-time favorite band," Mattel pointed out -- Trixie turned out an up-beat performance. Pearl, critiqued for "sleepwalking" and failing to show personality, delivered an intense if stoic routine. Many were left scratching their heads, and more than a little outraged, when Mattel was axed.
"They were like, 'This isn't supported. You're just doing this. We invest time in watching this show, it needs to be a believable competition,'" Mattel stated, "I think people were like, 'This is fake. Why am I watching?'"
Like fans, Mattel admits she too was more than a bit surprised by those results.
"I went into the lip-sync 1000-percent convinced I was going to win," she stated, "Watching it, I'm still not convinced."
VIDEO: Trixie Tells Pollo About Her Shocking Elimination, Dramatic Return, Drag Aesthetic, Shares a Sexy Secret & Much More.
Time for reflecting is over, though. Mattel is back in the game! On the most recent episode, not one but all seven eliminated queens returned with an opportunity for redemption on the line.
In what Mattel calls "the best challenge of the season," all 14 original competitors were paired up to compete in a #ConjoinedQueens runway challenge. The winning duo's previously eliminated queen would make a full-time return while a formerly safe girl went home with the (now double-eliminated) rest.
It was she called "serendipity" -- "That's like fate, right?" Mattel asked -- Trixie was partnered with Pearl. Her chemistry with the queen who sent her home, and a campy decision to portray conjoined teen pageant queens, won the judges' approval and her return to weekly TV.
Though more than excited to be back in the Race, Mattel expressed disappointment at missing three challenges. Mattel was particularly sad to skip the always hilarious "Snatch Game," where queens skewer celebrities while competing in a mock game show.
While she didn't have the "privilege" of showing her comedic skills to global audiences, fans can find Mattel's proposed impersonation on her YouTube channel. For those who haven't seen it, she hoped to play Anne Frank, a choice she indicates Drag Race banned, perhaps for good reason. Some have not responded so well to making light of the Holocaust victim, she said.
"I feel like people say, 'That's offensive' or are like 'I'm going to get in this conversation and say 'That's offensive!'" Mattel noted about backlash, "But if you read Anne Frank's diary, she says one of the things the world needs more of is comedy."
Regardless, Mattel is back in the Season 7 running -- and couldn't be happier. Moreso, she believes being part of "the most controversial elimination in Drag Race history" was a blessing in disguise."So many more people tuned in to Trixie to see what I was doing," she said, "So it's kind of worked out in my favor."
With her sites again on the prize, Mattel promises to make the most of her renewed time on the series, but taking the top prize isn't necessarily the end-goal.
"Drag Race is a platform; winning is secondary," she stated. "The search is for 'America's Next Drag Superstar,' and I'll just say this, from past seasons the 'Next Drag Superstar' they find isn't always the one who has the crown on her head."
Mattel finds inspiration in series alumni like Alaska Thunderfuck, Detox, Alyssa Edwards and Willam. All have gone on to tremendous post-Drag Race success without snatching the crown, she said.
"Winning is great; let's win if we can," Trixie concluded, "But in the meantime, find your fans. That's why we do Drag Race."
Watch Pollo Del Mar's video interview with RuPaul's Drag Race, Season 7 star Katya here.

Popular in the Community