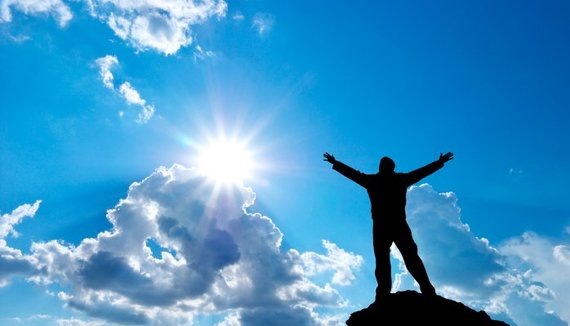 That's the way to start the day.
Arms wide open. Ready to embrace another day. Ready to deal with whatever comes our way. Easy, right?
Actually it is. All we have to do is start each day with a huge, "Thank you."
"Thank you for what" -- you ask?
Think about it for a moment. When you wake up each morning, what is the most important thing we have?
Yes -- that's right. L... I... F... E... Life! You are alive!
Think of it this way. There are many people who don't make it through the night. So when you wake each morning, you have the gift of being alive! Be thankful for it. From there, the day is ours for the making. How our lives pan out for that day comes down to how we approach our day from the moment we wake. Yes -- it comes entirely down to us.
Whilst we might not be able to control what happens around us, we can control how we react to those things -- in our attitude and what we do.
If we start each day by being thankful for our lives, we start off our day in a positive and happy way. What a great start!
From there -- if we remind ourselves throughout the day that our reactions dictate our experience and feelings about our day, then life's "challenges" seem so much easier to deal with. Right?
No matter what happens, remember you ALWAYS have the gift of life to start off your day. So make the most of it. Embrace it with a positive CAN-DO attitude, because the only limits in life are the ones WE have in our minds and the ones we allow to limit us.
There is ALWAYS a way to succeed when you have the gift of life behind you. Sometimes it just takes a little longer and a little ingenuity and effort -- but there is ALWAYS a way. All we have to do is take a deep breath, focus, and find it.
For life is a gift! Unwrap it and discover what lies within. Cherish it! Live it! Enjoy it! It is there to be lived. Celebrate it and make the most of every moment of it.
So what are you waiting for?
Say your "Good morning" to the World and "Go Get 'Em!"