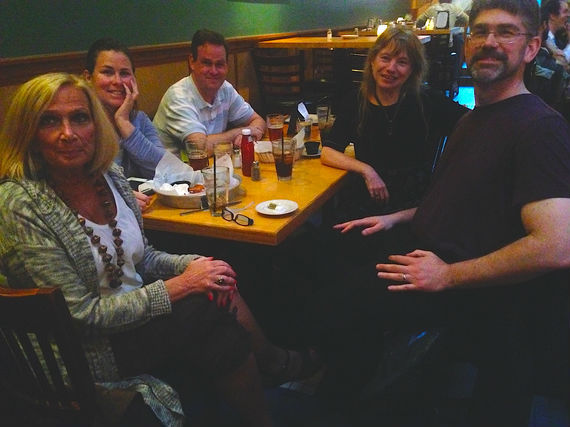 No one's ever accused progressive political activists of being insincere. But no one's ever accused them of having too much fun, either.
What would happen if someone offered liberal activists a meet-up in a fun setting? Well, a dozen years ago in back of a dive bar in Hell's Kitchen, New York, what happened was Drinking Liberally. Now sleepy suburban Chicago is into the action.
Drinking Liberally Evanston meets every Monday night at the same restaurant/bar for what the national organization calls "promoting democracy one pint at a time."
"At first there was huge energy from angsty liberals during the Bush administration," remembered Organizer-Host John Welch, a 47-year-old computer programmer who develops software for the IOS platform at a small Chicago downtown start-up. "But a lot of that energy sort of left, so they had to step up in order to keep people engaged."
The extra boost came in the form of an umbrella LLC called Living Liberally that administers to a veritable colorwheel of spin-offs including Drinking Liberally, Laughing Liberally, Screening Liberally, Eating Liberally, Talking Liberally and Reading Liberally. Each subgroup of the volunteer organization produces networks by offering community encounters built around the activities the names suggest. "Progressive action through social interaction" is their motto.
According to Welch, the opportunity for political engagement has led to collaborations with other groups, environmental clean-ups, animal rescue support, spicy conversations on global issues, board service with the Democratic Party and introductions to political candidates who have ended up in office. One such elected official is Illinois Senator Daniel Biss who attended Drinking Liberally meet-ups during his campaign. "A good friend of mine even met his wife at Drinking Liberally," he chuckled.
Attendees vary week to week, but the huddles consist mostly of educated professionals in their 30's, 40's and 50's with a few outliers who come and go.
"Everyone's welcome. People show up when they show up," Welch said. The size of the crowd is determined by what's going on in the political world. "Back during the 2008 election cycle, we had tremendous numbers of people."
REAL LIFE. REAL NEWS. REAL VOICES.
Help us tell more of the stories that matter from voices that too often remain unheard.