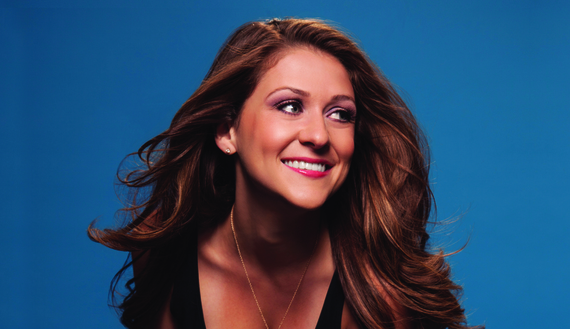 Courtney Cole's first time singing in front of an audience was almost her last. The wide-eyed eleven-year-old spent weeks preparing to sing in front of her Louisiana church for the first time. She was so confident in her preparation and eager to make her debut that right before she went onstage, she asked her piano accompanist to forego the song's introduction.

"It was a disaster," Cole recalls. "I started singing in the wrong key. I knew it right away, but I couldn't figure out how to switch when the piano came in. I barely finished, and then I immediately went to the bathroom and cried my eyes out. I told my mom I would never, ever sing again."

Despite the traumatic experience, Cole's fifth-grade resilience kicked in and she was singing in church again a couple of weeks later. Church performances soon turned into musical theater, which led Cole to attend the New Orleans Center for Creative Arts near her hometown of Mandeville, Louisiana, as a high schooler.
"I've always loved to perform and feel so at home on stage," Cole says. "I know this sounds so generic, but I love Wicked. My family names all of our animals after Wicked; my mom had a fish named Glinda, and her dog's name is Elphaba. There's a spell that Elphaba says in the play, 'Eleka nahmen nahmen ah tum ah tum eleka nahmen,' and that's my dog's name. I call her Ellie for short. Now I just need a boy dog to name Fiyero!"
Musical theater came so naturally for Cole that she almost pursued the passion after high school until a conversation with her church's worship pastor helped change her course. "I had a scholarship to go to school in Alabama for musical theater," she says. "My worship pastor said, 'You don't need to go do that that. You need to do your ultimate dream, which is touring and being onstage and singing music that you've written.'"
Inspired by the conversation, Cole applied to Belmont University in Nashville. "I got in at the last audition they had for the year and moved to Nashville, and I've been here ever since."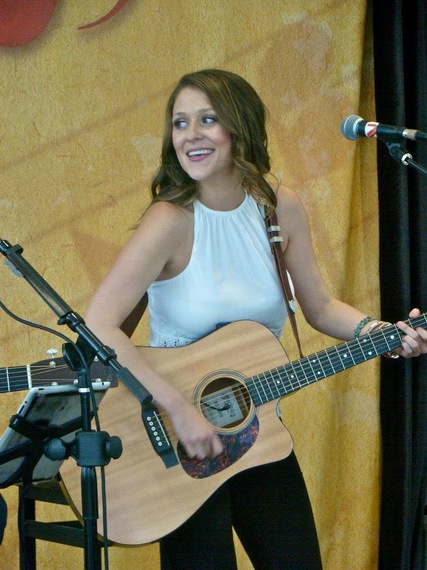 "I majored in commercial voice," Cole says. "Thank God that's a major! What else would I have majored in? Accounting? I couldn't!" she adds with a laugh. "Music is the only thing I'm good at. There's nothing else I would want to do. I respect and appreciate the people who do the business side of [music] so much because it's just so hard. I did it for a while, and I couldn't even think. It just wasn't me."
Cole calls her journey "your typical Nashville story." She explains, "I worked my way up. After I graduated, I got an internship at a publishing company...from a guy I met on MySpace, actually," the singer adds. "I worked there doing a bunch of odd jobs. I would work from 9 - 5, then sing and write from 6 - 10, because that's what I ultimately wanted to do. The company executives saw what I was doing and decided to give me a publishing deal! That's where my journey as a professional songwriter and artist really began. I've been refining my writing and crafting my sound over the last couple of years, and here I am now. "
Here is a place Cole describes as "exactly where I've always dreamed I would be." She has a new music video, "Drunk," which is making waves on CMT and GAC. Her Spotify-exclusive acoustic EP, #NoFilter, has been received well by fans and critics alike, and she'll join one of her country idols, Miranda Lambert, on an all-female country tour this fall.

"Making the video for 'Drunk' was one of the best experiences of my life," Cole gushes. "When we were finished, I looked at my manager and said, 'Can we do that again?' It was just a really fun day. It brought in the music side and my theater side."
The video was shot in Nashville, but Cole infused elements of New Orleans as a tribute to a town that she says has been a constant inspiration. "Personality-wise, music-wise, color-wise, it's just so inspiring," she says. "That's all the stuff I want to bring out in my music. We couldn't film in New Orleans because Mardi Gras was going on, so we decided to bring Mardi Gras to Nashville! If you look closely, you can see fleurs-de-lis in a few places in the video."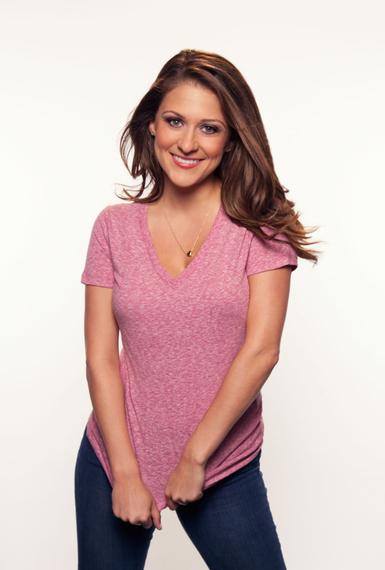 The song "Drunk" was the product of a writer's retreat between Cole and co-writers Catt Gravitt, Gerald O'Brien, and Shirazi."We wrote five songs that trip, but we knew right away there was something really special about 'Drunk,'" Cole says. "What you hear on Spotify is actually the acoustic work tape that we did in the cabin that day. I knew it would make the perfect first single and be a great stepping stone for the album." (Fans can find the fully-produced version of "Drunk" on iTunes.)
Cole's Spotify-exclusive debut also includes the beautiful ballad "Fall Like Rain," which provides a great balance to the fun, upbeat "Drunk" and "Can't Buy Love." The inspirational "Cool Girl" finishes out the four-song collection, making it a very strong showing for the Louisiana native, who is road-tested, to say the least.
She has played hundreds of shows supporting acts including Chris Young, Thompson Square, and Kip Moore. But she shows she's most excited about are yet to come. This fall, she will join one of her country-music heroes, Miranda Lambert, on a resurrection of Lambert's Roadside Bars and Pink Guitars Tour at venues across the country. The all-female lineup includes Lambert, Cole, "God Made Girls" singer RaeLynn, Lambert's Pistol Annies partner-in-crime Ashley Monroe, and up-and-coming country artist Clare Dunn.
"I'm so excited for the tour. It feels so surreal," Cole says. "Miranda's music changed songwriting for me. She changed the way that I view music in general, and writing from a personal standpoint. Her writing helped me get down to the truth of who I am as a writer and find what I want to say to the world, and it just made me want to be better."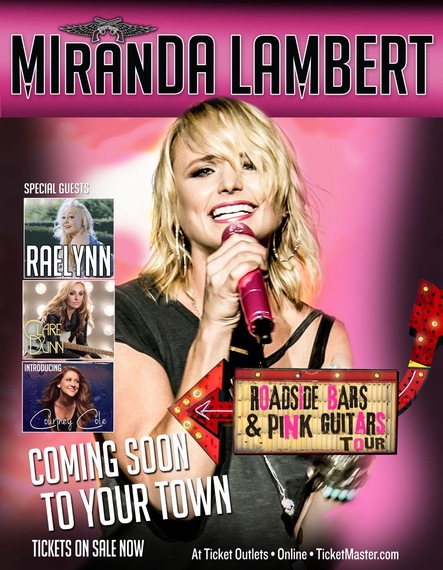 Although landing the tour with Miranda is a dream come true for the young artist, she's quick to note that there are many dreams left to achieve. And the best way to make those dreams come true? Believe in them, she says.
"If I could sum up my story in one sentence, it would be that dreams really do come true, and with a little hard work and staying positive, you can make anything happen," she says with conviction. "Your thoughts really do become your life. When I was a little girl, I would sit in my room and pretend like I was on tour. I would see the arena in my head. And the fact that I'm here now, and get to go out and play my music live on the road, it's amazing! But I knew that was going to happen from the time I was a little girl, because I believed it."
Country fans had better believe they'll be hearing a LOT from Courtney Cole in the future. Between now and the kickoff of the Roadside Bars and Pink Guitars Tour in September, country fans can enjoy her acoustic EP, #NoFilter, exclusively on Spotify. For more information, visit CourtneyColeMusic.com.
Live photo courtesy of Courtney Cole. Professional photos by Ivan Clow.
REAL LIFE. REAL NEWS. REAL VOICES.
Help us tell more of the stories that matter from voices that too often remain unheard.