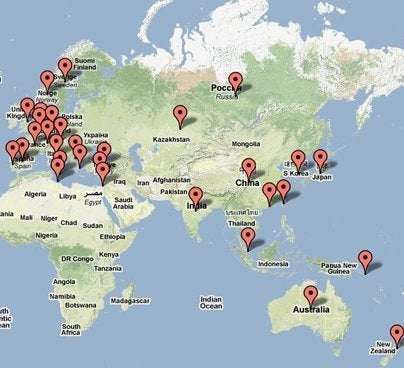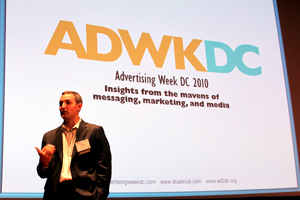 Google Mobile Ads' Senior Account Executive Elliott Nix presented Google's latest findings in mobile search trends this week at Advertising Week DC's ADWKDC.
As the world leader in search display and mobile video, Google was eager to share data on mobile search, location-based marketing, and mobile video -- which is promising for both businesses and Google services like Maps, Ads, and YouTube.
Google's latest find is a 500% growth in mobile search from 2008 to 2010. By 2011, smartphone use is projected to surpass that of today's common feature phone, says Nix. By 2013, Google predicts 50% of all web traffic will be mobile. Nix notes that mobile transactions on PayPal, which is owned by eBay, have increased by 20% in 2010.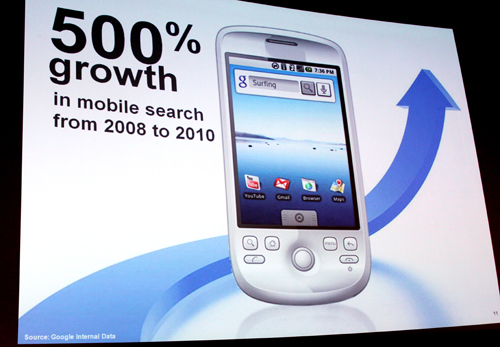 Today, Google finds the mobile user demographic is about 53% male to 47% female, and watches an average of three and a half hours of mobile video a week. They predict that the web browser will trump mobile apps as the common mobile access point to the Internet.
"You can develop for mobile now... or later, and play catch-up," says Nix.
Evaluate your own mobile site. Nix points to brands like Target and FedEx for examples of effective mobile sites -- in contrast to the mobile sites for Sarah Palin and Barack Obama -- as opportunities to improve the mobile user experience.
Plan carefully. "Don't invest any money in anything until you know what the mobile user experience [you want to create] is," says Nix. While most Google tools are free, if a company's budget just to advertise a mobile app was about $10,000 a week in 2009 -- "now, it's ten times that," says Nix. There are 350,000 other apps out there competing for attention.
Keep it simple. "Make the mobile user happy," Nix says. He suggests paring down a mobile site to three functions or less. What features work best on mobile site homepages? "It comes back to... what is it you want people to do? Build from there, and keep it as simple as possible," says Nix.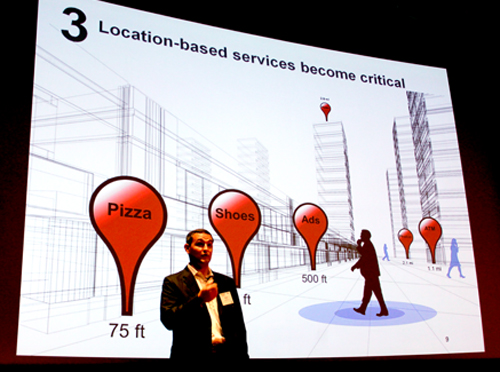 Think global, mobilize local. Optimize for fast and easy local access to product or service offers. Nix points to location-based functionality like Google Maps combined with Google Ads to offer mobile users the option to access offers quickly and easily.
Google's Mobile Tools. When it's time to make the leap to mobile, Nix points to Google Sites' free mobile landing-page builder, which integrates with Google Maps' API and Google Analytics, as a good place to start.
Video. Many people want to know best practices for mobile video. Today, long-form videos like television episodes dominate the mobile video experience, says Nix -- but he sees a trend towards shorter, YouTube style video watching as it becomes higher quality and more mobile accessible. As for mobile video ads, seven to 15 seconds is now standard, he says.
Visual search. Services like Google Goggles will be key to visual search. Nix contrasts the visual image search style used by services like Google Goggles with QR Codes. The winner is anyone's guess, but Google must be hopeful that visual image search will dominate.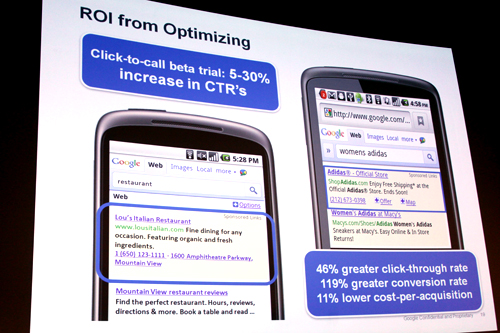 Return On Investment. For businesses, the bottom line is tracking ROI. With nearly free services, data and integration options offered by Google for mobile development, businesses are sure to find utility. From start to finish, Google Search, Maps, Sites, Ads, YouTube, and Analytics make it possible for business to go mobile, and track ROI.
Support HuffPost
The Stakes Have Never Been Higher
Related
Popular in the Community