Most people in art say it was their calling; that they had no choice. Yet as Rhona Hoffman so insightfully says, "There isn't one art world. There are many."
Two extraordinary gentlemen (who couldn't do half of what they do without their intense partnership with their wives) come together tonight for a wonderful exhibit. Tom Torluemke is exhibiting at Ed Marszewski's Bridgeport Co-Prosperity Sphere. Known by everyone as Edmar, he is probably the hardest working man in art. It is his launching pad that identifies major, non-mainstream artists whose work often sings with divergent quality.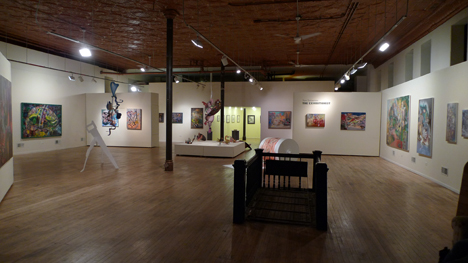 We'll get back to Edmar shortly, but first and foremost this should be about the art. Tom Torluemke is sweet, kind, gentle, clear, and insanely talented in all sorts of mediums whose art and vision keep him sane.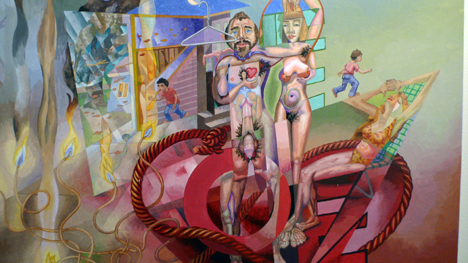 From an obviously troubled past, he reveals his former angst, passionate soul and subtle humor in all his work. Good artists draw on their experiences to fill their art. Tom used to own Uncle Freddy's Gallery with his partner and wife Linda Dorman, named in honor of his deaf-mute uncle, who was one of the few genuinely considerate adults in his not so pleasant youth. Uncle Freddy was a deaf-mute. The only way youngster Torluemke could communicate with his uncle was through drawing. They'd sit beside one another and draw, back and forth, endlessly.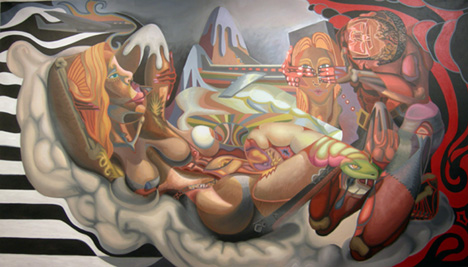 And the drawings serve as a solid introduction to Torluemke's talent. Ideas are more individually expressed, most layering of meaning is not yet in place and you can perceive core issues.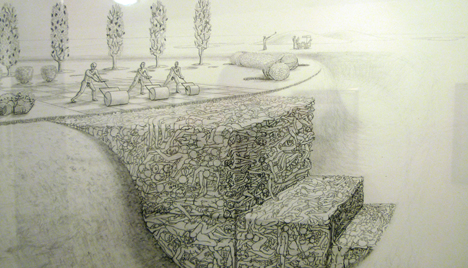 Some paintings are full of marks that resemble olives - a stand-in for the rhythmic pain of an alcoholic environment. Others share innocent, hillbilly nudity, prurient honesty and multiple layers of perception. This is art that takes time, resonates on a very human(e) level, reveals itself slowly and rewards with insights into his and our psyches.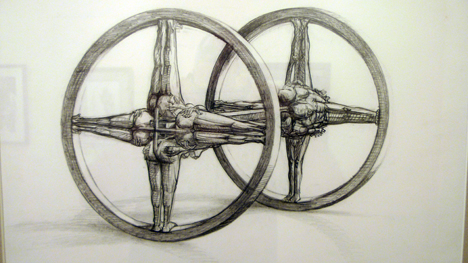 On a lot of levels, Torleumke's art is superior to much of what we see in the mainstream. There's more honesty. It's more personal. It is the artist's own style, non-adherence to convention, ability to float across multiple mediums that not only separates him from the norm, but also makes him strong and unique.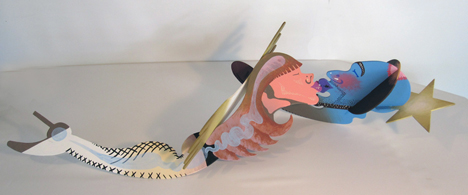 Ed Marszewski makes James Brown look like a slacker. No one works harder than him. I first met him when I was trying (unsuccessfully) to start a museum in town and he did some graphic design for me and we hit it off.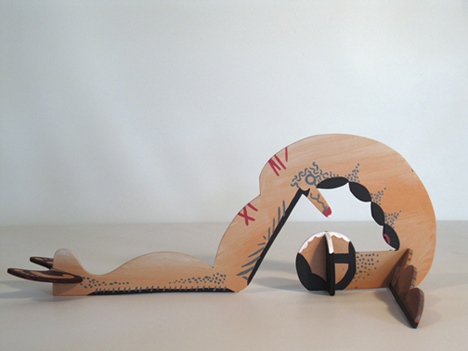 I later learned that he's a union carpenter and was thrilled to be able to use him to help install art for my McCormick gig. But that's just setting the stage.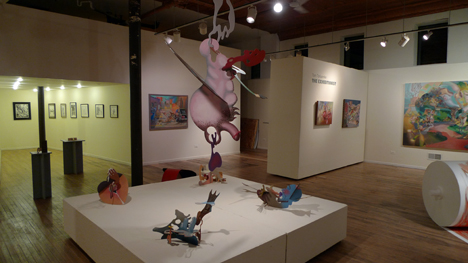 He owns, operates and subsidizes Co-Prosperity sphere with his wife Rachel. Sometimes it is hard to tell where she stops and he begins - or the other way around. Besides Co-Prosperity, there's the award winning Lumpen Magazine tabloid whose next issue explores radical theory in practice. But that's not the only magazine. There's the substantive, perfect bound, Proximity Magazine whose forthcoming issue delves into education as art.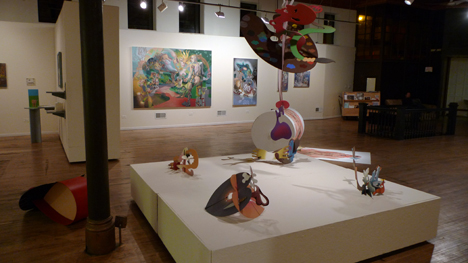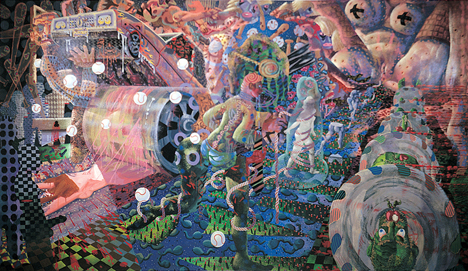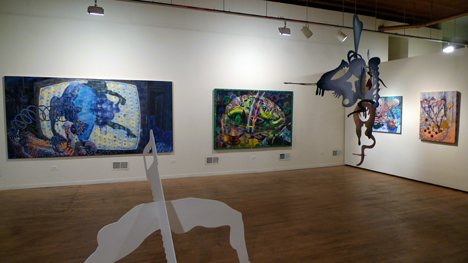 In December, Edmar and gang host the 9th Select Media Festival focusing on Infoporn - the art of communication and finally, I hope, next Spring's Versionfest. This year's 10th was on Infrastructure and Territories.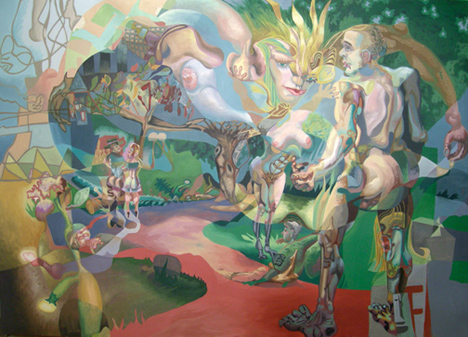 All of Edmar's activates overlap and address a common, but softly spoken goal - to grow his various communities and make his neighborhood, Bridgeport, a better place for his brand new baby girl.
These are two remarkable men who are successfully making their way through their artworld. Succeeding on one's own terms is a beautiful thing.
Related
Popular in the Community