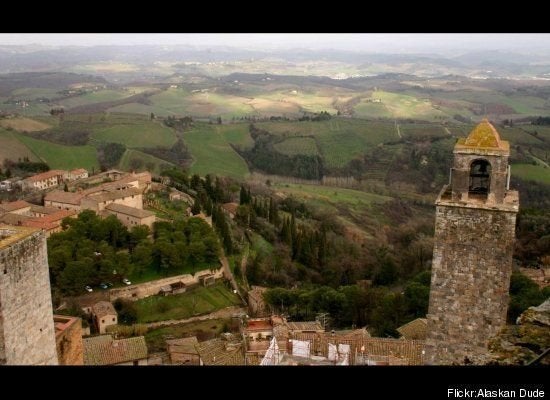 At a certain point during the Fame festivities, you realize you're not at a typical art opening.
This doesn't happen when you think it might. It's not while you're traipsing through the winding, white-walled streets the historical center of a forgotten Italian town to find the gallery. It's not when you notice the hip crowd punctuated by local old men, standing around in suits smoking cigarettes. It's not when you poke around the vaulted-ceiling gallery space and discover an ancient ceramics kiln in a dim corner.
It's not when the festival's organizer invites everyone back to his grandmother's house, where his father shakes your hand and his mother presents a traditional homecooked dinner; it's not even when the said organizer is shirtless, crowd-surfing and covered in glitter at the afterparty.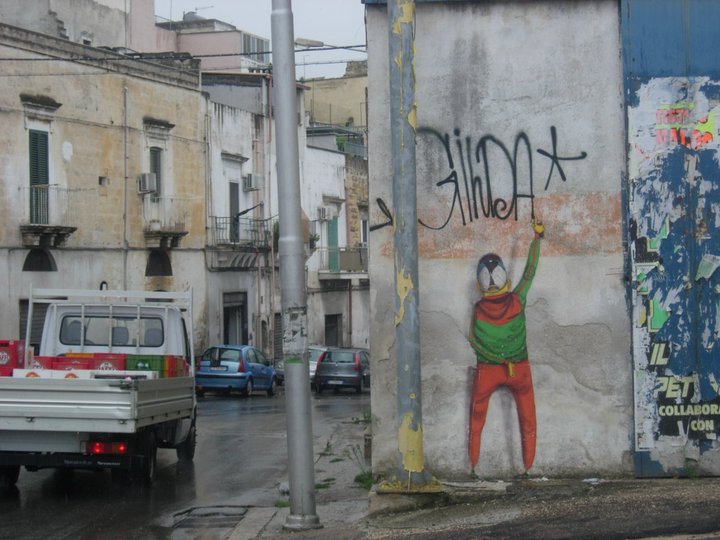 And it isn't necessarily when you first hear about the festival, which isn't really a festival at all. Fame Festival is a sponsor-free, DIY event, the culmination of an annual series of artist residencies that literally leave their mark on the small Puglian town Grottaglie. Artists are invited to Grottaglie by organizer/curator/sole financer/one-man-powerhouse Angelo Milano, who also single-handedly runs Studio Cromie. Artists produce prints and ceramics at Studio Cromie -- and more notedly, street art pieces that cover the city. And now in its third year, Fame Festival has changed the face of Grottaglie, and served to put it back on the map -- as well as on its own map.
Saturday September 25th marked the official opening of the group show Fame Festival. Prints and original works from participating artists -- which include international big names such as Blu, Swoon, JR, Erica il Cane, Sam3, Os Gemeos, Vhils and more -- went on sale. The map of this year's street art pieces was also released, 60-some works that dot Grottaglie and send street art fans that have traveled from around the world on an espresso-fueled treasure hunt through the town.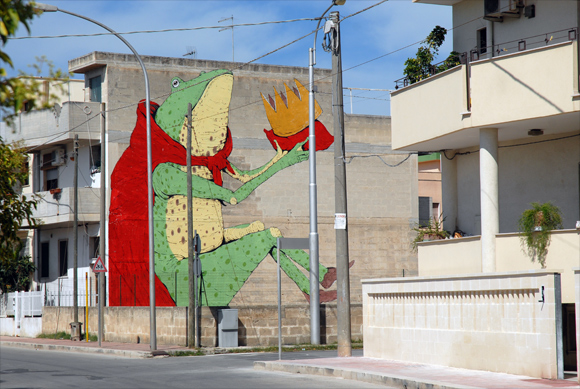 You smile and wave when you spot each other, yellow maps and cameras in hand; maybe you exchange "ciao"s. Locals regard you with amused interest; one man pulls his car over, jumps out, and earnestly demands to know why. You point at the map, then at the three-story-high image of a frog. Yes, yes, he tells you in Italian, but why? Why take pictures? his gestures implore, and why travel to Grottaglie?
But no -- it's not even that that makes you realize how different the Fame Festival opening is.
The realization comes at the afterparty, on a dark road just outside of town. The cement structure that houses Studio Cromie is bursting with dancing bodies and throbbing beats, under a hand-painted sign that reads: "Studio Cromie, DIY Since 06."
The one man that pours his heart, soul and pocketbook into the event is celebrating. He's pulled off another year -- he's hosted a slew of top street artists, produced prints, executed a group show, negotiated civil politics, and brought art lovers from all over Italy, Europe and North America to his small hometown.
He grabs the microphone and the DJ cuts the music out. As he pumps his fist and shouts "Grottaglie! Fame!", the crowd joins in. And it's then that you realize what Fame is all about.
Angelo Milano hasn't done any of this with money, prestige or the search for fame (the English definition of the festival's name). He's done it was passion, an infectious dedication -- a hunger to do something different and leave Grottaglie with something more.
And you realize that Fame Festival doesn't just fill the walls of Grottaglie. It fills the hunger as well.
Related
Popular in the Community