 In his recent association with Bill Mott's racing stable, Bill Higgins has worked with many of Mott's string of racing stars. On a tour with Bill through the Mott barns at the Oklahoma Track at Saratoga Race Course in early summer, I was introduced to the horses. Some were laying down, resting. Those we peeked at, whispered about and then tiptoed away. Most were standing, looking out of their stalls, ready to mug a passerby for attention, a scratch or a kiss. Yes, horses in that outfit get loved on big time.
I met Erma Lee, a chestnut two-year-old filly, by Stormy Atlantic, that had yet to run. She's a quick-footed redheaded filly with more than enough attitude to make herself known. Later on, she ran in a couple of maiden special weight races, learning and improving, before she powered home to win her maiden.
Evanderfield was another memorable colt from that tour. A looming, almost black Exchange Rate two-year-old, Evanderfield hadn't raced at that point. He did however give Bill a daily run for his money with his joie de vivre and coltish mischievous behavior. A tip to his nature is his left ear, which appears a bit shaggy. It got this way when he was a foal and was either in a brawl with another foal, or, was corrected harshly by his mother or another broodmare. No one is talking...
On that trip to the backstretch, Juddmonte Farm's great fourth-generation home-bred race mare Proviso wasn't in residence. She was busy skipping round the country, taking on all comers and winning multiple Grade 1 stakes' races.
Proviso came to Saratoga for the race meet. Listening to the chuckle in Bill's voice as he described how he joined the Proviso watch, I could tell he was smitten with this five-year-old daughter of Dansili.

Like many quality race horses, Proviso has a strong sense of self, knows the track routine as well as she does the bottom of her feed tub, and she likes to change things up a bit. With over thirty years of dealing with race horses, a light hand and an affable way, Bill became Proviso's acolyte.
When cooling down, walking around the shedrow after exercise, Proviso likes to spot another horse cooling down, take it on and get ahead of that horse. This isn't a mare that is just competitive on the track. Wherever she goes, she brings her business. Bill likens taking her on these walks to waterskiing, where to get control and leverage he is constantly leaning back and digging in his heels.

An incident occasioned by Proviso would make any racetracker grin. First, I must state that at Saratoga, trainers keep their shedrows manicured and immaculate. There is great pride in abundant, draping hanging baskets.
The operation of trainer Christophe Clement backed on to Mott's barns, and Clement's hanging baskets were worthy of a prize at the county fair. Bill was walking Proviso by the Clement shedrow, when she set her neck, veered over to the middle of the barn and grabbed herself a mouthful of hanging basket -- about half the basket's flowers and foliage. She did this right in front of Christophe Clement. The flowers were pulled out of Proviso's mouth as Bill hustled her away from her crime scene.
I can't help but wonder if that wasn't a bit of horse-human smack talk, from one turf superstar (Proviso) to another turf superstar (Clement). Clement trains the spectacular, Eclipse winning Gio Ponti, a talented adversary of Proviso in the upcoming Breeders' Cup Mile (turf).
Proviso won a Grade 1 stake at the Saratoga meet. After she left Saratoga this fall she headed south and picked up another Grade 1 at Keeneland in Lexington, KY. She is entered in the Breeders' Cup Mile (turf) at Churchill Downs, on November 6. There she will meet up with Gio Ponti, the legendary two-time BC Mile winner Goldikova and a field of fierce turf competitors.
I'll be down there watching Proviso, and rooting for her to bring her best game and run her race.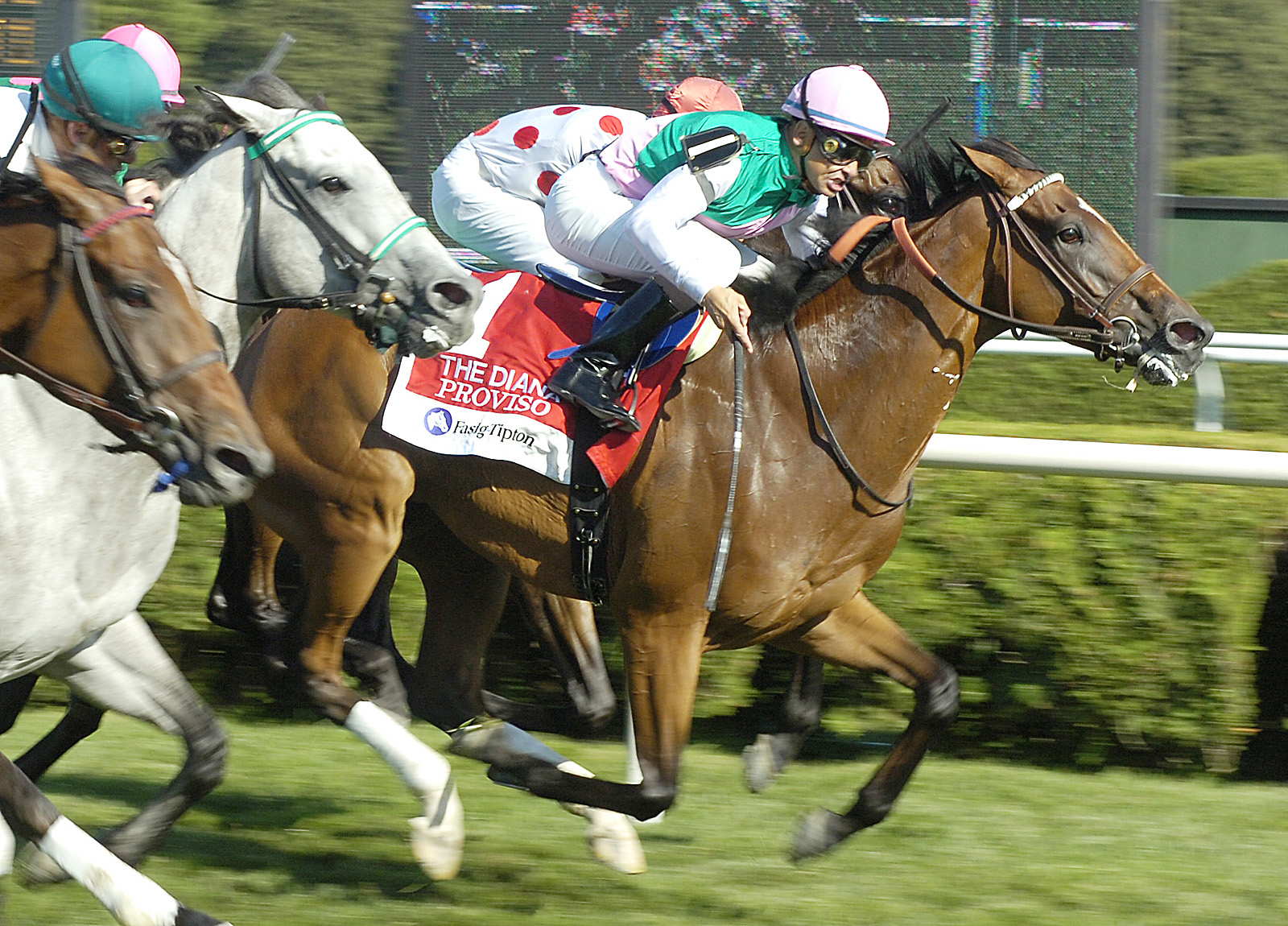 Proviso winning the Diana Handicap G-1 at Saratoga Race Course, 7/31/10
Photo courtesy of the Saratogian, Ed Burke -- photographer

Popular in the Community