It's 7:30am and I'm outside the Esquivel workshop waiting for Albert Yeh, the General Manager for Esquivel shoes to arrive. I haven't driven down to Buena Park in a while, and as a precaution due to the unpredictable nature of L.A. traffic I woke-up early and gave myself ample time to get here. And as I sit here, half an hour too early, I realize that I awoke even earlier than I had anticipated. A clear sign that I'm excited to see the shoes.
Albert and I were introduced by Julie Gilhart, the VP of Fashion at Barney's, at a fashion event earlier this year. From the moment we met we instantly bonded over food and bowling. But when we're not talking about how to read oil patterns on bowling lanes or who has the best dumplings in town, our conversations always veer towards fashion, mainly shoes. So after weeks of learning about the ins and outs of basic shoe making from Albert, I've finally taken him up on his offer to visit the workshop and meet his designer and the name behind the brand, George Esquivel.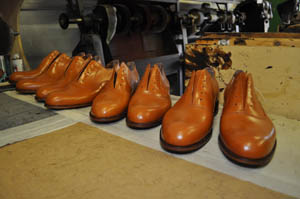 For almost 20 year, L.A. based shoe designer and CFDA/Vogue Fashion Fund nominee George Esquivel has been honing his craft.
In the '90s, his shoes found a home among the music set with fans like No Doubt, Perry Farrell, and Pearl Jam. Even today, musicians like Sean Lennon, Kings of Leon, and Janelle Monae continue to rock the stage in his creations. And over the year as his company silently grew so did his fan base. Hollywood fashion plates like Diane Kruger and Courtney Cox own a pair of custom Esquivel's. He's collaborated with designers, Loden+Dagger, Zero+Mario Conejo, Juan Carlos Obando, and recently designed a full collection for Fratelli Rosetti, which showcased at Milk Studios this past NY Fashion Week. And if that's not enough, Vogue's Queen Bee, Anna Wintour, T Magazine's Sally Singer, and Barney's Julie Gilhart are some of his big supporters.
Born and raised in L.A. via Buena Park, George Esquivel's childhood was spent growing up mostly in and out of motels, on welfare and food stamps, and with a father constantly in and out of jail. The oldest of five, he spent his youth going to 12 different schools, and to cope with an unstable family life, he turned to sports and excelling in school, trying to be "as normal as possible." "I just didn't want people knowing about my life," he explains as we sit in his office located just upstairs from the workshop.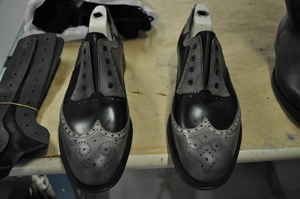 While living in motels, Esquivel spent a lot of time watching reruns on TV. He recalls watching shows like The Monkees, The Partridge Family, and I Love Lucy and thinking, "Wow, these guys look cool." Growing up with limited resources, the visions of these well-dressed characters left its mark. "I always paid attention to the shoes," remembers Esquivel. As a kid with only fake brand shoes, and never the real thing, he notes the irony. "I can do whatever I want with shoes now."
Out of high school, during the Rockabilly/Punk scene in Orange County, Esquivel began working in fashion. He bought workwear shirts and reworked them for friends and local bands with his mother in their living room. With several accounts, things were going well, but something was missing. He often visited thrift stores to buy vintage clothes and shoes, and it was his inability to find a pair of new shoe that brought about a turn of events. While traveling with his now-wife, then girlfriend to Mexico, they spotted a sign that said shoemaker. He went inside and asked them to make a pair of black and white pointy spectators. They did, and that was it.
Soon Esquivel's line of shirts started including shoes, and because he couldn't go to Mexico every time someone wanted a pair, something needed to be done. For a year he researched and searched, reading books on shoe making and driving to shoe repairs shops all over Los Angeles, looking for someone who could create what he wanted but no one could. "I was new, I didn't know what to ask for properly, but L.A. literally is the place of dreams and I was going to figure it out." One day he met a retired shoemaker, a leather craftsman who used to make shoes for stuntmen like Evel Knievel. He had all the shoemaking machines in his garage and made Esquivel a couple of wingtips. "The next thing I knew, all of my friends were buying my shoes." From there, his shoe business took off from everyone from local bands to strangers wanting a pair.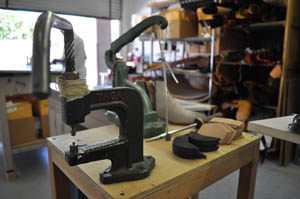 But with two people working out of a garage making shoes, one a seasoned veteran and one a complete amateur, they couldn't handle the demand. "I'd wear the shoes out to concerts and people would ask me where I got them. I told them about my company and I would hand them my card." It was a change from the Doc Martens and Creepers that were popular during that time and his wingtip, oxford, and cap toe offered something new, more refined. Every week Esquivel would meet up with his shoemaker and work on making shoes, but soon the supply couldn't keep up with the demand.
It was due to the demand that Esquivel soon learned the shoe making process. Almost like Mr. Miyagi training a young Daniel LaRusso in Karate Kid, it started simple enough with chores like throwing out the trash. From there is progressed from trash duty to organizing the leather, soon moving on to cutting and skiving, and over the course of two and a half years, he became a full fledged apprentice, learning how to make his own shoes. Soon after, his shoemaker quit on him, but along the way, he's found many others to mentor him. One in particular urged him to strike out on his own. Ten years later, Esquivel has his own workshop with anywhere from eight to 14 guys making shoes for him full time.
A lot goes into making a good pair of shoes and at Esquivel it's their attention to the shoe's foundation that sets it apart. The last, essentially a mold, is key to a good shoe. "Without a last, you can't make a proper shoe."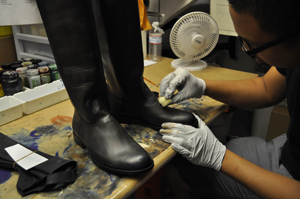 Though a friendly introduction years ago, he met someone in Mexico who's been developing them for the last 20 years, and essentially "learned from the best." From there you develop uppers (designs) that go on the last, and create a pattern. Soon, prototypes are made where leather is cut and stitched on. Once together, various things are adjusted, eye row for laces, the height of the heel, the width of the shoe, the toe shape, everything comes into play. From start to finish, each and every step is carefully taken into consideration when crafting an Esquivel shoe. And with everything done in-house, nothing is overlooked.
For his material, Esquivel uses some of the finest leathers from the best tanneries in the world. One of his favorites is in Norway. A family run business since 1889, they supply luxury houses like Louis Vuitton, Esquivel has worked closely with them to develop unique colors for his shoes. He also focuses on the staining process and finish that goes onto his shoes, his trademark of sorts.
Due to its refined quality and classic design with modern takes, the demand for Esquivel shoes are at an all time high, especially overseas. "Its crazy right now," he exclaims. "Before China was all about making shoes and shipping them here. Now I'm making shoes and shipping them to China!"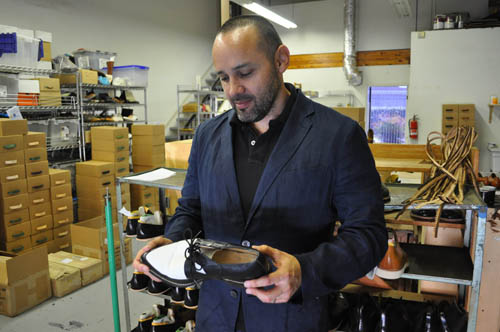 Though they aren't cheap, a bespoke pair can run anywhere from $500+, an investment in a pair of custom Esquivel's will help you understand and appreciate the quality and craftsmanship of a handmade shoe. You'll admire them, take care of them, and in the end instead of throwing them away, you resole and cherish them. Almost reminiscent of days gone by when people survived with only one pair, George Esquivel is creating a new shoe heritage for us to embrace.
A good first step in a handmade shoe might just be the thing this recession needs to get moving in the right direction.
(For the perfect pair of Esquivel's call (714-670-2200) to set up an appointment at their showroom located at 8309 West 3rd Street, Los Angeles, CA. And be sure to ask for Albert Yeh. He'll fit you for your perfect custom pair.)
Related