History gives Liverpool world-class bragging rights.
The first person I spoke to in Liverpool was the clerk checking my passport at Liverpool John Lennon Airport. He said "thank you very mooch," and he sounded so much like Ringo Starr I thought he was putting me on. There was something else in his voice, sincerity. His "thank you very mooch" was genuine, and he probably says it a hundred times every day. I'm not in favor of gross generalizations about people, but I found friendliness and the lively conversation Liverpudlians make to be among the nicest things about the city.
I may be biased. The only way I could be a bigger Beatles fan is if I were old enough to have been screaming in the crowds they drew in the 1960's. The Beatles are quintessentially Liverpudlian, and I married a man from the Liverpool area, clearly I have an affinity for the type. Ray is from Birkenhead, on the other side of the Mersey River (yes, there's a ferry, and we took it 'cross). Our Liverpool trip was a personal one. Ray hadn't been back in over 25 years, and we were going to visit family. I was excited to meet them and to finally see this place I'd heard so much about.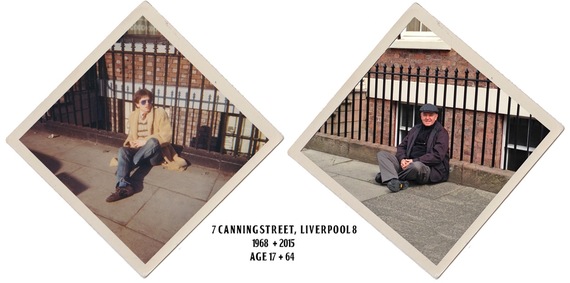 Ray (aka MANDAD)
Dating back to the 1200's, downtown Liverpool is cultivated and easy to orient yourself in as it slopes down to its famous river. I admit that it was exciting to be in a British city that was not London because when an American says they are going to England, it usually means they are going to London. Our first stroll was along The Pier Head, past the mythical Liver Birds perched atop the Royal Liver Building, and down to Albert Dock. Once a busy port, it was arguably the most international place on the planet.
History gives Liverpool world-class bragging rights for this and a variety of reasons: Who knows if there would have been a Fab Four without the flood of records that made their way here from ports all over the world? Albert Dock eventually became depressed as shipping waned in the mid-20th Century, but now it's revitalized with art, shopping, restaurants and museums. I couldn't get enough of the stories of dockworkers, many told in their own voices, as they described daily life and the city's unique past at The Museum of Liverpool.
I mentioned we went to Liverpool to see family, but we went exactly when we did because because there was a match at Anfield, home of the Liverpool Football Club. This match determined the timing of our multi-city trip and we didn't even have tickets. There was hope that we might get them ("Impossible!" said everyone), or that we could experience the excitement outside the stadium beforehand. Maybe we could watch the match in a nearby pub. Watching a home match, live, in a Liverpool pub would be incredible, wouldn't it?
We'll never know because Ray went on a ticket quest with a tenacity I've never seen. After countless Craigslist dead ends, we were to meet someone at eleven, the night before the match, outside The Shakespeare Pub. We were coming from The Playhouse Theater after a brilliantly acted production of King Lear, but wondering if this person would turn up distracted me. They could have sold their tickets many times before the play was out and, as New Yorker I thought, they could sell us fake ones or mug us. But all was well. We met a nice, young couple. They had a wedding the next day. And so we got to go to Anfield.
We took the bus. Buses in Liverpool are clean and seem to quietly glide along their route compared to the buses of New York City. Red scarfed fans soon swarmed the street. Food trucks and booths selling L.F.C. swag were mobbed. Walking through Anfield's iconic, iron gates, my excitement mixed with reverence: I've cheered on Liverpool in bars at six a.m. when they were playing half a world away, so I had some idea of the special camaraderie these fans enjoy. What a thrill to sing "You'll Never Walk Alone" with thousands of fans. There's been plenty written about this last winning match of the season, so I'll just say I feel lucky to have been there, and to have crammed into the Sandon afterwards for a pint. Players would change into their uniforms and walk to Anfield from this historic pub in the 1890's.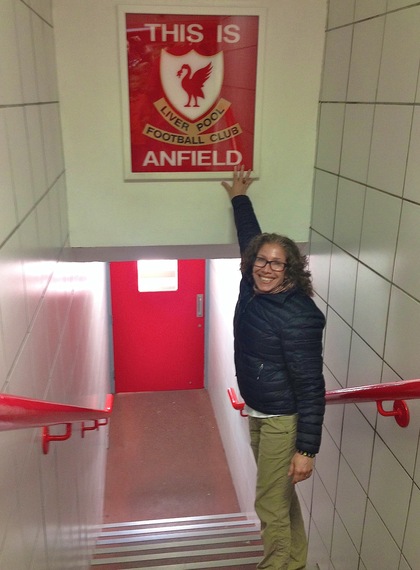 Andfield's stadium tour details the passion and accomplishments of L.F.C., and they give you plenty of time to take pictures. Photo by Ray Carter.
There were so many things I loved in Liverpool. Here are a few more:
Did you know the same person designed both of these? And they're the only two things he designed?
Sir Giles Gilbert Scott knocked 'em both out of the park, didn't he? His imposing, neo-gothic Liverpool Cathedral looms high on a crest above the Mersey. This is the largest cathedral in the UK and the fifth largest in the world. Epic tales of its design, construction and maintenance are fascinating, as is the fact that Paul McCartney failed an audition for this church's choir as a teen.

Speaking of The Beatles again (it's like that in Liverpool), a short walk from here is Ye Cracke, a modest tavern once frequented by John Lennon, "5th Beatle" Stuart Sutcliff and Ray. Trapped in time except for the Beatles memorabilia that didn't exist back then, it's easy to imagine the boys here after class, or during, for a pint. A regular patron's Scouse accent was so thick only Ray could understand him when they talked about Cammell Laird, the ship builder both of their grandfathers worked for eighty years ago.
Down Hope Street from the Cathedral is The Royal Liverpool Philharmonic and the revered Everyman Theater where Ray worked as a young man. Between these gems, The Philharmonic Pub is a magnificent, ornate, and yet homey public house that served the best fish and chips I've ever had and a bewitching treacle dessert. (Pub recommendations are appreciated in the comments, we'll be back.)
Liverpool has a rich, music heritage but, understandably, The Beatles eclipse all. Still, there can't be enough said about music that rose from this town. You may have heard of The Mersey Sound: bands like Gerry and The Pacemakers and The Searchers, and decades later, A Flock of Seagulls, Frankie Goes To Hollywood, Echo and The Bunnymen, there's too many to list.
When you're in Liverpool, do take a Beatles Tour. Yes, it makes you feel like you have a Scarlet T for "Tourist" on your chest, but the pilgrimage to these humble beginnings was worth it. Seventeen nations were represented on our Magical Mystery Tour. We sang songs we all knew the words to and learned advanced Fab Four trivia from an excellent tour guide named Paul (really).