I can't exactly pinpoint when Dubai became a travel destination for USAmericans, but I remain routinely surprised that travelers from the United States endure the 12 to 15 trip (depending on departure city) to visit a recently constructed Vegas, a desert transformed into a tourist experience. Two decades ago, I made my first trip to the United Arab Emirates (UAE). The Dubai of indoor ski resorts, skyscrapers, international intrigue/finance/speculative markets/banking, night clubs, air conditioned mega malls was a mere consumerist waif of its current grandoise global image. The luxury destination branding was in its nascent stages, welcoming the first American-style mall BurJuman just months prior to our visit.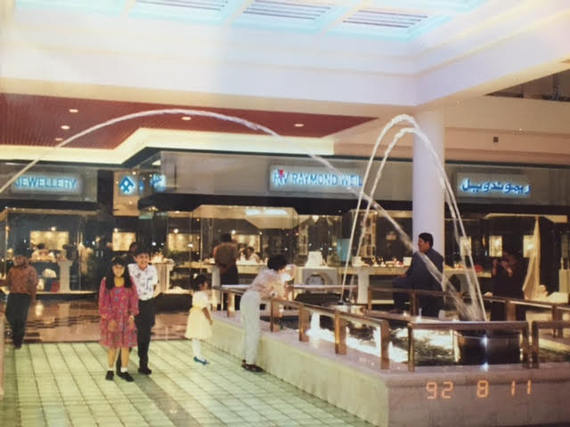 (BurJuman with my older brother Fares partaking in the talk of town, the criss-crossing water fountain)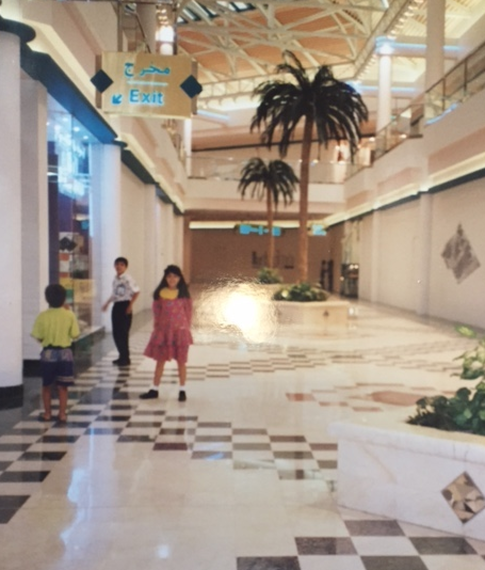 (At the mall with Fares and Canadian Nasser cousin during the soft opening phase)
Fastforward a couple decades later, and it's impossible to divorce our understanding of Dubai, now numbering 70 plus malls and shopping centers, from shopping. With over 1200 shops, Dubai Mall became the world's most visited mall in 2012 (65 million visitors); and is also one of the "10 most instagrammed places in the world."
Abu Dhabi (AD) has also witnessed a recent rise in tourism. Difficult to prove their impact or corollary relationship to an increase of tourists from the US market, I would argue that 2010 Sex and the City 2, a locally-deemed "racy" Rihanna photo-shoot in 2013 and an Etihad deal that accidentally released $187 roundtrip tickets from the states last December 2014 at least contributed to enhancing interest. Sex and the City 2, mysteriously staged in Abu Dhabi yet filmed across Morocco, surely catapulted the capital city from the obscurity of living in Dubai's shadow to cosmopolitan stop-off. Popular Black travel site and Instagram account Travel Noire is replete with re-posts of visitors to Sheikh Zayed Grand Mosque recreating Rihanna's head-scarf and traditional thobe (traditional Emirati dress for males) garbed shots in front of the national mosque located in AD. In fact, the popularity of Etihad's online booking glitch among Travel Noire followers caught the eye of higher ups from the airline company who eventually reached out to TN to collaborate on another round of discounted fares.
Qatar Airways, in coordination with the Qatar Tourism Authority, offers free two hour and 45 minute tours of the capital city, Doha, to passengers with layovers between 5 to 12 hours (arriving to the airport between certain hours). Doha certainly has nothing on Dubai and Abu Dhabi's tourism swell, but the Al Jazeera media headquarters and future home to the hotly contested 2022 FIFA World Cup games has begun to attract a jet-setting class of travelers.
Over the last couple of years, Dubai's Emirates airlines, Abu Dhabi's Etihad and Qatar Airways have consistently competed with each other for the top position of "World's Best Airline." Overnight layovers, discounted fare sales and enhanced inflight travel amenities have introduced an USAmerican tourist market to Persian Gulf travel. This might also be a contributing reason for the neglect of a certain GCC (short for Gulf Cooperation Council-as the region is locally known) nation, one that might astound adventure-seeking travel aficionados from the US (as the Brits and other Europeans have solidly keyed into this destination).
In March of 2009, after years of visiting family in Abu Dhabi and friends in Dubai, I finally decided to augment my regional travel with a visit to my friend Lamya Harub's home of Oman. While we were in the process of completing our masters at Columbia University together Harub, currently a doctoral student at London's King College studying Oman's diplomatic history and previously a researcher for Jeremy Jones and Nicholas Ridout's 2013 book Oman, Culture and Diplomacy, would incessantly rave about the beauties her homeland offered. With other mutual friends from Columbia, I was given the opportunity to travel to the capital city, Muscat, and all over the interior of the country via a double tanked Toyota Prado at the behest of our Omani host Harub. Awestruck by Oman's indisputable divergence from the shiny new-ness of typifying the allure of neighboring GCC countries, its unexpected displays of natural beauty, fusion of cultural diversity and hybridity (common to hear Arabic and Swahili) and omnipresent history that stretches back millennia; I wondered why it still had not attracted the US tourist market to the degree that Dubai, Abu Dhabi and Doha had. The most recent pop culture reference to Oman came from Debbie Allen on her facebook page in May 2014. She posted a selfie of her and sister Phylicia "Lish" Rashad draped in headscarves at Muscat's Grand Mosque.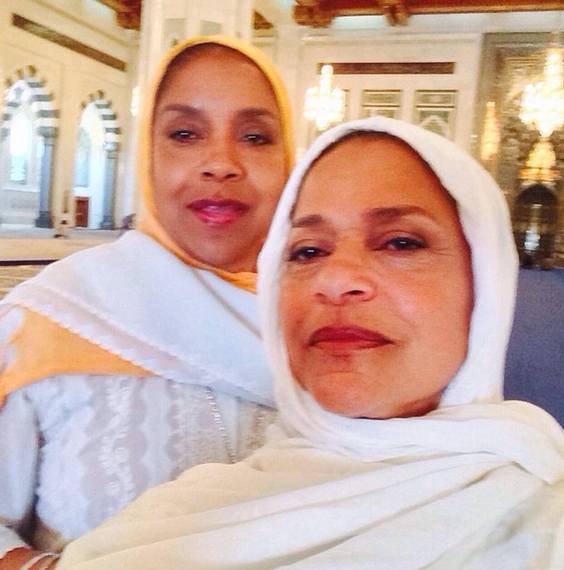 Even after this celebrity showcasing of the capital city, why weren't the instragramratti flocking to Oman in droves? As friends boasted about their procurement of $187 roundtrip tickets to Abu Dhabi on Etihad, I urged them to consider adding Oman to their itinerary; a five hour drive from AD or a quick, cheap nonstop flight departing close to every hour of the day. For those up for the travel challenge, I asked Lamya to provide travel tips, insights on the difference of Oman's travel industry from the rest of the Gulf, and some notes on her homeland's unique offerings.
(Unless otherwise noted, most photos were taken during my 2009 trip)
1) Why do you think Dubai, Abu Dhabi and Doha have become popular travel destinations while few of the same tourists visit Oman? What makes Oman different from Dubai, AD and Doha in terms of a Gulf state travel destination?

Oman's tourism strategy differs from that of the UAE and Qatar. Dubai and Doha have focused on marketing their cities through various avenues and encourage all sort of tourists to visit them. Oman, however, has focused on 1) targeting high end tourists, 2) on expanding the tourists stay in Oman as opposed to the number of tourists. In the aforementioned countries, they focus on number, Oman focuses on quality. This is what makes Oman different from its neighboring Gulf states. Furthermore, when you go to Doha, Dubai, AD, you hardly interact with the locals. In Oman, you get a sense of the country when you land in the airport. It is a country known for its hospitality and earnestness on every level. Big is not important for Oman, quality is.

2) What would tourists be surprised to know about Oman?

Oman is known to be the 'Switzerland' of the Middle East. Tourists will fall in love with its capital Muscat as it is a melting pot for tolerance. The three sects--Ibadhi, Sunni, and Shi'i--pray in the same mosque. Most Omanis are Muslims before they are a certain sect, there is intermarriage of different sects and cultures.
The country resembles its diverse group of people, where its landscape is vast. You have Muslims, Christians and Hindus all living harmoniously with one another. There are mosques, churches, synagogues and Hindu temples. The languages spoken range from Arabic, Swahili, Hindi, Urdu, Lawati, Mahri, Jabali, English, French, etc. It has a coast that stretches 1700km down south, and in the summer Dhofar, the southern region of Oman, is as green as Scotland. You can enjoy the beach, the mountains, the desert, all in one country!

Furthermore, unlike its neighboring countries, Oman has a history that the others do not have. It had an empire that stretched from East Africa to Gwadar. All this plays a role in the current practice of tolerance in Oman. The country, at its heart, is very traditional and culturally rich. On the surface it exudes a sense of openness. It deconstructs the dichotomies that are usually found elsewhere and brings a new understanding to coexistence and tolerance. It is an ideal country if you're seeking serenity and pristine beauty.

3) Top 5 travel destinations you would recommend tourists visit?

1) Nizwa Fort, and tent village of Misfat el Ibreeyeen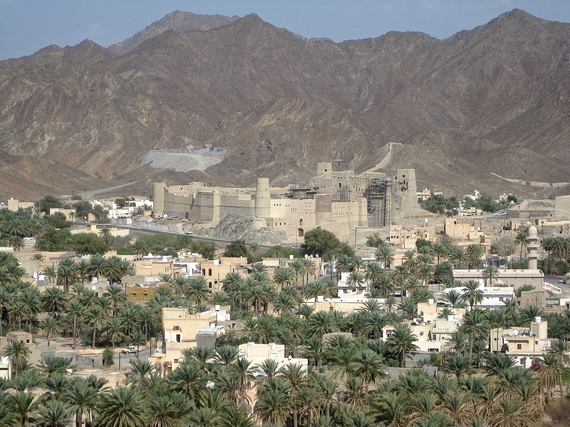 2) The Key Hole in Wadi Shab and the Sink Hole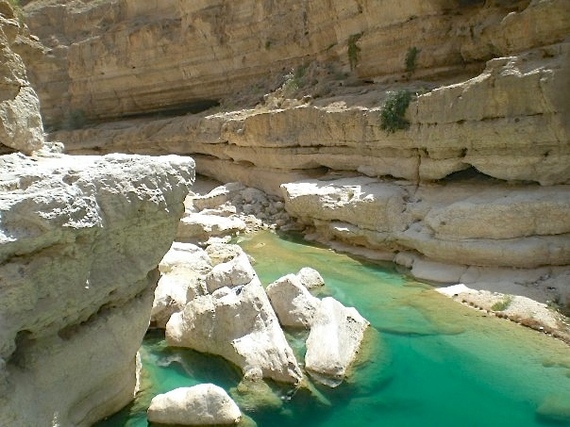 3) Muscat, The Corniche
(my additions: a visit to The Grand Mosque and laid back afternoon at Al Bustan Palace's pool lounging and private beach area)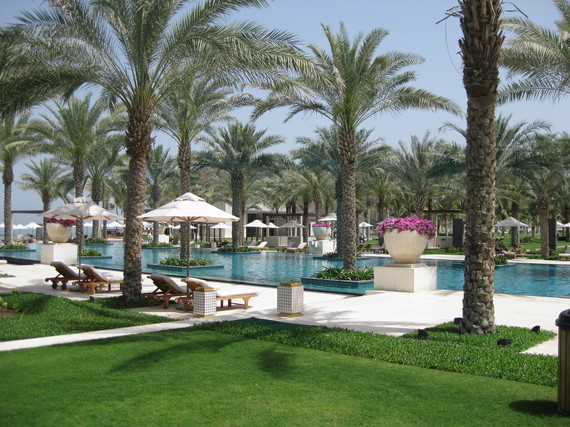 4) Salalah, Dhofar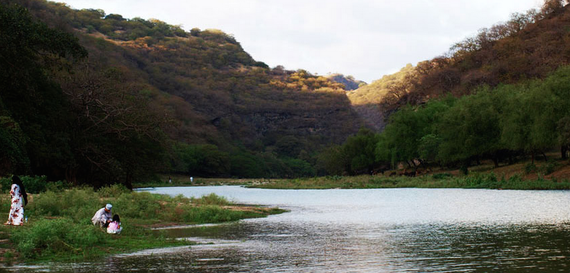 (from Samahram Falcon: Adventures in Dhofar site)
5) Al Jebel al-Akhdar



(from Sunset Oman site)

4) Lastly, top 5 tips for traveling around Oman and cultural sensitivity suggestions?

This can be said about most countries, but in general:

1) Using swear words towards any individual means time in prison. Profanity is not used. This law applies to Omanis and non-Omanis.
2) Do not say anything negative about the Sultan of Oman. Respect the people and do not speak to them in a condescending manner.
3) In Muscat, you can wear whatever you want. But for both men and women, you should have you shorts/skirts below the knee. If you do not, it is not an issue, but it is simply for respect. Also, sleeveless is not recommended.
4) In the interior (outside of the capital city of Muscat and urban area surrounding it), best to avoid short skirts and shorts. The people in the interior are the most hospitable, but are more traditional and religious.
5) If you're staying with an Omani guest, get them a small gift (chocolate or something) as a kind gesture. Generosity is a virtue.