Performance artist Ryan McNamara like, really, really wants to win a Rob Pruitt Award.
And in case you've never seen an artist run what looks like an election campaign for what amounts to an Oscar in what is actually a parody of the art world as a performance piece before, let me tell you, for clarity's sake, that it most closely resembles a party. And in case you're wondering why any party need be so convoluted in its conception, you probably forgot to read the word "artist."
About two years ago, in what turned out to be a kind of accidental-unavoidable-awkward situation, the nice people at the Guggenheim Museum asked conceptual artist Rob Pruitt how they might creatively re-imagine their annual fundraiser. Rob Pruitt, if you don't know him, is what can be lazily termed a "prankster": his work -- sometimes "racist," sometimes sparkly, and very often just big dopey pictures of Pandas -- is, as the Guggenheim website puts it, a "conceptual practice rooted in a Pop sensibility and a playful critique of art-world structures." Some of the people from the Guggenheim might even have remembered sniffing the cocaine he offered at a gallery as his artwork off a sixteen-foot long mirror in the 90's.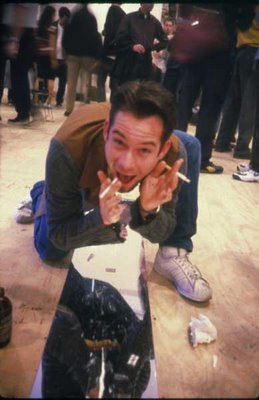 So, when he suggested for the evening a "performance-based artwork that follows the format of a Hollywood awards ceremony", they couldn't really "un-ask" him because it would seem like they didn't like his work, but they did like it, and anyway some of his collectors, not to mention friends, were on the board, which is how they wound up asking him in the first place, so their fundraiser became the Rob Pruitt Art Awards, and it was just better to leave it. Fast forward to December 8th, 2010, when, fresh off the hangovers of Miami Basel, guests who have purchased $1,000 tickets to support the Guggenheim will arrive at the second annual Rob Pruitt Art Awards and fully expect to see some ironic award-giving going down.
You might have guessed that most nominees for a Pruitt Award, made known of their condition two weeks ago when the list was announced, are trying very hard to look like they care very little, or, alternatively, blushing over and acting un-characteristically un-entitled about the whole thing (linked article case-in-point.) The last thing that anyone in that situation is supposed to do is throw themselves a party about it. Even leaving aside the fact that the awards are, in essence, derision, running for a popularity contest (even a derisive one) makes your popularity look a little, umm, forced.
But Ryan McNamara, nominee for the New Artist of the Year Pruitt Award, isn't like most people. He is a gay-themed experimental ballet dancer and conceptual video performer--and while this does make him like most other nominees in that one way, he also isn't like them in lots of other important ways. Last Tuesday, at what he referred to as his "campaign rally," Mr. McNamara got up on stage and hyper-visibly not-cared so freaking hard that it was almost not obvious that the whole thing was yet another performance piece, this time a parody of caring itself. With glassy, lying eyes, and a suit just slightly too effeminate for a serious politician, Mr. McNamara followed a handful of dancing male strippers out onto the balcony inside the Jane Hotel in New York City and gave a speech in stilted campaign jargon that delivered pretty much only one intelligible campaign promise: that a vote for him would be a vote to give the award to the second gay Ryan in a row (last year's winner was conceptual video artist Ryan Trecartin). Then there was a balloon drop. There were also buttons. There, in the corner, was Roselee Goldberg. The whole thing walked, looked and quacked so much like caring that it almost floated.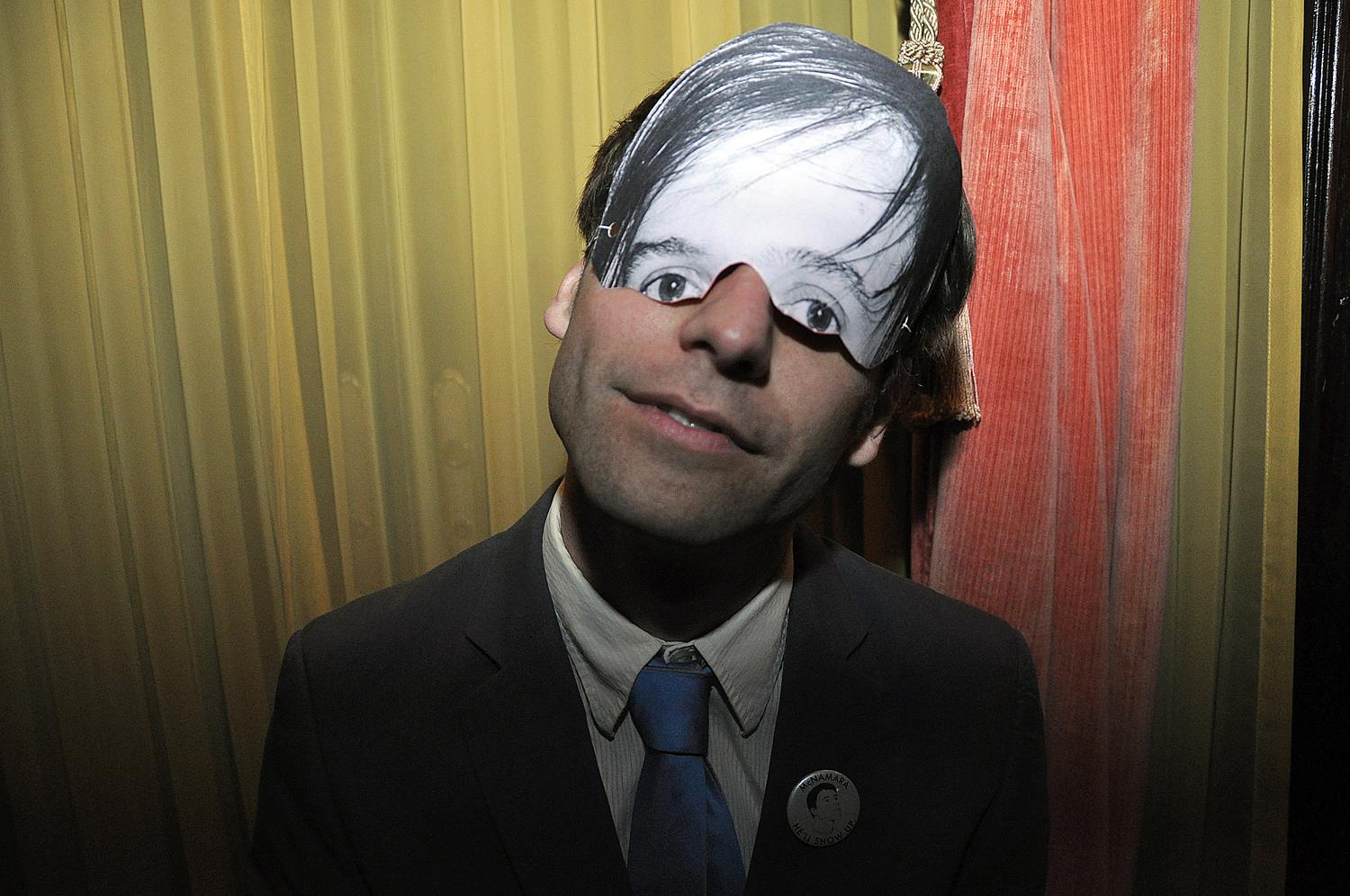 It might be said (after having been read in the press release) that Pruitt intended the fundraising event to be a flagrant show of self-deprecating irony. It might also be said that this intent was completely botched when the awards committee (an "Academy" of 1,000 peers, much like that used in Oscar selection) started giving the awards to very serious art people like Joan Jonas, Louise Bourgeois, and Martha Rosler. So even though McNamara's campaign is a performance piece -- the simulacrum maintaining a healthy, unsettling anti-resonance with what it was representing -- Ryan McNamara probably does care whether or not he wins a Pruitt award. Which, frankly, only makes the whole thing tougher. His vacant expression, peeling over into a smile one too many times, forces you to wonder what exactly the fuck is going on - is he parodying Pruitt's parody? Is he mocking the earnestness with which his peers continue to visit a very well-labeled Kool-Aid machine? Or did the parody on all sides, McNamara's included, end long ago?
At this rate, McNamara could be parodying Thomas Jefferson in an age of Washingtonian humility before him, revolutionizing the rules of politics, or the politics of campaigning, or the revolution of campaigns, or whatever. But, in the words of the early, late Leslie Nielsen, that's not important right now. What matters is that, on some level, McNamara is trying to rescue the artistic genius behind the Pruitt Awards from a bourgeois death. In just one year, Pruitt's subversive japery has become indistinguishable from full-fledged art-world approval matrices--hardly anyone remembers the ice age of 2009, when the awards were cleverly castrated as "performance." (In fact, it is not uncommon these days to hear that someone has been nominated for a "Guggenheim Award".) So really, any parody will do. Because what the Pruitt Awards really needed was not another humbled honoree who would smile and nod and pretend not to have expected or needed the praise, who would further institutionalize what was meant to be institutional charade, but rather sarcasm mainlined like heroin to the jugular, to re-hinge the Pruitt Awards to the absurdist space between hypocrisy and honesty that produces the circus of uncomfortable self-congratulating so exquisitely planned for the evening.
Excuse me, would-be gender-betrayal accusers (it is worth noting that all other nominees in the New Artist category are women), but that, coupled with the consecutive gay Ryan thing, is something worth voting for.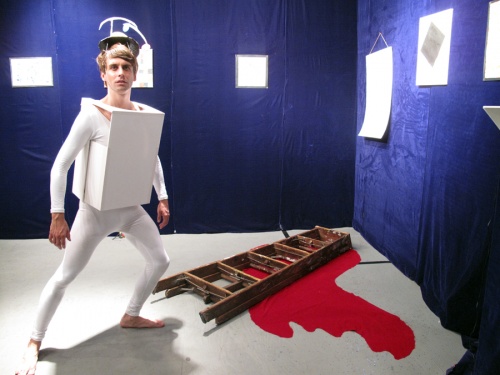 Images: Rob Pruitt's Cocaine Banquet, 1998; Ryan McNamara in Rob Pruitt Mask at his campaign rally at the Jane Hotel on November 23rd; Ryan McNamara in Klaus von Nichtssagend: The Musical, 2009.

REAL LIFE. REAL NEWS. REAL VOICES.
Help us tell more of the stories that matter from voices that too often remain unheard.