Brian Adam Douglas née Elbow-Toe stands inside looking out a third floor Brooklyn window down the block as late autumn winds whip and churn leaves and debris across the sidewalk, blowing lids off garbage cans and a Yankees cap off a bike messenger. At his feet and all over the blond hardwood floor behind him are scattered piles of loose ArtForum pages; poked, pocked and carved with a sharp blade to cull their very particular hues.
"There's a certain amount of chaos but I know where everything is. This is the brown palette, right? This is all browns. This is grays, oranges, violets, blues, yellows, greens. I use that palette (pointing) -- I have that set up. That's how I learned how to paint -- with that particular palette. The chromatic values are laid out in a gray-scale value," says the artist as he explains the disarray.
Brooklyn Street Art: I don't know what that means.Brian Adam Douglas: So basically the color goes from white to black. If you were to take a black and white photo of this right now, you would see. That yellow would be a real light gray, and it works it's way down to black.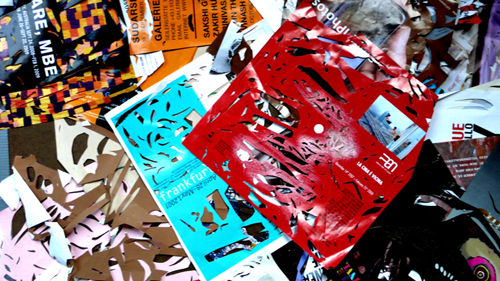 Photo © Jaime Rojo
His Street Art peers a few blocks from here, the Brooklyn Street Art collective Faile, have been exploring a new technique this year they call wood painting; not quite collage, nor sculpture or painting. Since the leaves that are blowing outside these windows first began to bloom in March this year, Brian has been exploring another difficult to categorize method of "painting" by assembling thousands of custom cut pieces of paper to create nearly 20 new canvasses. Its a process he calls collaging, and it's effect leaves viewers stupified.
Brooklyn Street Art: You've been doing status updates on your Facebook and Twitter feed forever saying that you are collaging.Brian Adam Douglas: I know! (laughing) That's all I'm doing man! I can't wait to say, "Today I'm sleeping."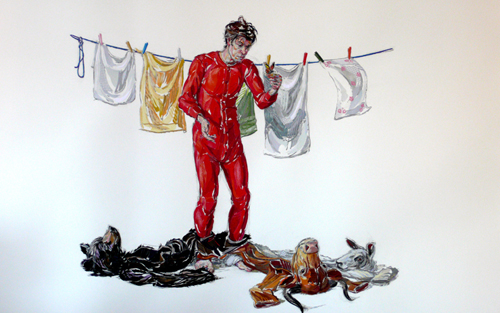 "Cocoons Come And Cocoons Go. It's The Transformation That's Key". Photo © Jaime Rojo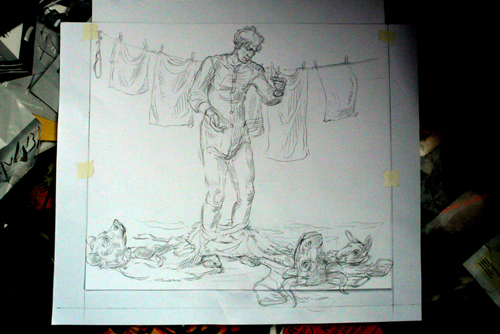 Sketch for "Cocoons...," Photo © Jaime Rojo
Technically, yes, they are collage; a composition of materials and objects pasted over a surface. But it's so easy to miss this obvious fact as you look at the painterly forms, their musculature, expression, gesture and puzzling symbolism. Each one of these new pieces fits somehow into an overriding theme that revealed itself to the artist only while Douglas labored. Surprising even the author, it took his wife and friends sometimes to help him see what was right in front of his exacting scalpel; through dream inflected symbolism he has unwittingly written a treatise about family, parenthood, and how they profoundly impact the formation of character. Without intending to, his inner world pushed it's way to the outside, where he will be displaying this new powerfully personal collection December 4th at The Warrington Museum of Art in England with a show called "Due Date," followed by a March show at Black Rat Projects.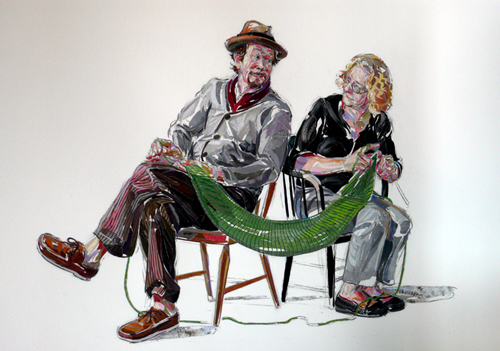 "Knitting Circle", Photo © Jaime Rojo
But the artist won't reveal to you their exact meanings necessarily when you are standing with him looking at a new piece at the easel or laptop, throwing out possible interpretations. "This is what I enjoy," he says a bit mischievously, "people bringing in their own sort of meaning into the pieces." Other times he'll gladly offer a backstory. Even then, you are left to your own observation skills to intuit the relative intensity of the symbolism.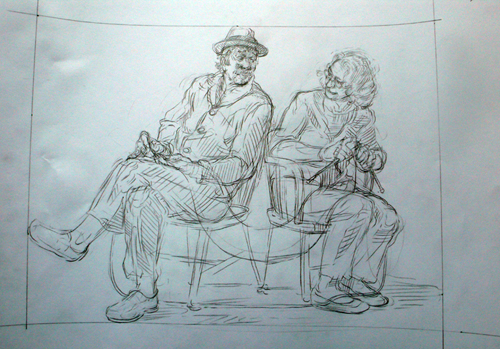 "Knitting Circle" sketch, Photo © Jaime Rojo
Brooklyn Street Art: How successful have you been at fielding questions on what these pieces are about?Brian Adam Douglas: Pretty good. There are certain things within them that I don't talk about. I mean I think that they are kind of universal enough that they could mean a number of things. As far as I'm concerned with the work, I'd rather people bring their own interpretations of the work in. Rather than me saying, "This is what this work is about, this is my idea and this is what it has to be," I find the most interesting art becomes better when you make it personal.
Even so, some of these are quite unusual depictions to trust oneself to interpret accurately. We did take a few guesses, and with time Brian also decided to help us uncover the meanings in these new paper paintings.
One thing is not nebulous; this methodical and meticulous cutting and pasting has taken over his imagination so much that he's confident that he'll be doing it for a long time.
Brooklyn Street Art: Do you want to continue to explore this technique? Have you gotten tired of it? Is it still capturing your interest?Brian Adam Douglas: As far as I'm concerned I understand the medium really well. Each piece builds confidence. Now I've got something and I want to really see what I can say with it. I've got so much inspiration about things that I want to really plump into that I want to figure out that I could do this for like 15 or 20 years.
And Street Art? What about the twisted forms and ephemeral poetic passages that put Elbow-Toe plainly on the public radar a handful of years ago? Now that he has a gallery presence, has he abandoned his street persona?
"About the street stuff -- I'll do that but it will be purely for fun. An outlet, like it was at the beginning. It kind of became a pain a year or two in. It got very stressful for a while, it wasn't fun anymore," he says.
"Now that I've kind of got my 'gallery voice' I just want to have a street voice that is it's own thing. Strictly for the street and completely ephemeral."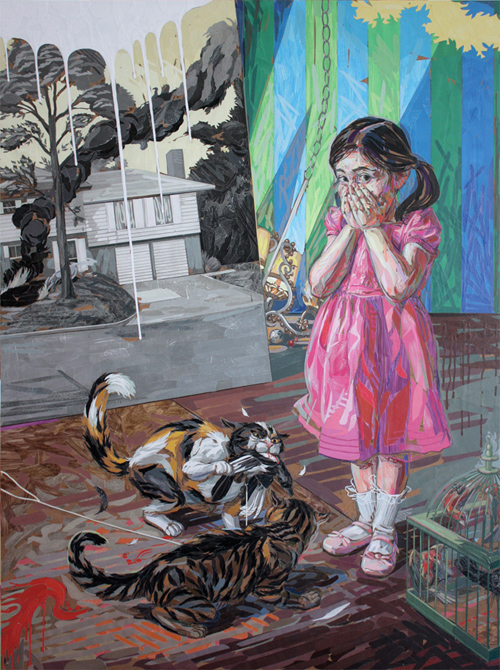 "After Goya", photo © courtesy of the artist
Brian Adam Douglas: You get all this loaded meaning that's happening behind it. The fire that's happening in the backyard. This one is partly autobiographical of when I was a kid.
Brooklyn Street Art: The split-level ranch?
Brian Adam Douglas: Well, we didn't live in one like that but I had to find a photo of the suburbs. It was wintertime, I was pretty young, maybe 12 or 13, and I was playing around with my paper airplanes. I had this great idea -- I can light these on fire and it will look like World War II planes coming down crashing. Right? And I had the hope that they would burn up before they hit the ground.
It's winter time. Texas. I light this thing on fire and throw it and it's one of those trick planes. Instead of curving up and flying it goes down into my yard. I see it land and it is like, "Floom!" -- the ring of fire is running across my yard.
Brooklyn Street Art: And that's how you burned down your house and killed your parents?
Brian Adam Douglas: Yeah, exactly! No. This piece is all about the fact that your kid is going to f*ck up a lot. But as a parent, the kid gives you that look and you are going to be like, "Oh, right, it's okay" Like you still love them regardless the insanity they can produce.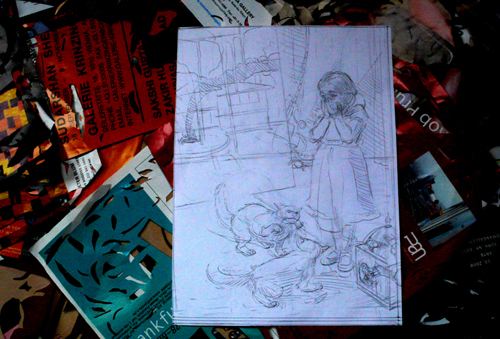 The sketch for "After Goya", photo © Jaime Rojo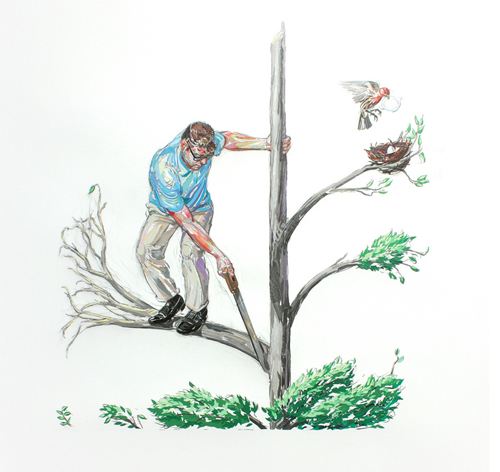 "The Hand That Rocks The Cradle", photo © courtesy of the artist
Brooklyn Street Art: Ha! Now that seems like a metaphor, doesn't it?
Brian Adam Douglas: Yeah, but also it comes from life. My Dad is a landscaper and one day when I was in high school he was up in a tree and he's got the chain saw and he cuts the branch off. He's so busy in the tree -- he's like "zhrooom!, Vrooooooom!" And he's like 30 feet up! And so he's falling, with this chain saw going in one hand as he's failing. He grabs a branch as he's falling and he's hanging there swinging. He drops the chainsaw. Then he climbs down the tree.
This is so... I can imagine that moment when you find out you are going to be a parent and you are like, "F*ck! Everything is changing." In order to take care of something else you are having to let a lot of other things go, and adapt. You are pruning things in your life. Certain things are taking precedence that maybe didn't before.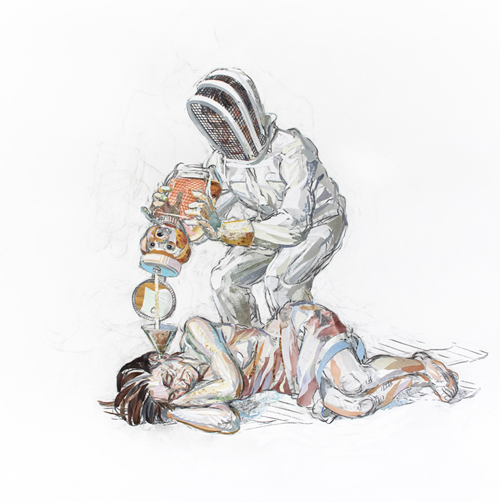 "Sweet Dreams", photo © courtesy of the artist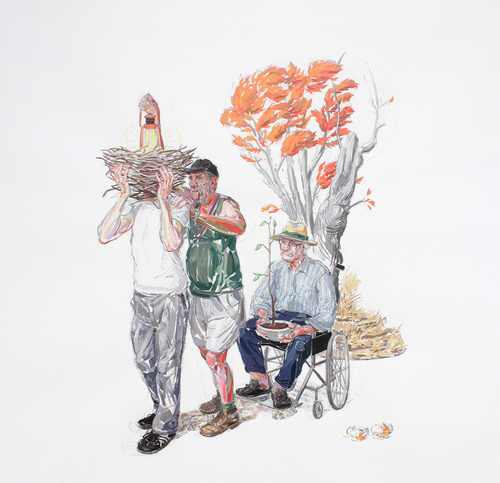 "Tradition", photo © courtesy of the artist
Brian Adam Douglas: This one is called "Tradition"Brooklyn Street Art: So the elders are in a supportive pose.Brian Adam Douglas: YeahBrooklyn Street Art: And there is a lantern and a nest on your head?Brian Adam Douglas: On my head. Yes.Brooklyn Street Art: Well I like the body language of the guy in the middle. I suppose that could be a father figure.Brian Adam Douglas: Yeah.Brooklyn Street Art: It's supportive, but directional also. With intent.Brian Adam Douglas: Yeah.Brooklyn Street Art: Wow, that says a lot of love there. That's very nice.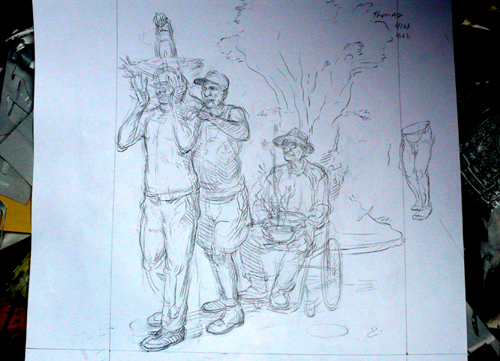 Sketch for "Tradition", photo © Jaime Rojo
To see more images for "Due Date" visit the artist's web site.
Related
Popular in the Community