Last night, a mother hurriedly gathered clothes, insurance cards, toys, and medications. She was heading to the ER again because of her daughter's asthma. She was worried about missing work the next day. She was concerned about the number of school days that her daughter had missed. She was not sure what else to do.

The next day, following advice from the ER, she heads to the pediatrician. The pediatrician sees the chart before entering the room and pauses. She's seen that chart before. Despite her efforts -- all the right treatments, everything she could do in her clinic -- nothing has worked. She is not sure what else to do to help her patient.

What the pediatrician probably doesn't know is that this same situation is repeating itself in the practice down the street, the clinic around the corner, and even with other patients in her own practice. Like most pediatricians and other primary care providers, there is no easy way in her busy practice to look at how her patients distribute throughout the community. So she doesn't know that several of the persistent asthmatics in her practice all live within seven blocks of each other, indicating that something in the neighborhood may be causing their asthma.
At the same time, local health department leaders are reviewing hospital discharge data from two years ago -- the most current data they have. They are identifying zip codes where asthma rates are elevated, but the data are old and zip codes are too imprecise.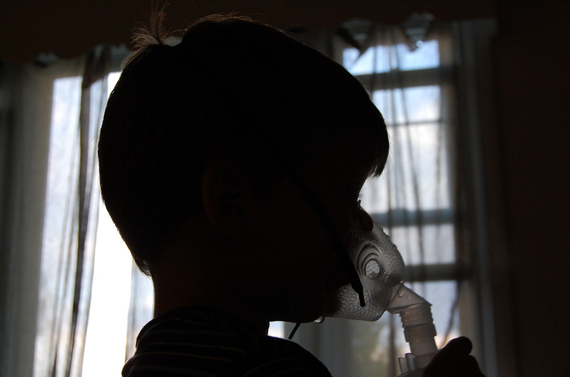 If the local health department had access to real-time data at more precise geographies (census tracts, block groups, neighborhoods) from clinics and primary care providers in the community, it could provide more timely and precise neighborhood disease profiles. Epidemiologists, the "disease detectives," could investigate community-based causes of disease supporting the clinicians working in the communities and improving health. Without these data, their impact is limited.
In this hypothetical, but believable and likely story, the mother wants her daughter to be healthy and return to school, and she wants to be able to go to work to support her family. The pediatrician wants better outcomes for her patients, and the local public health department wants a healthier community.
Too many remain at risk, though, because our health care system is full of data dead ends instead of accessible streams of information.
Our communities face complicated health challenges. Asthma, heart disease, diabetes, and other chronic diseases are the result of complex, interdependent economic, social, educational, environmental, and other factors -- often referred to as the "upstream" causes or social determinants of disease.
Medicine can help manage the symptoms of these diseases, but it will never address the root problems. The bottom line is: If we want to live healthier lives, we are going to have to build healthier communities.
Change will not come easily. While the merits of "moving upstream" seem self-evident, we are still a long way from documenting the evidence of effectiveness that will compel action. Before we can expect changes in national policy, we need learn from communities that break the mold and are willing to reach across sectors to find ways of improving health that aren't necessarily tied to the clinic or hospital.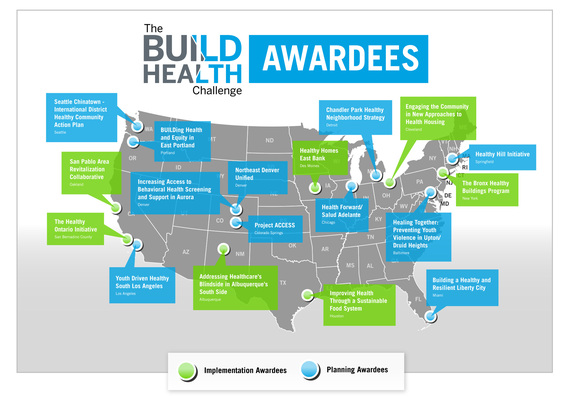 Not only will we be providing hands-on support for the 18 cities who received BUILD grants announced in June, but we will be working to support more multisector partnerships and develop tested models for other communities to follow.
The BUILD Health Challenge is about fostering collaboration at the community level and getting partners that would not normally talk to each other to work together. It seeks to maximize the strengths of community stakeholders, health care and hospital executives, AND public health leaders to achieve our goal of a healthy, thriving population. Not with a pill or medical intervention, but with upstream partnerships across sectors.
Fortunately, the BUILD Health Challenge is not alone in its commitment to understanding, promoting, and replicating an upstream focus for downstream health gains. Parallel efforts like HICCup's Way to Wellville, the Institute for Healthcare Improvement's 100 Million Healthier Lives campaign, the American Public Health Association's Healthiest Nation in One Generation project, the Practical Playbook: Public Health and Primary Care Together, and the National Committee on Quality Assurance's Population Health Framework Action Guide are each working toward systems-level partnerships and community-based solutions to our healthcare problems. These efforts will develop the evidence so that what is now a theory will grow into a movement that can change healthcare.
We can't stop at treating individuals who are sick. Our strategies and collaborations need to match the complexity of our problems.
The BUILD Health Challenge believes in a future where architects, planners, and business leaders are working shoulder-to-shoulder with public health and healthcare leaders to improve population health. Together, the BUILD communities will tackle problems, learn from each other, and find strategies to improve collaborations. From this work, we can improve the health of these 18 communities and show the way forward for countless others.
Brian Castrucci is the Chief Program and Strategy Officer at the de Beaumont Foundation. Prior to joining the Foundation, Brian spent a decade working in state and local health departments. Brian is pursuing his doctorate in public health leadership at the University of North Carolina at Chapel Hill Gillings School of Global Public Health. The opinions expressed are those of the author and the de Beaumont Foundation. They do not necessarily represent the views of the Advisory Board Company, the Colorado Health Foundation, the Kresge Foundation, or the Robert Wood Johnson Foundation.
Related
Popular in the Community