As I write this, both the Assembly and the Senate Budget Subcommittees on Health and Human Services are preparing for hearings on proposed cuts to Developmental Services.
When I voted for you in 1978, I was working at Fairview State Hospital and was preparing young adults with severe developmental disabilities for de-institutionalization so they could live in their own community - a civil right they had following the passage of the Lanterman Act.
When I voted for you in 2010, I was preparing my own 22-year-old who has a severe developmental disability for adult life. Jeremy, who is impacted by autism and uses assistive technology to communicate, has been raised to believe that he has the right to a fully included and productive life in his home community. Unfortunately, he needs support in order to do so. He hopes in the future to be able to earn enough money to pay for his own supports, but right now, he needs help.
Jeremy graduated from Torrey Pines High School last June with a full academic diploma and inspired many people with his commencement speech . Now, he is having a very hard time handling the uncertainty of "adult services" since aging out of school district services. My son has been very well prepared by his school district and his family for transitioning to adult life, however, the systems in place are not prepared for the likes of him. As a nationally recognized author and expert on autism and transition to adulthood and adolescents, I am wondering if it is this difficult for my son to transition to adult life, what is it like for those who are not as fortunate as we are? What is the point of a Lanterman Act - which is civil rights legislation for those with developmental disabilities - if there are no monies to enact and protect these civil rights? Budget cuts enacted over the past few years have already eaten away at some of these rights.
But I think you should hear straight from Jeremy how all these cuts are impacting his hopes and dreams for the future - and he is just one of very many. Jeremy wrote the following article, which was published by the MiraCosta College student newspaper, the Chariot, on January 31, 2011. Jeremy is a staff writer on the Chariot and is writing a book to be published by Palgrave MacMillan in April 2012.
In his commencement speech last June, Jeremy wrote that "When Helen Keller grew up, she graduated from college, became an author, and an advocate for people with disabilities. I hope to do the same." Clearly, he is following in that path. Despite budget cuts, freedom of speech is still a right Jeremy has.
Chantal Sicile-Kira
Jeremy's mom; 2010 Co-Chair of the South Counties Autism Regional Taskforce of the California Senate Select Committee on Autism & Related Disorders; Past Task Force Member on Transitional Services and Supports to The California Legislative Blue Ribbon Commission on Autism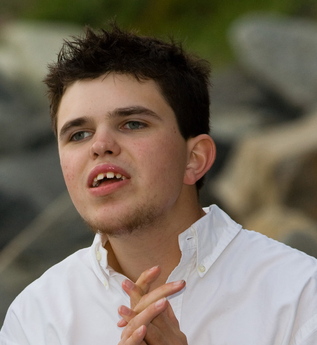 Shedding a Light on Autism : On Being a Student with a Disability
By Jeremy Sicile-Kira

My name is Jeremy and I'm a 22 year old student at MiraCosta College. My first experience at MiraCosta with Disabled Students Program & Services (DSPS) was with Connie Wilbur, DSPS coordinator/counselor when I signed up for my first class while still a senior at Torrey Pines High School. Connie asked how she could help. I told her "You can help by providing a nice teacher who is understanding about autism but who expects good work. I need time to process and a note taker and a seat near the door in case I get sensory overwhelm. I need more time for tests because I have to have the tests read to me because of visual processing challenges and I need more time to point or type with one finger. But I do not need less expectations in the quality of course work I need to complete." Nicely, Connie was very helpful.

Being a student with a disability, the road to being a college graduate is a lengthy one full of road blocks. However the counselors in DSPS and laws including the American with Disabilities Act (ADA) make it a possibility for those who are smart, and brightly able to advocate for their needs. Just like my sister who is a freshman at UC Davis, I want an education. Kindly I must admit that although my nice sister worked very hard to get a spot at a prestigious university, I had to work much harder to get the opportunity to attend even a community college. Even now my family struggles to provide a one-on-one communication support person to take me to classes. Under the Individual with Disabilities Act in Education (IDEA), I was provided a paraprofessional aide who is high school trained in my communication support needs at the recommendation of the Individual Education Program (IEP) team members. Now out of the K-12 school system, and transitioning into adult services, I am still waiting to learn how the responsible adult agencies will provide the support I need to get a college education (and earn a living) as this support is not a responsibility of the DSPS. DSPS nicely provides the accommodations but not the support person that a student like me needs. (In my next article, I will write about the different ways in which DSPS nicely supports students with disabilities at MiraCosta College.)

My communication support partners are necessary because I need help with my motor planning and my sensory challenges like a person with no muscle control needs a wheelchair. Just like some people in wheelchair need someone to push them, I need someone to help me with my motor issues. I may not appear smart but my brain functions well. Just because I have problem controlling my movements is not a reason to deprive me an education and a career.

As an adult with a developmental disability, I have the right under the Lanterman Act to live in my community as any neurotypical person does. The Lanterman Act was passed in California in 1977, and gives people with developmental disabilities the rights and supports needed to live as independent a life as possible. The CA regional centers are mandated to ensure that we get the supports we need to live in our communities. However, when the Lanterman Act was voted in, adult services were probably not expecting people like me to be able to learn and get an education. It was easier to place them in sheltered workshops when they left the K-12 school districts. Now, under IDEA, education services have improved for students with disabilities and many were able to graduate. Although the quality of education has improved greatly over the years, it does not appear as if adult services has kept up with those changes. The problem is a national one as well as a state one.

Nicely, I need to explain that people like me in the past did not get an education at school; they learned to sit quietly in groups. Now people like me are leaving the school system with the desire to live a fully included life in the community like any other human being. Unfortunately, adult services like the Regional Center have not kept up with this reality. The present state budget problems make it worse, but the real problem lies greatly with the system's attitude.

My mom justifies the lack of supports at the time I am writing this by saying it's a game. Frankly, I do not believe the government has the right to play games with my rights. Greatly, I am very upset at my mom because she was talking about moving out so I could have services because it appears that the San Diego Regional Center makes it easier to support people if they did not live at home with their parents. The thing is, the Lanterman Act exists to help people with developmental disabilities to be able to stay in their home communities and with their family if they wanted to. However, it is set up here in San Diego that I might have to live away from my mom to get the support I need.

Frankly, the rights of all disabled persons are covered by various laws, but they are also founded on the Declaration of Independence. The authors of that document believed that all men were created equal and that every person had the right of the pursuit of happiness. What makes me happy is learning and also writing in order to earn a living. This is not an unrealistic goal. I already have a book contract to have a book published by Macmillan in 2012.

MiraCosta College is a wonderful place for me to learn and get an education and to work on my goals of transferring to a four year college. I want to earn a living as a writer so I can be a productive member of society. I am grateful for the patience of the teachers and students as well as DPSP and the accommodations they have been providing.
Popular in the Community