On Valentine's Day, it's fun to go out for a romantic dinner but it's even more fun to stay home. Most restaurants on Valentine's Day are more expensive than usual and filled with gimmicks like heart-shaped pasta. If that's your style then great, but it will be more fun to have a low-key night in.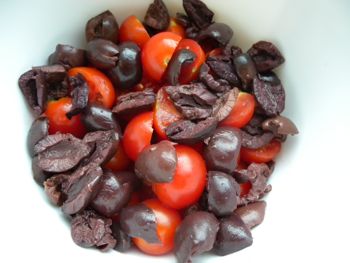 Here is an easy recipe for a meatless and pretty healthy pasta dish. It's loosely based on Ann Curry's pasta puttanesca. This is a recipe for people who never cook from someone who hardly ever cooks. One of my 2011 resolutions is to cook more and this easy pasta dish has been my gateway recipe. After making it successfully a few times I'm more confident to try other dishes.
This dish will come together in a matter of minutes and is impossible to mess up. You'll need pasta, cherry tomatoes, garlic, anchovy paste, olive oil and kalamata olives. A simple arugula salad dressed with olive oil and lemon juice would be the best first course to serve. The amounts don't have to be specific and you can prepare the dish however you like. I'm an olive lover so I use a heaping cup of them. If you don't like olives that much don't use so many. It's important that you use kalamata olives. They are fruity and not as salty tasting. The purple color of the olives also looks great with the tomatoes. Even if you buy your olives pitted you should still chop them up and check for pits. You don't want a Dennis Kucinich situation.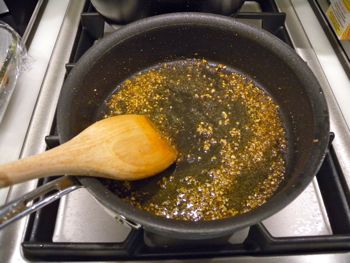 Before you cut up your olives you should start your pasta water so it's ready when you are. When the water comes to a boil you can put in your pasta. You should use pasta with a curvature so it can really absorb the oil. Place your olives and a carton of cherry tomatoes in a bowl. If you like you can cut the tomatoes in half but it's not necessary. Pour enough olive oil in the bowl to cover the olives and tomatoes. It should be about a cup and a half of oil. It may look like a lot but the oil is what makes the sauce of the dish. If you like it spicy you can also add some red pepper flakes.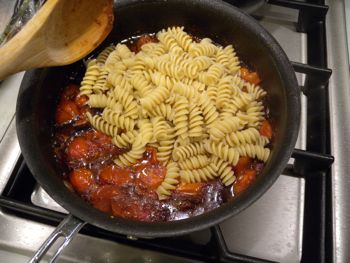 In a sauté pan over medium heat coat the bottom with olive oil and add 2 chopped garlic cloves and 2 squirts of anchovy paste. The anchovy paste adds a nice nutty background flavor and does not taste fishy at all. If you don't have the paste you can add a few anchovy filets. After the garlic and anchovy paste start to brown you can add the olives and tomatoes.
Within a few minutes the tomatoes will burst and the sauce will come together. Pull your pasta out when it's all dente and it will finish cooking in the sauce. It's worth it to make a large portion of the pasta because leftovers are great for lunch. Whether you are cooking for your family or a date I know this dish will be a hit. The best part is that you wont be stuck in the kitchen because it's so quick and easy.

Related