Equipped with a new set of light bulbs, a group of rural women are ditching kerosene oil lanterns, increasing their income and getting more study time for their children -- all with one solar energy experiment.
"Now life goes on even after it is dark outside," said Leela Devi, pointing to the bulky solar bulb dangling in her small hut.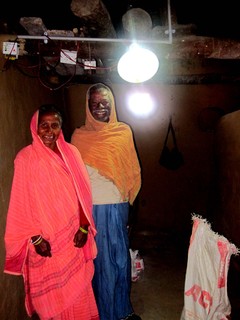 (photo by Betwa Sharma)
The Jal Sakra village, situated in the state of Bihar at the crossroads of the Maoist insurgency in India, has never gotten electricity. Now, it has become the launching pad for a new scheme to boost women's earnings through solar power.
The initiative has been facilitated by the Self-Employed Women's Association, a trade union for women working in the informal sector, which also does developmental activities.
With a loan from SEWA, a group of 13 women have bought 20 solar bulbs at the subsidized price of Rs. 40,000 (or $900). These energy entrepreneurs use the lights in their own homes and seven bulbs have been rented to other families for Rs. 90 ($2) a month.
The rent money will be used to pay back the loan. It will also add to the funds in the group's joint account in a local bank where they already deposit a part of their monthly income earned from selling plates made out of leaves.
Individuals from a financially-stable group can take a loan during an emergency or to start a venture at a later stage.
Before the solar bulbs arrived, children could barely read in the dull light of kerosene lanterns or wicks that gave out unhealthy fumes. Now, they can study better and their parents save the money previously spent on kerosene.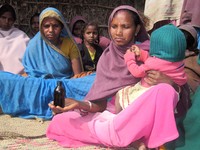 (Woman from a neighboring village holding kerosene oil; photo by Betwa Sharma)
"I can cook, serve dinner and watch my children doing their schoolwork... all at the same time in this little space." said Leela. "This was not possible before."
The light also helps these women supplement their income from making plates, which involves weaving together leaves and sticks gathered in the surrounding forests. They make about 100 plates a day, which sell for Rs. 25 (55 cents).
"Now we can keep working in the night," said Kantroli Devi, 45. "It means more money."
But whether the bulb project can be replicated on a large scale in India remains to be seen. SEWA, which gets the funds for the scheme from the United Nations Development Program via the government's National Employment Guarantee Scheme, has to demonstrate that the plan is actually boosting women's earning in a significant way.
Currently, there are 1.6 billion people who live without electricity in the developing world where the energy demand will rise by 20 percent in the next 40 years. At the same time, the mounting climate change crisis is putting pressure on governments to embark on a path of clean and green growth instead of relying of fossil fuels.
Despite some recent progress in building roads, as well as law and order improvement in Bihar, the state remains poor and underdeveloped. The main town of Munger, a two-hour drive from Jal Sakra, only gets about four to five hours of electricity in a day. People are freezing in the winter and scorching in the summer.
Munger is where the Maoist insurgents, who want to overthrow the Indian government, go to buy weapons and Jal Sakra is said to be used by them as a hideout.
The locals narrate how the rebels killed the son of a schoolmaster in the area last year because he displayed the national flag on independence day, when everyone was warned not to. A few years ago, a SEWA worker was shot by the Maoists, but now they don't disrupt the work of the NGO.
Meanwhile, the word has spread and the women from the neighboring Banbarsa village -- who also make a living selling plates -- want a similar solar project. SEWA has bought 37 bulbs for them, which have yet to be installed.
There has never been any electricity in Banbarsa and the women say they were helpless to change the situation.
"There are many things that we don't have," said Sindu Devi, pointing out that there is no school in her village.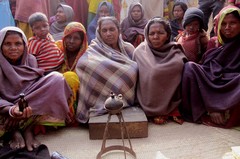 (Banbarsa women meeting to discuss solar bulbs; photo by Betwa Sharma)
Close by, the residents of Jal Sakra are very happy to charge mobile phones on solar electricity for the first time. A few months ago, they had to go to a nearby mill where its owner made them pay for the charging and there were transportation costs to the mill and back.
"That's a lot of money saved," said Leela. "It all adds up."
Related
Popular in the Community