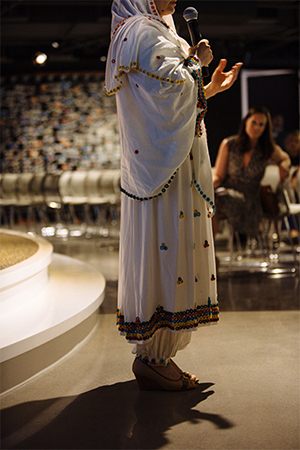 Left: An Afghan poet who wrote in the shelters in Afghanistan through the AWWP's protection and work speaks to students before a Los Angeles event about what it is like to grow up in Afghanistan.
It's easy to take for granted the things we've never been without. If we have two healthy legs, we don't think about what it means to be able to run and walk and jump. If our lungs work well, we don't give a second thought to being able to breathe.
Those of us who are able to live and share our stories freely may take that for granted. We post what we want on whatever sites we want; we talk with whomever we like; we agree or disagree without fear of repercussions. Our stories are as essential to our well-being as food and air. So what would it be like to live a life where you were told your story didn't matter; where you were, perhaps, not even granted the right to write your own story?
These are the kinds of questions that led renowned author and journalist Masha Hamilton to found the Afghan Women's Writing Project (AWWP) in 2009. Hamilton has a long history of bold, on-the-ground work with refugees and those in troubled situations. She saw a need and created the infrastructure which has grown into what it is today. "After many years as a journalist, I had come to believe that telling our own stories is as important to a certain kind of survival as food and shelter," says Hamilton.
Now an NGO, AWWP programs partner international writers, teachers, and journalists with English- Dari- and Pashto-speaking women from seven of Afghanistan's 34 provinces in secure online writing workshops. Poems and essays are published each week in a virtual magazine where their once-silenced voices are "heard" and women are empowered to make change. In Afghanistan, AWWP runs a women-only internet café and provides safe spaces and educational support in outlying provinces so that Afghan women and girls can gather in person to write and share their stories with the world beyond their borders.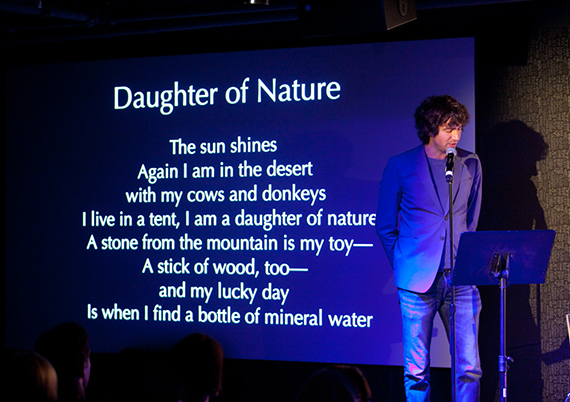 Gary Lightbody of Snow Patrol reads "Daughter of Nature" preceding young songwriter Esme Lee's performance. Photo: Aaron Smith/AWWP

While their stories are intense, poignant, powerful, these women often have not had the means to express them before. In a variety of ways, AWWP provides opportunities for women to tell their own stories and truths; it empowers and encourages them on their path to self-expression.
AWWP Board Member Shevy Smith is a producer/composer based in Topanga, CA, who is also creator and owner of the Forte Poesy Music program, which places an emphasis on songwriting as the catalyst for learning an instrument. Smith became involved with AWWP because, "I was moved by the poetry and prose on the AWWP site. I had traveled to Afghanistan twice with the USO and US Military as a musical artist on troop morale tours. I was drawn to the country and intrigued by the ancient history of the culture. Some events in my own personal life moved me to become involved on a deeper level, so I did a living room fundraiser with my friend, Jessica. It all grew from there to this large program we are running now. All along the way, I have been so impressed by the heart and integrity of the staff who run AWWP."
"We believe that to tell one's story is a basic human right. So, it is our calling to create ways for that to happen," says Smith. " We have seen many women's lives change as a result. They are emboldened to seek higher education and are more assured in their belief that their voices matter as a result of the program. We feel the best way to inform the future in Afghanistan is to provide opportunities from within."
Noting the challenges of building awareness for the plight of women who must remain anonymous for their own safety, Smith partnered with AWWP to create The Passerine Project, a cross-cultural songwriting collaboration in which students adapt poems from AWWP writers into original songs. The third project in the series will be with the Brooklyn Collaborative and The Brooklyn New School.
Smith is traveling to New York this week, along with singer-songwriter Kendall Custer, to work with more than 120 students in grades 6 and 9 through 12.
"Shevy introduced me to AWWP two years ago," says Custer. "She spearheaded an event for them in Los Angeles in March of 2014. That was the first time I understood the luxury it is to tell one's story. I was in New York in January earlier this year. Before I knew I'd be back for this project, Shevy took me by the school we'll be working at. I sat in a classroom with four students for a day and listened. I was sold. I can hardly relate, but if I can find a way for people to feel somehow less discounted because of variables they can't control, I'm in."
Over the course of the five-week workshop, Smith and Custer will lead the students in an in-depth study of the poetry as they take on this ambitious project intent upon shedding light upon human rights issues and acknowledging the resilience of the Afghan women.
"By working with students in Brooklyn, we not only are teaching our young Americans ways of compassion, empathy, and expression; we are also providing a surrogate voice for the Afghan women who do not have the freedom to speak loudly on their own behalf," says Smith.
Students will choose poems written by AWWP poets and adapt them to song, based upon how the poems made them feel. Students will also be able to Skype with some of the Afghan writers, collaborating in a unique and powerful cross-cultural co-write.
"Once you have written a song with someone and basically combined your shared experiences and perspectives, you have a connection and empathy for their situation," says Smith. "We have seen such powerful links between the stories of the Afghan women and the lives of our young Brooklyn students, many who come from challenging backgrounds, as well. This project tends to make students very grateful for the things they take for granted, e.g. safety, education, freedom. It also teaches students to confront their own struggles through a productive medium: songwriting."
On November 6, the workshop will culminate in a fundraising celebration of the human spirit with live song performances, preceded by celebrity readings, as the students work to raise funds for their co-writers in Afghanistan. The BMI Foundation, an organization that champions the rights and causes of songwriters worldwide, has come on board as the headlining sponsor of this workshop and event.
In addition to the online workshops, AWWP's program also includes provision of laptops and internet service, monthly reading salons and training workshops in seven Afghan provinces, and two anthologies of writings from the AWWP writers, Washing the Dust from Our Hearts and The Sky is a Nest of Swallows. In addition, they opened Kabul's first women-only writing cafe and in 2013 began broadcasting the writers work in a monthly radio program aired throughout Afghanistan. In AWWP's Oral Stories initiative, several writers have been trained as interviewers to collect and transcribe oral stories from disabled and iliterate women so that their stories, too, might be shared with the world.
Somewhere between funny and philosophical lies the truth in Pam Stucky's writing. Pam is the author of several books including the Wishing Rock series (Northern Exposure-esque contemporary fiction, with wit, wisdom and recipes); the Pam on the Map travelogues (wit and wanderlust); and the YA Sci-Fi The Universes Inside the Lighthouse (wonder and wisdom). Pam's driving forces are curiosity, the pursuit of happiness, the desire to thrive and the joy in seeing others do the same. Pam is currently working on writing novels and screenplays.
Popular in the Community