This summer, Andy Walker and Kris Aaron started a new art project. They began painting images from gay culture on antique china and figurines -- the kind your remember from your grandma's house. Since that time they've their work has become very, very popular and it's easy to see why. You can check out their work @pansyassceramics on Instagram.
Phillip M. Miner (PM): So, when did you start drawing dicks on ceramics?
Pansy Ass Ceramics (PAC): 10 weeks ago? 12 weeks ago? We're both artists and we both collect a lot of ceramics--50's and 60's tchotchkes and that kind of thing -- we thought it might be cool to marry our interests.
PM: How did you decide the subject matter?
PAC: We thought this would be a really interesting contrast. Take these plates original purpose and then make it gayer.
We loved juxtaposing this old, ornate dinnerware with rudimentary porno drawings. So we thought it was a funny marriage. It's fun and silly and in a way really beautiful.
In one of my favorite pieces we've done so far there's a bondage theme. A boy is tied up and he's amongst this really gaudy 70s floral pattern. I think the combination of these two things is really hilarious and kind of sexy, too.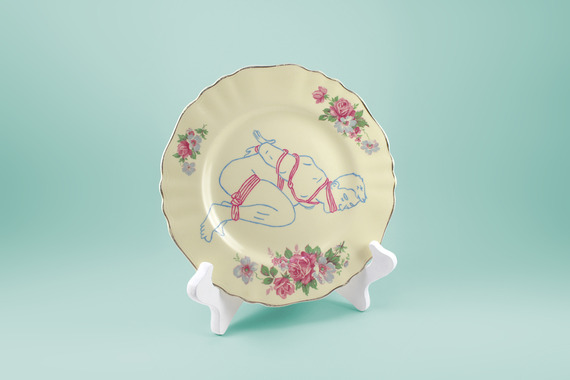 PM: That's my favorite thing about your work. I love how it plays with two of the stereotypes people associate with gay men: effeminacy and hyper-sexualization. You literally lay them on top of each other.
PAC: A lot of gay men are re-appropriating words like "Fag" and "Pansy." Our work is resonating with them in a really positive way.
It's really resonating with straight people, too, for some reason. Gays in the US can get married and people love RuPaul's Drag Race: all of these things are coming together and we're so much more widely accepted now. Putting these subversive ideas into the mainstream isn't nearly as shocking as it once was.
Straight people message us and say, "Oh my God, I want to buy my husband this plate. He thinks it's hilarious." Ten years ago, I think we would have been shunned and booted off the Internet. Straight people are seeing the humor in things that were once very taboo.
PM: You really have received a lot of attention very quickly.
PAC: It's shocking how quickly this happened. We started gaining popularity on Instagram. Right away Dan Savage and his husband, Terry Miller, found us and really helped spread the seed.
PM: I've talked to a lot of artists who are popular on Instagram. Are people buying your work or just enjoying the imagery?
PAC: We have been selling items the same day we put them up on the online store. We also get a lot of requests for custom work, but unfortunately because this happened so quickly we're not set up to fill these custom orders. We're trying to figure out how we can organize ourselves to get as much work out as possible and make some of the really cute requests we've had come to fruition.
At the same time, we want to keep the momentum going on our Instagram and keep doing different things because we don't want people to get bored. So, we're running ourselves ragged right now to keep up with everything. It's been a ton of fun.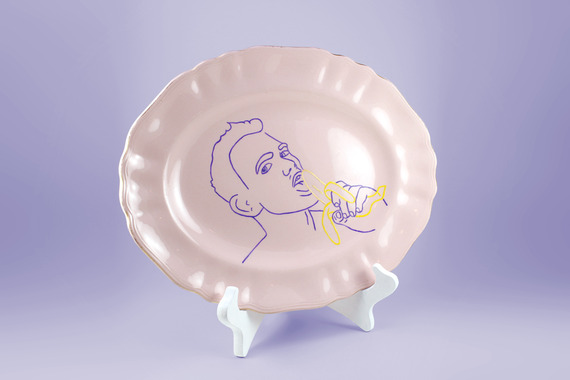 PM: When you say people are requesting custom work, well, I think I'm asking if you're having a lot of strangers send you dick pics.
PAC: [Laughs] We are having a lot of people approach us about work. But, unfortunately, we have only had one dick pick! We are working with this handsome fellow to make something sexy for him and his partner. [laughs].
PM: [Laughs] I ask the important questions. So, where DO you find your subjects?
PAC: We come up with ideas of what we want to draw and then we find it in porn. Some plates stand out to me and I immediately know what I want to draw on them.
It's similar to how we choose the plates and figurines. We go to a lot of antique stores and second hand shops. Sometimes we find the perfect piece that's just begging to have a dick drawn on it.
We love browsing. It's definitely becoming a lost art today because of the Internet. Second hand stores, bookshops, and record shops are all going out of business.
OH! Speaking of bookshops, some of our work will be available at Toronto's historic Glad Day Bookshop, On Yonge Street. It's a really great business and we are proud to have our work there.
PM: Nice plug! How are your plates meant to be used?
PAC: These are meant to be displayed. If they were used every day, say carving meats, the paint would scrape off. But we get it, you probably want to use them and have that big reveal as your guests are eating, so desserts only! No utensils! Maybe for serving baked goods at your Christmas buffet.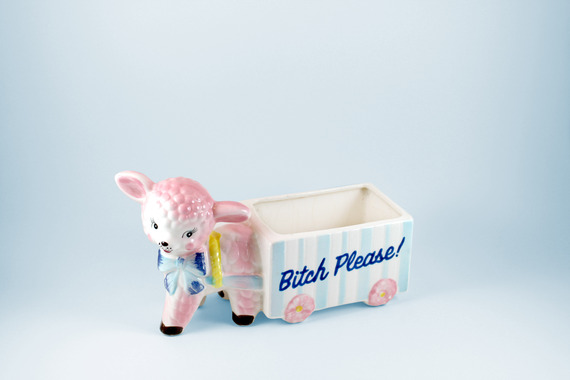 PM: I'm not sure this is related, but I miss camp and kitsch.
PAC: I read in the book Behind the Candelabra is based off, Liberace's boyfriend described how Liberace loved to put beautiful, priceless works of art next to just garbage shit from Vegas. I love that. It doesn't matter the cost; if you love something, display it. Anything you love has merit.
Today's gay culture favors minimal design. Everyone likes clean lines and straight edges and white surfaces. It's all very sterile and clean.
I like that style, but I like the idea putting a crazy, gaudy pink porcelain teddy bear on your minimalist credenza. Layer your tastes and see what happens.
PM: There's always room for a Hummel.
PAC: Exactly. We're struggling with the idea of continuing with the vintage. We could make our own pattern and get them printed and have it be a thing. But, we think it really adds a lot to the pieces that they're on these discarded, random finds.
PM: Do you have an indication of how long you want to keep this up?
PAC: We started doing this to have fun. It's been really well received and we want to continue it, but we're not sure what that is going to look like down the road. I don't think we'll stick to painting on plates forever. We know we're going to be doing a partnership with a couple in the states that we're very excited about.
We started painting on stuff and immediately we knew it could turn into something much bigger. We just don't know what that is yet, except that it will be gay as heck!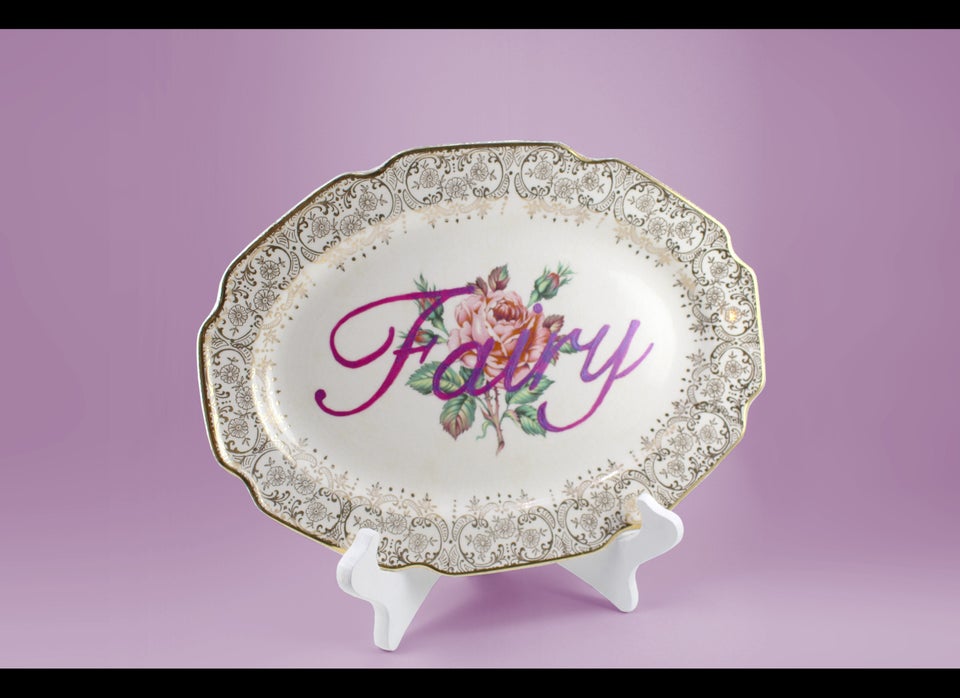 Pansy Ass Ceramics [NSFW]
Popular in the Community