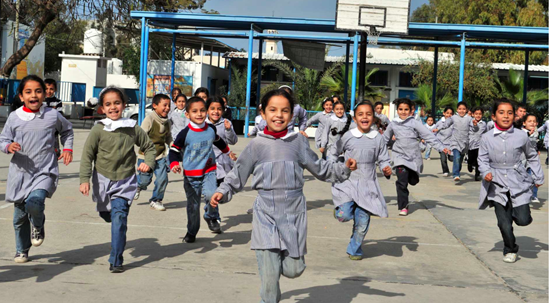 The historic popular uprisings in Egypt and elsewhere in the Middle East are forcing the United States, for the first time in decades, to recalibrate American priorities there. In the past, we have weighted our diplomacy and resources toward order and stability, often at the expense of our commitment to freedom, democracy and development. The events of recent weeks make clear that we must give higher priority to supporting more just and accountable political institutions and to unfulfilled human needs. If we don't, the threat of violence and instability will surely grow.
One bright exception to our uncertain commitment to human development in the Middle East has been our strong support for UNRWA (United Nations Relief and Works Agency), established in 1949. UNRWA's mandate was to help meet basic needs of the 750,000 Palestinian refugees displaced in the 1948 war, pending peace and a resolution of the refugee crisis.
Today, UNRWA provides education, health care, vocational training, emergency relief and social services to 4.7 million Palestinian refugees in the West Bank, Gaza, Lebanon, Jordan and Syria. Although these refugees remain one of the region's most disadvantaged communities, UNRWA has helped Palestinians become one of the area's best educated societies. Many thousands of graduates of UNRWA's 700 schools, which now educate 500,000 students, have higher degrees and have distinguished themselves in science, medicine, business and academia around the world.
Since the 1960's, girls have made up around half of UNRWA's students. The agency also runs 10 vocational centers that teach entrepreneurial skills, 65 women's centers, and 40 rehabilitation programs in the most distressed areas. Through UNRWA micro-lending Palestinian men and women have received 220,000 loans worth over $250 million to help them achieve dignity and self sufficiency.
UNRWA health clinics receive over 11 million visits a year. Between the mid-1960s and 2006, infant mortality among UNRWA-served populations fell from 16 to 2.2 percent, beating the target of the World Heath Organization for the Middle East.
Contrary to a popular notion, Palestinians served by UNRWA do not exist on relief, except in severe crises like the war in Gaza. Most are poor, but the majority have become self sufficient. UNRWA education, health and other services have brought hope, dignity, and an escape from the most dire poverty for millions of Palestinian refugees, and have helped create a vibrant, productive, aspiring community.
There are other misunderstandings about UNRWA: for example, the myth that UNRWA has perpetuated the Palestinian refugee problem by discouraging refugees from leading normal lives elsewhere. In fact, many refugees have left their camps and emigrated to other countries, but most lack such opportunities. It is the failure of the international community and the parties involved to resolve the refugee issue in the context of a just and durable peace deal that has perpetuated the refugee problem.
As for the well-worn charge that UNRWA has kept alive Palestinian opposition to Israel and supports radical politics, in fact it scrupulously avoids politicization of its staff and schools, which include courses in human rights and non-violence. In running its programs in the West Bank and Gaza, UNRWA works closely with officials in Israel. Indeed, UNRWA schools and services in the West Bank and Gaza are a buffer against joblessness, despair and extremism among refugees, 50% of whom are under 25, in an environment where unrest is a constant threat, pending a long overdue peace.
The United States, as UNRWA's most generous donor for six decades, should be proud of its support for UNRWA's human development programs for Palestinians. Notwithstanding perennial calls for cutting our contributions, all administrations, Republican and Democrat, have maintained America's support for UNRWA as a vital counterpart to our peace-making diplomacy.
This year in Washington, amidst threats to stability and rising demands for freedom, jobs, and more decent lives in the Arab Middle East, there are calls for serious cuts in -- or even eliminating -- our annual contribution to UNRWA. At the same time, UNRWA's needs are growing, as the refugee population grows. (Many students at UNRWA's split-session schools in Gaza study in makeshift shipping containers.)
A retreat from America's leadership in funding UNRWA would be foolish and damaging to U.S. interests and credibility. At a tumultuous turning point in the Middle East, where cries for freedom, jobs and human development are resonating, America needs to reinforce its investment in human development and more dignified lives for Middle Easterners. Keeping faith with America's historic commitment to UNRWA is an essential way to confirm our nation's commitment to these ideals.
REAL LIFE. REAL NEWS. REAL VOICES.
Help us tell more of the stories that matter from voices that too often remain unheard.