 This year's winner of the Academy Award for Best Live Action Short, writer and director
in his inventive 18-minute romantic comedy,
.
Raymond Goodfellow, a lounge singer and master performer of darts tricks onstage is madly in love with his bandmate, Kelly. But unfortunately for Raymond, the object of his affections is in love with someone else - his best friend and bandmate Fozzie. In Raymond's mad quest to make the girl of his dreams fall for him, he prays fervently to God every day. Finally, upon receiving a package of passion-inducing darts, his prayers are answered. The plot thickens.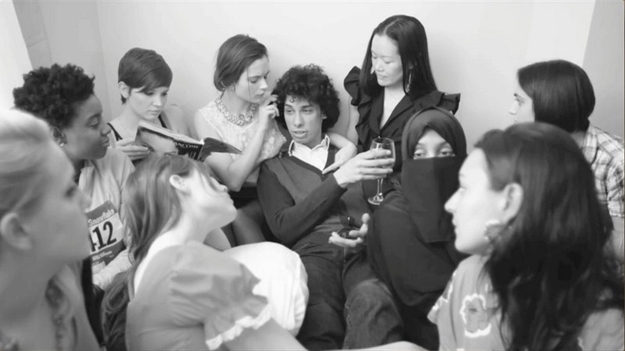 Shot in black and white, with a style reminiscent of the French New Wave, God of Love has a jazzy sensibility that may remind one of Woody Allen's 1970s New York. The cinematography lends the film a nostalgic patina, making its romantic bent even more believable and its comedic edge, unexpectedly funnier.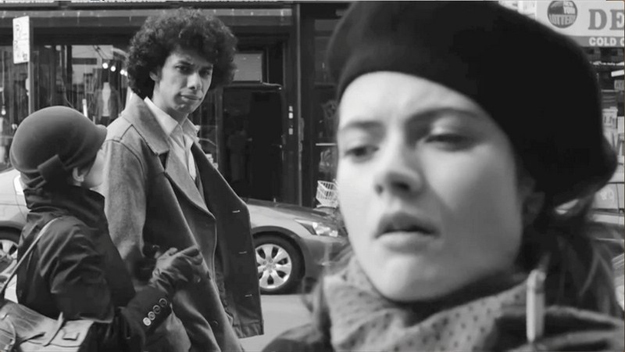 The film's soundtrack produced by score composer and Matheny's partner, Sacha Gordon is jazz-infused and gives a nod to French composer Michel Jean Legrand, reinforcing that French New Wave vibe that Matheny seems determined to recreate.
An untrained actor, Matheny admits he wrote Goodfellow's role specifically for himself. But whether trained or untrained, he delivers impeccably and makes it easy for audiences to fall in love with the character for his goofy charm and good intentions. Matheny's Goodfellow works seamlessly with Marian Brock's Kelly and Christopher Hirsh's Fozzie, both equally disarming performances.
The premise of the love triangle seems straightforward enough, but it is the simple and exacting nature of the film's composition and technique that makes God of Love an award-winning hit.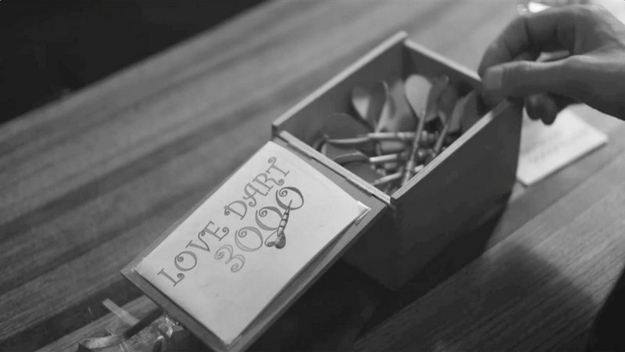 I caught up with Matheny in New York a few days before the Academy Awards. Here, he tells Crane.tv how being a copyeditor helped him become a better writer and director, and how he never intended to rip off Woody Allen.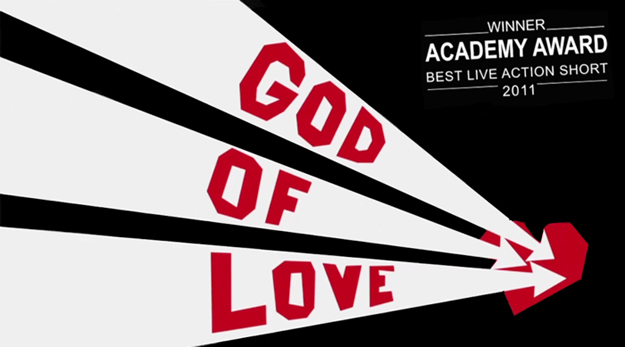 More on God of Love and Luke Matheny:
How did you come up with the idea for God of Love?
God of Love was my thesis film at New York University, Tisch School of the Arts' Graduate Film Program. I knew I had to do a thesis film so I came up with all sorts of ideas for the project.
Why did you name the protagonist Raymond Goodfellow? Was that a random choice or a conscious decision?
The character I play, his name is Raymond Goodfellow. I knew that I wanted to tell a story about a doofus who kind of learns a lesson and is a better person than he expected to be so I thought that a good fellow might be a nice way to foreshadow that part of his character. And Ray - I just liked that name.
Who are your film heroes?
Directors that have been influential to me are from Hollywood studio films of the 30s and 40s like Frank Capra, Preston Sturges and Howard Hawks. More recently, I really love the Coen brothers, Wes Anderson and Pedro Almodovar. And I have always really enjoyed Woody Allen's films.
What or who has been your latest discovery?
A filmmaker that I sort of rediscovered that I like is Mike Leigh. I just saw his film Another Year. I had seen some of his other works like Topsy-Turvy, Naked, and Secrets & Lies. It has been a while.
At a film festival, I was fortunate enough to sit next to Lesley Manville, who was an actress in Another Year, and who I sort of got to know. I was unfamiliar with her work. I guess she has been in several Mike Leigh films. Then I saw the film and she was great in it and the movie was great so I'm a great fan of it so it was a nice rediscovery. Well no one really gets performances that are so deep and realistic from such a wide swath of his performers as Mike Leigh, so I am always very enviable of that.
What other references do you have in your work?
In terms of references in my work, some are more explicit than others. There is one script that is kind of based on Don Quixote. My previous work was called Earano that was an adaptation of Cyrano de Bergerac but he had big ears instead of a big nose, so I guess sometimes the references are hammier than others, at times they are a little subtler.
Who would you like to collaborate with?
In terms of collaborators, that I'd like to work with in the future, honestly, I'd like to develop deeper relationships with the people I've already collaborated on this past film. In terms of people out there I would love to work with, Don Knotts passed away but I really liked him, Jonathon Winters maybe, and Dick Van Dyke would be cool.
Who composed the film's score?
The music of the film features a cool jazz score. There is a jazz band in the film that is kind of a guitar-based drum trio that I based on people like Shelley Manne and Ray Brown, and we got musicians to copy their style. On the score elements of the music, my composer Sasha Gordon took care of that and made it lushly romantic, I guess. There was eternal fun in terms of coming up with the music for the film.
Who do you think are the most promising young directors at the moment?
Certainly, the Mumblecore movement has its pluses. Aaron Katz whose films I have not actually seen but the things I read about them make me think I will like his movies. And obviously I am always supportive of everyone who comes out of our program. Cary Fukunaga who directed Sin Nombre and the upcoming Jane Eyre is a big success story of our program, along with many others.
What are your other projects after God of Love?
I have three projects after God of Love. One is a feature screenplay, which is called a Birder's Guide to Everything, which is a teen coming-of-age story set in a world of competitive bird watching. That's a film that I co-wrote with my friend Rob Meyer, which is a feature version of his thesis film and that's already in the works and in pre-production. He and I are also working on another script hopefully to sell which is a mainstream romantic comedy about a genie, which I think is going to be good. Then, there's a script that I am finishing up, to direct and act in myself, that's my solo first feature and that's called Ron Quixote, a loose adaptation of Don Quixote, that I hope will be very funny and entertaining.
Popular in the Community