Photos by Walker T. Bangs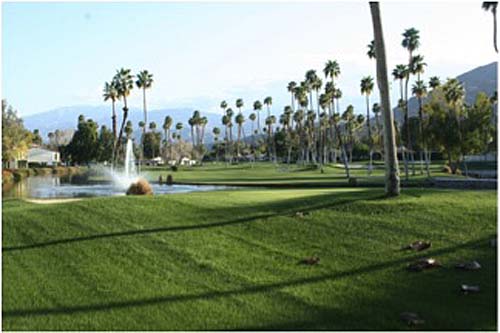 Palm Springs sprawls like a petrified fossil on a culture dish in the middle of the hottest, driest desert in North America. Who would want to live there? Yet, in the early half of the 20th century it became an oasis for hay fever sufferers, and valetudinarians with tuberculosis, bronchitis, emphysema and asthma. That is until its first Green Movement, one that saw a spate of golf courses rolled out like carpets throughout the Coachella Valley. That precipitated another demographic shift, to retirees. Now, the eight cities that make up the Desert Empire, stretching southeast from the San Bernardino Mountains to the saltwater Salton Sea, are sometimes collectively called God's Waiting Room. Everyone knows the little blue-haired ladies that populate Florida. Well, their parents live in Palm Springs.
Deserts are not naturally green, of course, but with enough siphoned, sucked-up or stolen water, they can be transmogrified into emerald cities. Palm Springs is a curious button, as it was involved in environmental progressiveness long before fashion, with its vast wind farms and other ingenuities, and then it enjoyed a lost weekend during the Hope/Sinatra/Skelton period, where it smacked of overindulgence and development at the expense of eco-conscientiousness; and now it is back, retrofitting, retooling, and fashioning a green future, or at least one that strives for balance.
Sometimes when the house seems cluttered and cold, it's time to head to the desert. Time to peel back some layers, to strip the veneer of worldliness and return to some more primitive, if more demanding, state of grace. So, with family on board, I point the Hybrid East, and make the three-hour trek from Los Angeles to Palm Springs.
In the last sigh of the drive, on the downside of the San Gorgonio Pass, spins some 3200 giant ivory-white egg-beaters, the wind farms T. Boone Pickens referenced when he said America is "The Saudi Arabia of wind."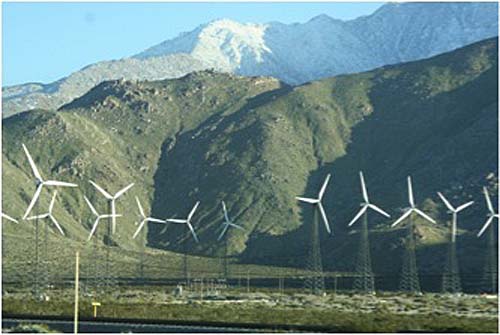 Sucked in like a bird, I sign up for the 90-minute Palm Springs Windmill Tour, an operation that touts itself as the longest continually operating wind farm tour in the country, marking Palm Springs as a sustainable energy pioneer, a contented coyote in the churchyard of the desert.
We board a 21-passenger white minibus, the price of emissions, at the intersection of Interstate 10 and Indian Avenue, and sit back as Ken Huskey (aka White Horse), a 40-year veteran in the energy industry, takes the wheel and the mic, delivering in best AM DJ voice a dazzling non-stop physics-laden eclogue on the 300-hundred-foot-high spears with periwinkles on top, and their awesome powers. "Wind energy is a form of solar energy, collecting the breath of the sun. Out here in the pass, when the hot desert air rises it pulls in the cool air off the ocean, creating wind, lots of wind."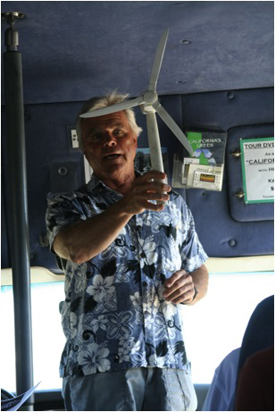 Winding through this timberland of wind catchers, Ken stops to point out the original seed, the squat "blunderbuss," a ducted turbine installed in 1926 by one Dew Oliver, who raised $12 million for his scheme, but ended up convicted of fraud, though today he would not only be absolved, but crowned a haruspex, the Benjamin Graham of energy pickers.
Today 1 ½% of America's electricity comes from wind farms like this, avoiding some 62 million tons of carbon dioxide annually. That is like taking 10.5 million cars off the road, and conserving 20 billion gallons of water annually, water which would have been withdrawn for steam or cooling in conventional power plants.
But Obama and the U.S. Department of Energy want 20% of our electricity to come from wind by 2030. What does that mean?
Ken Quixote enlightens: "We'll need 233,330 more wind turbines, 610,000 blades, 99 million bolts, 1 million miles of rebar and 1,829,997 delivery trucks. All of which will create 500,000 more jobs, save consumers $128 billion through lower natural gas costs and cut greenhouse emissions as much as taking 140 million automobiles off the road."
After the tour, we drive past the green sign that says, "Welcome to Palm Springs," and check into the Rancho Las Palmas Resort & Spa, which sounds like the classic Man Bites Planet Palm Springs pleasure temple, with its swimming pools, lakes, fairways, lush English gardens, and manicured lawns.
But once in the room I notice the energy efficient light bulbs, the card that guests can hang to announce their reuse of towels and sheets, and even the reedy biodegradable toilet paper. This is not my mother's Palm Springs resort.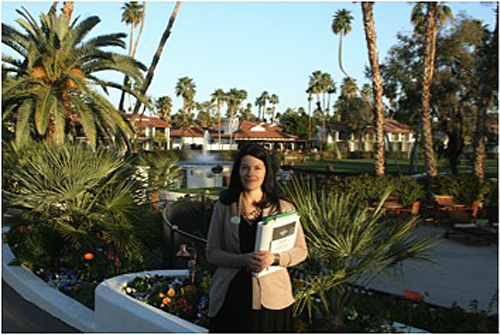 In the atrium lobby I run into Cristina Cascio, a marketing coordinator for the hotel, and ask for the lowdown. She offers a mini-tour, and while wandering the 450 green acres, she explains that the resort opened 1987 as one of the largest complexes in the Southwest, but just a few years ago it was fraying around the edges, losing favor with visitors, and standing as more a relic of a former glory than a 21st century allure. New owners arrived and decided to take a greener path, initiating a series of sustainable practices. Cristina points out no Styrofoam or aerosols are allowed, no bottled water in the spa or by the pools, and colored recycle bins are everywhere. The chef uses local foods and organic ingredients. All the carts are electric, and a Biodiesel Extractor processes used cooking oil (approximately 45 gallons per week) into usable Biodiesel fuel to run landscaping equipment.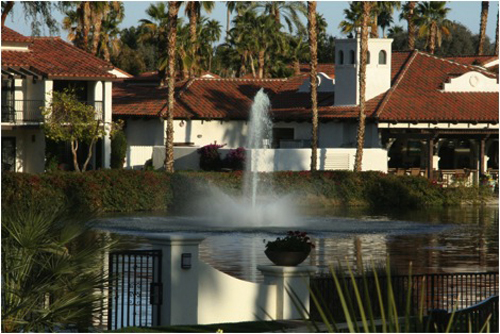 Cristina shares she is part of "Team Eco," a group of 12 volunteers who seek new and better ways to be green, including purchasing green-seal approved spa and laundry products, setting up ride-shares, encouraging housekeepers to separate, and allowing them the monies they can collect at recycling centers, and even making sure the copy machines print both sides, and toner and ink cartridges are sent back to vendors for recycling.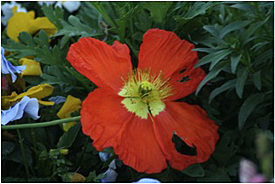 "Why here?" I ask, oxymoronically. Cristina goes beyond the spin and acknowledges it is in large part because visitors now want this approach. Convention planners, who provide a major piece of the business here, often now choose a destination on how green it is. As do honeymooners, romantic couples, families and business travelers. And as such, hotels, resorts and many enterprises throughout the Palm Springs area are making the changes for good business reasons. Desert Springs, a new mesa of moral lines, is a synecdoche for the whole of the Valley. "Some visitors, especially older ones, don't like our green drive....they miss the plush TP and the Styrofoam," Cristina admits. "But, more and more guests, and employees, want the audacity of green, so that's where we are heading."
I ask her if she has a fact sheet on the green initiatives that she can give me.
"Don't want to waste paper. I'll email it to you...."