These three recipes create perfect mouthfuls to offer to your holiday guests. Hors d'oeuvres have such a bad rep this time of year -- high in calories, low in nutrients -- so we at The Pollan Family Table created three healthy and light recipes that you can feel good about serving. Full of wholesome ingredients, they are not only terrific for the holidays, but also great to have in your repertoire for year-round entertaining.
Spanish Tortilla with Spinach and Manchego Cheese
Our Spanish omelet is a great way to take familiar healthy ingredients and turn them into something exotic and international for your guests. It's perfect for entertaining, cut into wedges or squares, and offered as tapas with a selection of Mediterranean olives.
(6 to 8 servings)
1¼ cups peeled and diced Yukon gold potatoes, cut into ½-inch cubes
2 or 3 tablespoons unsalted butter
8 large eggs
Kosher salt
Freshly ground black pepper
1 tablespoon finely chopped Italian (flat-leaf) parsley
1 teaspoon chopped fresh thyme leaves
1 medium white onion, halved lengthwise and thinly sliced crosswise (1 1/4 cups)
1 cup packed baby spinach leaves
1/2 cup shredded Manchego cheese
Line a plate with paper towels.Place the potatoes in a medium microwave-safe bowl with a lid, and add 1 tablespoon of the butter. Cover the bowl and microwave on high for 3½ minutes. Remove the bowl (it will be hot) and shake to loosen the potatoes. Return the bowl to the microwave and cook until tender, about 3½ minutes more. Set aside.If you don't want to use a microwave, place the potatoes in a small saucepan and add cold water to cover. Bring the water to a boil and cook partially covered for 5 to 7 minutes, until the potatoes are fork-tender. Remove from the heat, drain well, and return to the dry saucepan. Set aside. (You need only 2 tablespoons of butter in total if using this non-microwave method.)
In a mixing bowl, combine the eggs with 1 teaspoon of salt, 1/8 teaspoon of pepper, the parsley, and thyme; whisk to blend.
Place a medium ovenproof, nonstick skillet with a broiler-safe handle over medium heat. Add 2 tablespoons of butter. When it melts and starts to sizzle, add the potatoes in a single flat layer and cook undisturbed for 5 minutes. Flip the potatoes with a spatula and cook for an additional 3 to 5 minutes, stirring occasionally, until lightly browned. Transfer the potatoes with a slotted spoon to the paper-towel lined plate, leaving the remaining butter in the skillet.
Set a rack in the upper third of the oven and turn the oven on to broil.
Add the onion to the butter and sauté over medium heat until golden brown and tender, 4 to 6 minutes. Add the spinach and sauté for an additional 2 minutes, until wilted. Return the potatoes to the pan and pour the egg mixture over the vegetables. Stir quickly to mix all the ingredients together. Cook undisturbed until the edges begin to set, 4 to 5 minutes.
Run a rubber or silicone spatular around the rim of the pan to loosen the sides. Sprinkle the top of the tortilla with the cheese and place the pan under broiler until the cheese is lightly browned, about 2 1/2 minutes. Remove the pan from the oven. Slide the tortilla onto a platter, browned side up. Let it cool for 5 minutes, then slice into thin wedges or squares, and serve.
Pesto and Parmesan Stuffed Mushrooms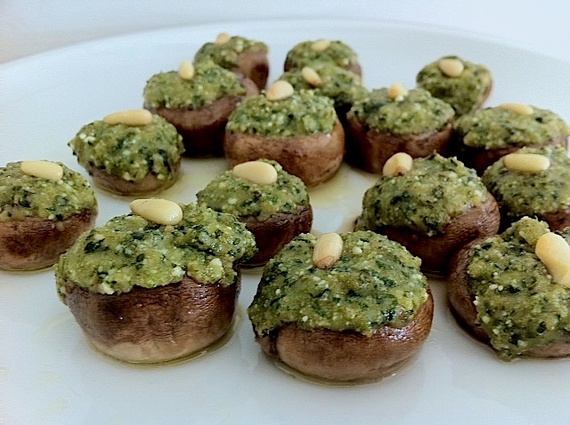 These healthy mushrooms are quick and easy to prepare -- yet impressive looking and real crowd pleasers.
(8 to 10 servings)
1 cup basil pesto
1/2 cup grated Parmesan cheese
2 tablespoons plain breadcrumbs
24 medium-size button or cremini mushrooms, stemmed
24 pine nuts
Organic olive oil cooking spray
Set a rack in the middle of the oven and preheat the oven to 375° F.
Combine the pesto, Parmesan cheese, and breadcrumbs in a mixing bowl. Using a small spoon stuff the mushrooms with the pesto mixture, being careful not to overstuff, and place a pine nut in the center of each.
Lightly spray a rimmed baking sheet with the olive oil and arrange the mushrooms on it in a single layer. Bake on the middle rack of the oven for 8 to 10 minutes, until golden brown. Remove from the oven, let cool for 5 minutes, and serve.
Creamy Avocado and Chickpea Bruschetta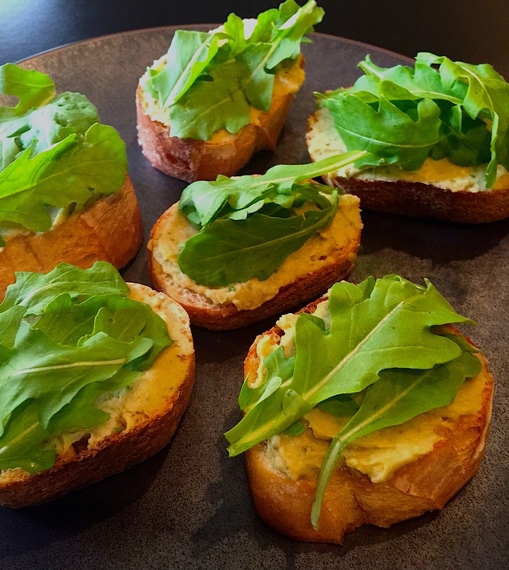 These Creamy Avocado and Chickpea Bruschette are a perfect Hors d'oeuvres for entertaining. They are ever so easy to make, delicious, and remarkably healthy. The lime juice along with avocado, chickpeas, and cilantro combine to make a delightful and unique spread.
(8 to 10 servings)
1 baguette, cut into ¾-inch slices
5 tablespoons, plus 1 teaspoon extra virgin olive oil
2 cloves garlic, each cut in half
One 15-ounce can organic garbanzo beans, rinsed and drained
1 1/2 tablespoons fresh lime juice
1 ripe avocado, cut into chunks
Sea salt
Freshly ground black pepper
1 tablespoon chopped cilantro
1 small bunch baby arugula
Preheat the oven to 425°F.
Place the bread slices on a rimmed baking sheet. Brush both sides of the bread with 3 tablespoons of the olive oil. Bake in the oven for 6 minutes. Remove and rub the surface of each toast with 2 halves of the garlic cloves and set aside.
Meanwhile, in a food processor combine the chickpeas, 2 tablespoons plus 1 teaspoon of olive oil, the 2 remaining garlic halves, and the lime juice, and pulse until the mixture turns into a stiff paste. Add the avocado, 1/2 teaspoon of salt, 1/8 teaspoon of pepper, and the cilantro and pulse again until smooth.
Spread the avocado and chickpea mix generously on each toast. Top each one with a few of the arugula leaves and serve.
REAL LIFE. REAL NEWS. REAL VOICES.
Help us tell more of the stories that matter from voices that too often remain unheard.