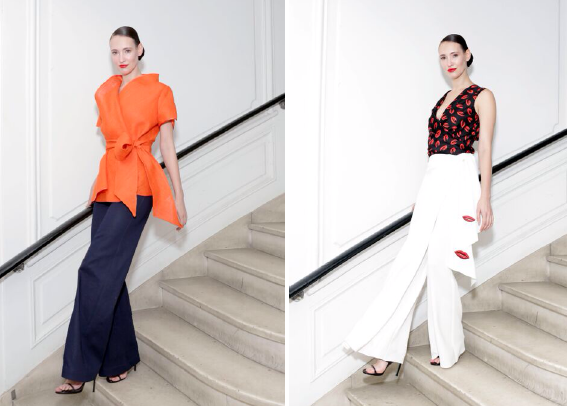 Glamorous models dramatically descended the spiral staircase in beautiful couture designs. The midtown townhouse was the former home of Mike Todd and Elizabeth Taylor and the perfect backdrop for Jackie Rogers to show her Spring Collection 2016. Jackie was a mannequin for Coco Chanel at her Paris salon before turning her talents to men's wear design.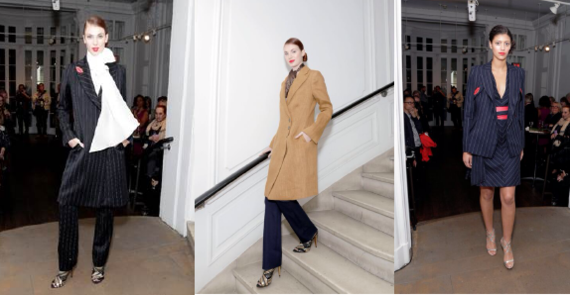 The standout suits were a navy pinstripe double breasted men's tailored jacket and dress to match, a burlap double breasted refer coat with cigarette denim pants in tobacco and a black Doubled breasted reefer coat pinstripe with navy pinstripe cigarette pants to match all tailored to the body. Homage to her friend Salvador Dali appeared in the occasional lips motif on a few of the suits and silk blouses.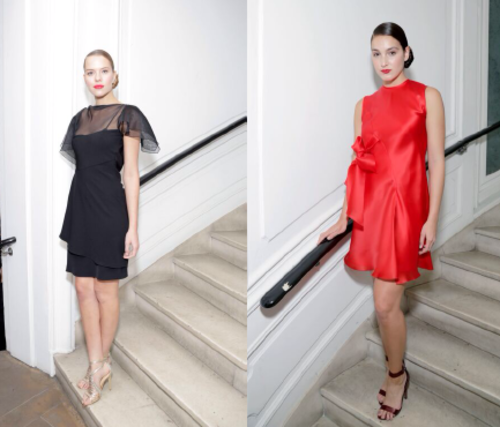 Jackie auditioned for Cole Porter's Broadway production of "Silk Stockings". Her red organza dress with bowtie and a black kerchief organza draped dress seemed to be an inspiration. A former actress in Fellini's "8 ½" her Black crepe bias asymmetric gown and a red silk and wool bias one pocket gown were stunning entrance makers.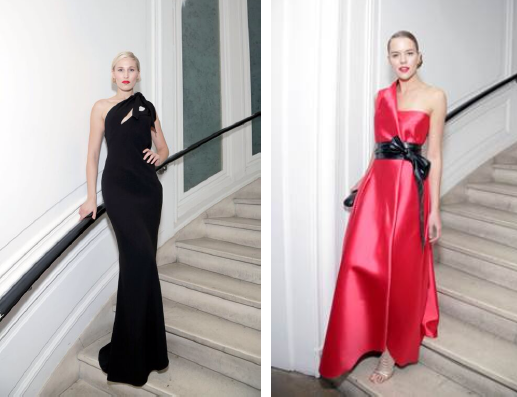 The show for a select few press and stylish friends among them Paul Westlake, Hayley Henning, Erik Jens Jean Shafiroff, Kathy and Gary Andreassen and Mario Buatta. Her attention to dramatic details are appreciated by a discerning clientele that has included Carmen Dell' Orefice, Oprah Winfrey, Tyra Banks, Condoleezza Rice, Lee Radizwill and Nicole Kidman. Her latest collection available at her Southampton and Palm Beach boutiques are reflections of her timeless elegance. Jackie's motto, "I don't believe in fashion, I believe in style".
All photos (Victor Hugo/PatrickMcMullan.com)