It says enough that Beverly Hills pop artist Brandon "B." Howard has just released a single that's in the top 20 on Billboard magazine's dance song chart. But his history with the legendary Jackson family is too intriguing to leave it there. A speaking voice genuinely like Michael's invokes an eerie specter when trying to extract basic information, like how old he is. His whispery answer: "Timeless."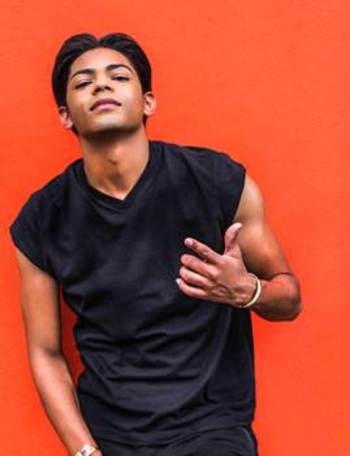 So, looking for clues.... On December 13, the day after his release party for "Don't Say You Love Me" (DSYLM) at Berlin's hot Felix ClubRestaurant, B. Howard was agog over the presence of Hollywood types at his celebration. "It was freaking awesome. People from James Bond were there and all," he shared breathlessly. "I had a rocking release party last night."
Along with his uncorrupted face and pubescent tenor, that kind of zeal over starry peripherals would put him at around 19. But it turns out he's been working as a record producer since 2003. A teenager he is not. More importantly, he has garnered the respect of his fellow multi-platinum artistic collaborators, including music industry producers Teddy Riley, Jordan "Infinity" Suecof, Mario Winans, Jerry "Wonda" (Du Plessis) & Wyclef Jean, Mateo "The Auracle" Laboriel, and Ciara. Composers and performing artists have included Lupe Fiasco, Emily King, Jason Derulo, Ne-Yo, Vanessa Hudgens, Miguel, Akon, Marques Houston, Stomy Bugsy, Chief Keef, Luke Christopher, Rich White Ladies, Daniel Skye, and Koda Kumi.
If that sounds like a rare harvest, consider B. Howard's experience capturing the attention of household names when his pizza was delivered to the wrong room at a recording session. "I was at Quad Studios in New York mixing a song for the LSG project, my first platinum," he mentioned casually of his work with Rufus Blaq and the Grammy Award-winning Prince Charles Alexander. "I met up with these guys who were working with Puff Daddy and Jennifer Lopez, and [hearing our song] they were like, 'Who did this?' Kanye West was in the room having a meeting. He said he was inspired and invited me to be in his photograph of all the hot producers and writers in New York."
If that sounds like a dream, consider B. Howard's experience as the son of R&B singer Miki Howard who had Joe Jackson for a manager and a contract with Atlantic Records to her credit. By his own account, little Brandon Howard did much of his growing up at Hayvenhurst, the Jackson family home. Referring to the Jacksons as "my family," he has produced and performed on records with La Toya and said he remains close to Janet and others in the family.
Beyond the Jacksons, he unselfconsciously refers to Chaka Khan is his "second mom," and record executive Sylvia Rhone as being "like a godmother" to him.
But trading on his access to the top in pop has introduced a hurdle, B. Howard noted, drawing the assumption that he lacks real gifts. "Anyone can be born. They don't necessarily have talent," he began. "As a kid, everybody says they can sing and do everything, but when you start doing the work, and you can do it, they respect you. It becomes more than a family relationship."
The eldest of three children, B. Howard said he had considered a career in finance, but music was a calling. Inspired at an early age by MTV videos of A-ha and Tears for Fears, he assumed the name Sonik and began working with Gerald Levert in Cleveland. He struggled to be taken more seriously than as "that kid Brandon affiliated with the family," but after going platinum with the group Dru Hill on "Pass Me By," plus a successful tour in Japan and Hong Kong, B. Howard became a force all his own.
Attesting to his ability to make it by dint of his own talent, he blushed over a gaffe that could have cost a lesser artist his career. The now-deceased record executive Shakir Stewart "was supposed to be giving me a lot of money," said B. Howard, recalling his own ignorance and skepticism in thinking the man could be "some bum." In an overheard conversation with the Grammy Award-winning producer-songwriter Bryan-Michael Cox, he referred to Stewart as "the Shakir guy." Feeling a tap on his shoulder, B. Howard turned and introduced himself.
"Hi. How are you doing? I'm Brandon," said the ambitious upstart. The music exec responded, "I'm the Shakir guy." And without missing a beat, B. Howard asked, "Where's my check?" The room exploded in laughter. "We'll get to that," retorted Stewart.
"He basically talked about my life to me," mused B. Howard. "He was excited and even proud to see something like this." That same day, the mouthy hopeful met a Motown executive who would co-manage his career for a period thereafter.
Now managed by Phil Quartararo, B. Howard said he hopes to become as big a pop sensation in the U.S. as he is abroad. The new single, enjoying #16 on Billboard's dance chart (Dec. 26 issue), is the product of a promise that superstar rapper-producer Akon had made to deliver some hits to B. Howard. An introduction to producer-songwriter Gibson Kagni sealed it, and "Don't Say You Love Me" was born.
Popular in the Community