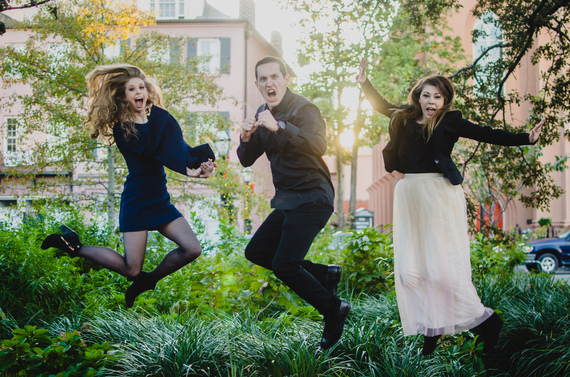 It's no secret YouTube basically rules the world these days. So much so, its become one of the most popular places readers go for young adult book recommendations.
The trio started as internet friends but met at VidCon back in 2013. Now, tons of book lovers around the globe join Booksplosion every month to read a new novel. But their popularity has extended beyond read-a-longs. These guys have become the group everyone wants for exclusive author interviews and in-person appearances.
Tell us a little about yourself and how you got into BookTubing.
Christine: I'm originally from New Jersey and I went to college at Boston University to get a degree in Film & TV. I've always loved reading and at points while at the University, I found myself really depending on books to escape a lonely reality. I wanted so badly to discuss the things I was reading with another human, so I thought to myself, "Why don't I turn to the internet?" I specifically remember thinking to myself, "I'll be lucky if I ever even hit 500 subscribers on this channel," and today I have 250,000 book lovers subscribed! It's insane!
Jesse: I had been apart of the YouTube community for quite awhile, but I felt like something was missing from my experience. I really wanted to make connections and friendships through YouTube, but that just wasn't happening. In 2011, I started college and I didn't really have much of a social life at the time, because of this I turned to books! I stumbled across the BookTube community and it really challenged me to read more. By early 2012 I had started my own channel and I've been making book related content on the internet ever since!
Kat: I always loved books and stories and reading, but it was actually writing that got me into BookTube. In 2011, I decided to participate in NaNoWriMo--National Novel Writing Month. I watched a lot of YouTube and I decided to make daily videos to chronicle my novel writing progress. Some people who found my videos also watched BookTubers, and they suggested I start doing book reviews and book hauls and other BookTube type videos. As soon as I discovered this community, I knew it was where I belonged--books and YouTube! It was a combination of two of my favorite things!
Christine: I'm finding it so hard to pick one! Our meetup/panel at Yallwest, which was the first time we've ever had a a "Booksplosion Meetup." The room was full to capacity and it was overflowing with support and love, I had so much fun!
Jesse: One of my favorite moments from this year was being able to help host an event for Ransom Riggs' Library of Souls book tour. It was a costume party styled event where everyone either dressed up from the time period or characters from the book and it was just so much fun.
Kat: Hmm, really any event that we get to do together in person is going to be memorable!
What is your favorite book of 2015 and what book are you looking forward to reading the most in 2016?
Christine: It's a tight race for 2015 but I think I have to say Queen of Shadows by Sarah J Maas was my favorite this year, it was absolutely fantastic. In 2016, I am so excited for Lady Midnight by Cassandra Clare. I'm also of course looking forward to a million other books (The Trials of Apollo, A Torch Against the Night, Throne of Glass 6, and more) but Lady Midnight takes the cake for me.
Jesse: Library of Souls by Ransom Riggs was by far my favorite book of the year. It was the conclusion to the Miss Peregrine's trilogy and while I'm sad it came to a close, I was so satisfied with how the story ended. As for my most anticipated book for 2016, I'm going to have to go with Truthwitch by Susan Dennard. The second I heard the description for the book, I've been dying to get my hands on it.
Kat: Carry On by Rainbow Rowell is probably my favorite of the year. I also loved Queen of Shadows by Sarah J Maas and Winter by Marissa Meyer. As for 2016, two books from Sarah J Maas, two books from Victoria Schwab, two books from Rick Riordan. Laini Taylor is one of my favorite authors, and she has the first book in a new series coming out. Lots of good stuff coming out next year. My 2016 TBR is already out of control!
What advice would you give to other people who want to start a book focused YouTube channel?
Christine: My advice would just to be to have fun and be positive. The YouTube community can be a wonderful place to make spectacular friends so be sure to get involved. And make sure you're making videos you enjoy about things you're passionate about. If you care about what you're talking about that shines through!
Jesse: Go for it. BookTube has completely changed my life. It sounds so cheesy, but it really has. It's provided me with books that have impacted me, friends that will always be there for me, and it's given me so many incredible opportunities.
Kat: I think the most important thing is to just get started already! There's a learning curve with everything, and the sooner you get going, the sooner you'll start improving. You don't need fancy equipment, you can get books from the library. The most important factor is a passion for books, if you have that, then you're good to go!
Related
Popular in the Community