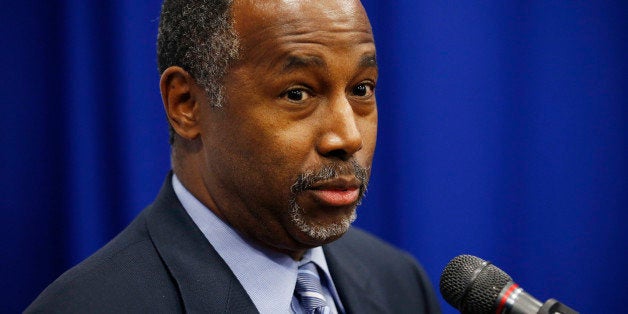 This political season has been dominated by dangerous anti-LGBTQ and other divisive rhetoric that is capitalizing on people's fear and fueling discriminatory attitudes. It's time to call it out.
Donald Trump proposed a ban on all Muslims from entering the country. Ted Cruz declared that the ruling for marriage equality was one of the "darkest days in history." Rand Paul compared the Paycheck Fairness Act to laws passed in the Soviet Union. The candidates truly seem to be trying to outdo themselves to target so many of us.
Even though a broad majority of Americans polled now support marriage equality and nondiscrimination protections for LGBTQ people and their families, several candidates have reached new heights in their anti-LGBTQ rhetoric and positions.
Behold 5 examples of the most egregious anti-LGBTQ statements they've made:

1.At a time when transgender women are being murdered at an alarming rate, Ted Cruz called the anti-abortion, American terrorist who shot and killed people inside of a Planned Parenthood a "transgendered leftist." (source)
2.Ben Carson suggested that transgender people be segregated to separate bathrooms because it "isn't fair that they make everyone else uncomfortable." (source)
3.Mike Huckabee stood hand-in-hand with anti-marriage activist Kim Davis and advocated for a constitutional amendment banning marriage equality.(source)
4.Chris Christie said allowing transgender children to participate in the programs and facilities that match their gender would be "too confusing" for them and followed that up with a comparison of the confusion around terrorism in schools. (source)
5.Ted Cruz, Marco Rubio, Ben Carson, Carly Fiorina, Rick Santorum and Mike Huckabee recently signed onto a pledge that they would pass the so-called First Amendment Defense Act (FADA) within their first 100 days of office. This unnecessary piece of legislation would enshrine discrimination into law, prohibiting the federal government from stepping in when people or businesses discriminate because they believe "marriage is or should be recognized as the union of one man and one woman." (source)
Sadly, this is just a small sampling from the wave of anti-LGBTQ rhetoric we've heard from the campaign trail this year.
In the past decade, we've made significant, and often extraordinary, strides toward achieving full freedom, fairness and equality for LGBTQ Americans. However, there is still so much more work to do, and it is going to take all of us standing together to combat the hostility that has become so commonplace in this campaign season.
Thirty-two states still lack complete statewide nondiscrimination protections in employment, housing and public accommodations, such as restaurants. This year our community faced over 100 anti-LGBTQ pieces of legislation all across the country. Just a few weeks ago, the right-wing deployed anti-transgender scare tactics to repeal Houston's Equal Rights Ordinance -- removing protections based on race, national origin, sex, religion, disability, sexual orientation, gender identity and more -- and we know they have plans to continue these attacks. Even in California, our opponents attempted to place an anti-transgender bill on the ballot.
The anti-immigrant, anti-LGBTQ and especially the anti-transgender rhetoric these candidates are espousing emboldens a culture in which violent hate crimes continue and discrimination flourishes. In 2016 we're going to have to double-down on our efforts to fight injustice through strategic interventions, public education and relationship-building across the political spectrum to create solidarity with all of us who hold a very different vision for the world.
Popular in the Community