It was Christmas Eve, and we were flying home on JetBlue Airways from the Bahamas on a full flight. The flight attendant approached our area and made the announcement that there was a peanut allergy passenger in the vicinity and asked if the passengers in our immediate area would refrain from eating any nut products on the flight if they had them on their person. She then went on to say, in a very kind manner, that if anyone had a problem complying with this request, JetBlue would be happy to re-seat him or her in another area of the plane. No one had an issue. Airline travel would be far less stressful for those with food allergies if all airlines chose to treat this potential life threatening condition with dignity and respect.
The extremely positive and kind manner in which our flight attendant handled my son's nut allergy reminded me of a recent testimonial shared on my website No Nut Traveler about a flight on American Airlines. The treatment of the passenger with a nut allergy on American Airlines could not have been more different than my stellar JetBlue experience.
The story starts out with a woman, let's call her Jane, calling American Airlines four months prior to her flight to inform them she had a nut allergy. She was instructed by an employee on the phone to inform the crew on the day of travel. Jane was lead to believe that her allergy would be taken seriously so that she could fly safely. On the day of her travel, however, the crew refused to refrain from either serving nuts nor informing those around her of her condition. She was told that American didn't want to deny its First Class customers their expected nut snack. This part of the story did not surprise me since, as an advocate for safe airline travel for food allergic passengers, I am well aware of American's policy not to inform others or suspending serving nuts to its customers. What I found truly astonishing is that the flight attendant went on to suggest, according to Jane, that she should never fly, and should simply take a boat. I swear I had to take a double take as I read this submitted story, as I thought I must have read it wrong.
What I found even more ironic is that during the same month this story was shared with me, an overweight support dog named Hank was all over social media for his successful first class flight on American Airlines. There were even pictures of him with the smiling American crew who were more than happy to accommodate him and his companion so they could fly safely to their destination. Before you judge me, understand that I have no issue with dogs flying or otherwise. In fact, my 18-year-old dog is probably the best-treated member of our family. But I have to question how an overweight support animal is treated with kindness and respect on the same airline that will not help a passenger with a legitimate medical condition take simple steps to mitigate her risk of flying with a food allergy. American's policy, in my opinion, actually hinders one's ability to protect themselves.
The time has come for airlines to face the unfortunate reality that food allergies are increasing at an alarming rate. More and more people with food allergies will begin flying. As food allergic passengers, we don't ask to have others notified not to consume nuts around us because we secretly desire unwarranted special treatment. We just want to mitigate the potential risk that we face in the air. Cleaning our area for nut residue and limiting the exposure around us are reasonable asks that can be done without burdening the airline - just look at JetBlue's policy for example. This is a medical condition that no one asks for, and no one wants, and it can lead to death if and when a person is exposed to his or her allergen.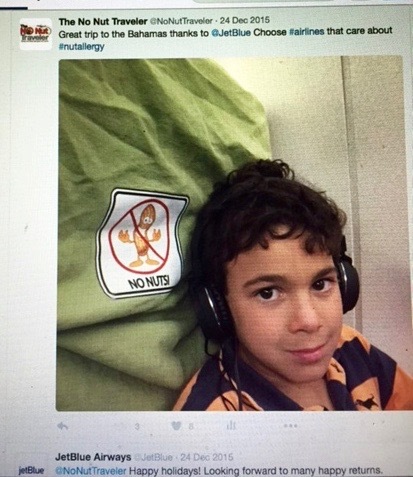 Picture of my tweet to JetBlue Airways showing my son feeling safe and happy on our flight.
Taken and shared by Lianne Mandelbaum.
Support HuffPost
A No-B.S. Guide To Life
Related
Popular in the Community