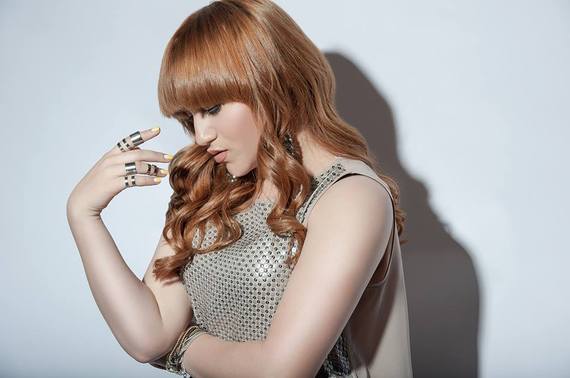 A few weeks ago, Katie Steel was just the name of a pretty singer I was asked to interview. Today, I think of Katie Steel as the name of an unrivaled, diverse artist whose career I will proudly follow until her retirement. After reading about this young superstar in the making, I am sure you will walk away feeling enthused.
Borrowing from gospel, old school soul, and modern pop, Katie's sound is unlike anything we've heard on the radio. After earning popularity covering Top 40 hits, her debut album will contain all original music, positive vibes, and stories from her journey. She isn't concerned with fitting into a certain mold, Katie finds peace in staying true to herself. Her powerful message is one you'd wanna take heed to.
When did you fall in love with music?

My love for music was always there since I was a young girl. I would actually stand on my bed, as if it were a stage, and make my friends stand around it. They would reach their arms out for me to touch them as if it were a concert. I would use a hairbrush or TV remote as my microphone. In 5th grade, I was in a show for my class as Ella Fitzgerald. I had to sing "A Tisket A Tasket". That is when my love for music and the stage became undeniable.
What's your story? How'd you get discovered?

My first singing coach asked my mom and I if I would like to participate in an audition for an organization called Starlent. It is a not-for-profit organization that provides a select amount of teens with free choreography, singing, and acting lessons for 3 months. That is where I met my manager/singing coach/mentor Anita Wilson and performance coach Athena Cameron. I asked for private lessons and that is when I went into serious artist development. From there, I have met so many people that have been instrumental in my career and have become a part of the team.
Your influences spread across a wide range of genres from gospel to country. Describe your journey to find your personal voice.

Before going into artist development, I was always so comfortable staying inside the box. I would sing and practice what I was comfortable doing like top 40 pop songs. It wasn't until I entered the journey of artist development that my singing coach introduced me to artists like Donnie Hathaway, Kim Burrell, Smokie Norful, and Etta James. We realized that my voice was a lot more soulful, so I built and developed off of genres including R&B, gospel, blues, and Motown. Studying those artists and genres really developed my voice throughout the years.
Share a few of your favorite songs, tracks that draw emotion and make you feel like they were written for/about you.

"Best Thing I Never Had" by Beyoncé; Brand New Me by Alicia Keys; I have always had a strong emotional connection to these two songs. When I heard "Here" by Alessia Cara, I was like, "Wow somebody read my mind!" This song truly hits home for me. And anything written by India Arie! Hands down!
I understand you are working on your debut album. How involved are you in the creative process?

I am extremely involved in the creative process. I am at almost every studio and jam session. When I am physically there with my production team, it makes my music sound more authentic and organic which is the most important part to me. All of my originals express who I am as an artist and what my vision is.
How personal are your lyrics?

Some of my lyrics are personal. Sometimes I write about personal moments I have experienced and feelings I have strongly felt. My team and I are always searching for a way to make the content in my songs make people feel good. They say experience is the best teacher. The more I grow and experience in life, the more things I will have to write and sing about. So I'm sure it will always come from a personal place.
You've released your own covers of hit songs, most recently, a remix Drake's "Hotline Bling". What are the qualities in a song that make you want to create your own version?

I love a challenge. Usually, I go for a song that is top 40's or simple and make it my own as if it were an original. I also cover songs that I feel have the same vibe and sound as my original music.
Do you ever feel nervous about the way the original artist may react? Why/why not?

I've never actually thought about that! But, I guess I am a little nervous. I cover songs that I respect and inspire me. As an artist, my originals are very personal. When I get to the point where people are recreating my music, I would feel honored that someone would take the time to learn my song and have it inspire them to make their own version.
Name an artist you'd love to collaborate with. What kind of vibe would the song have?

I would love to collaborate with India Arie considering she is one of my biggest inspirations musically and personally. Her lyrics have helped me through some very hard times. I think the vibe of the song would be acoustic because that is one quality that both of our styles have in common. I would also want the lyrics to be powerful and encouraging.
You have the support of some leading people in the industry. How does it feel to be backed by people as influential as Jullian Boothe and the Grammy winning producer, DJ Blackout?

It is indescribable. I have known these influential people since the beginning of my journey. I remember meeting Jullian Boothe back when I was only 12 years old. He has watched me grow from a singer to a respectable artist ready to take on the music industry. I met DJ Blackout a few years after that. And I mean, who wouldn't want a Grammy Nominated Producer on their team? Having these two people on my team and many others who believe in me is truly a blessing.
I'm sure with the work they've put in, they've given you some amazing advice. What's a piece of wisdom that has stuck with you?

Across the board my team has been my biggest support system. I have a personal relationship with each member and they all have given me amazing advice throughout the years. Overall, the piece of wisdom that has stuck with me is to stay loyal and have a strong work ethic. The people who have been there since the beginning of the journey are the people that will have your back till the end. And of course, having a strong work ethic is crucial. I never stop grinding and perfecting my craft.
How do you feel about your rising fame?

I still remember standing on top of my bed and closing my eyes. I would always see myself on stage in an arena full of thousands of people screaming my name and singing along to my music. I still get chills even thinking about it. For me, there is nothing I'd rather be doing than my music. Each day, I am growing, grinding, and stepping closer to my dream.
How do your friends and family feel about it?

I could not ask for a better support system from my family and friends. My family is at every show and has been my biggest cheerleaders throughout my journey. I do keep a very tight circle of friends around me. I have learned so much about trust, loyalty, and support. But the friends I have now, although few, are the ones that are there for me thick and thin and have always been extremely supportive.
As a young female artist in the industry, you're bound to face a great deal of pressure; from criticism about your look to comparisons to other female artists. Do those expectations get under your skin? How do you keep yourself from being forced to fit the mold of an "it girl"?
I am so grateful that my team has instilled that "head strong" mentality in me from the beginning of my journey as an artist. I am sure that I will face that kind of pressure, but I'm not worried. I have never felt the need to fit in. I have always craved standing out in the crowd and being different.
Your style is so fun and funky. What influences your wardrobe choices?

One of the biggest influences is Solange Knowles. Her style is so funky and retro. I've also had influences from Janet Jackson and Alice in Wonderland!
Which celebrity's closet would you love you shop from?

Solange Knowles, 100 percent!
What is the overall energy you want fans to get from your music?

I want them to listen to my music and feel good! I want people to want to get up and dance and just vibe out with me. My music can be played at a club, or at a much more chill setting. I want to perform music that never gets old.
What does being a role model mean to you?

Being a role model, in my opinion, is one of the most honorable qualities a person can have. To have people look at me as an inspiration just motivates me to work harder. I know how much artists like Beyoncé and India Arie mean to me. They have been instrumental in my journey as an artist, and young girl facing growing pains. To be able to be that person for someone else would be an amazing feeling.
If that wasn't enough Katie for you, follow her on Twitter, Instagram, and Periscope @iamkatiesteel!
Support HuffPost
The Stakes Have Never Been Higher
Popular in the Community