As the miserable weather drags on until Spring, maybe it's time to consider a holiday in the sun. Heading to the Caribbean for a break from it all is often the only winter medicine you need, so you should dive right in. Literally.
Learning to scuba dive is one of the most extraordinary experiences you can have in a lifetime. You will suddenly be exposed to an entirely different world underwater - a world filled with color and light as you've never witnessed it before on land. This underwater world can dazzle your senses, but it is also a world that demands respect and care.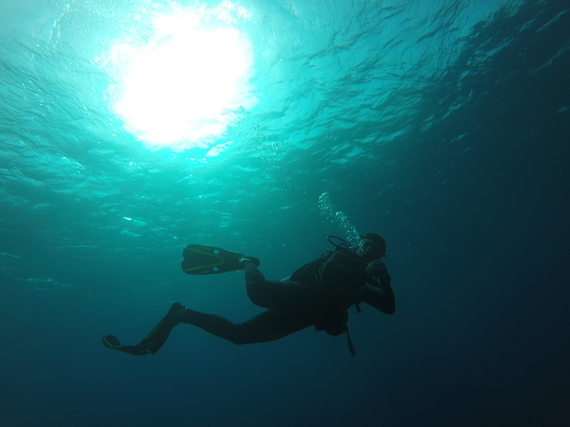 When choosing where to learn to dive, safety comes first. Choose a dive shop that recognizes the importance of safety and that follows internationally recognized standards for diving. Choose a shop that understands the importance of protecting our underwater world, and that teaches environmental awareness and appreciation.
Be sure to choose the shop that makes you feel safe and comfortable; choose a shop where you feel excited to learn a new skill and to experience an entirely new world.
Of course, you can also choose an individual instructor if that's what makes you feel safe when you take your first breath underwater. That's what I did. I learned to scuba dive with my then-boyfriend, a marine biologist and PADI Instructor with such a passion for the underwater world that I couldn't help but become infatuated (with diving...I was already infatuated with him!). He showed me an entirely new world, and it forever changed my life.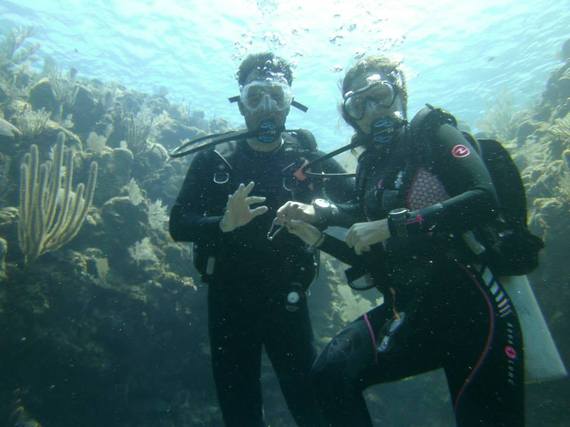 I was also lucky enough to learn to dive in Roatan, one of the Bay Islands of Honduras. Known for its calm waters and shallow reef close to shore, Roatan is a wonderful place to learn to dive. The Roatan Marine Park has done fantastic grassroots work in protecting the coral reef, so you can rest assured that dive shops there teach stewardship and conservation along with scuba diving basics.
Roatan isn't the only great place to learn to dive though! There are PADI dive shops all over the world. While I couldn't possibly list them all, here are some other must-see locations in the Caribbean if you're ready to learn to scuba dive in 2016:
Klein Bonaire, Bonaire - This small island on the west side of the Caribbean nation of Bonaire offers protected, calm waters, and ideal dive conditions. Researchers are learning to seed and propagate coral there, so divers can also visit a nursery site.
Sunset Reef, Grand Cayman - This western Caribbean island offers some of the most accessible shore diving in the world. Visitors can literally walk from their hotel to pick up their equipment and then step right into the water. Swimmers quickly reach a submerged wall, a sheer drop into deep water, offering the chance to find sea life and underwater sculptures.
Anse Chastanet, St. Lucia - Located in the marine park, this shallow reef is popular for both diving and snorkeling. With more than 150 different fish species on the reef, this site is a favorite for photographers.
Wherever you're traveling to in 2016, make this year the year you learn to scuba dive. Make this the year you experience something new and push yourself to a whole new depth.
Go see the world...the whole world.
----------------------------------------------
This article was completed and photos were contributed with assistance from PADI. Amanda Walkins is a PADI Diver and former PADI dive shop manager in Roatan, Honduras.
Amanda Walkins is a serial expat and travel addict. You can read more about how she met this marine biologist on the beach in Honduras and how they just tied the knot in Scotland at www.amandawalkins.com.
Related