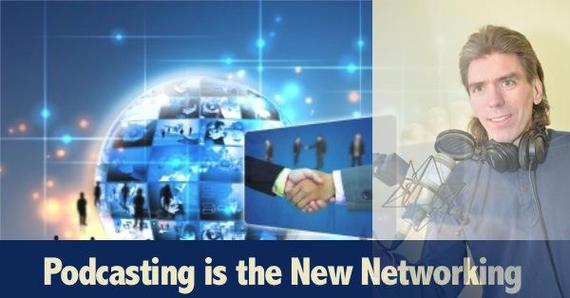 Similar to blogging, podcasting allows you to build an audience through the content you create.
However, having a podcast offers a distinct advantage - the opportunity to create real relationships.
Want to know my thoughts? PODCASTING IS THE NEW NETWORKING!
Here is a quick idea:
If you want to know someone, invite them on your podcast. They may not have the time for, or interest in, a one-on-one conversation (yet), but they usually are delighted to be on your show.
And here's a wonderful reality: once they're there, the podcasting magic kicks in and a trusting friendship can be quickly developed.
Here's a few Folks I've gotten to Know
Jack Canfield
Marci Schimoff
Darren Hardy
Patsy Clairmont
Ken Blanchard
Sally Hogshead
Here's another idea:
Identify the top three podcasters in your niche and invite them on your show.
I've developed meaningful relationships with the big names by doing this.
John Lee Dumas
Pat Flynn
Jordan Harbinger
The podcasting community and podcasters are amazing in their willingness to be a helpful resource to newbies.
If you're coming from a dog-eat-dog type of environment, the culture change might take a little getting used to, but hang in there, even the most experienced podcasters are enthusiastic and are usually pretty fired-up to help.
These two tips are important because:
It will help you expand your circle;
You'll learn from the experiences of others;
You'll make tons of new friends;
Opportunities will chase you down.
That's why podcasting is the new networking. It allows you to spend individual time with the "movers and shakers" in your industry and niche, become buds, and hang together.
I'm thinking that by now, you've figured that you can invite anyone on your show that you want to develop a relationship with. Believe me, the magic of the podcast still works, even with people outside the podcasting world. I've created solid friendships with people I never thought I would know, and earned business from people and brands I assumed were well beyond my reach.
Bonus tip - Don't Scare away Potential Guests - WHAT NOT TO DO
You're obviously excited about your podcast... And rightfully so. You should be. But don't let your enthusiasm scare away people who may become guests, business partners, and clients.
When scheduling first timers, the #1 priority is to get them on the calendar. You can always fill them in with details afterward.
I've made the mistake of giving away too much information and losing them and their interest when "I'd love to have you on my show," would have worked just fine.
Truth is, the majority of the population still doesn't know what a podcast or iTunes is. So, don't feel like it's your duty to educate them right there on the spot. There will be plenty of time for that. Your moment to shine is when the actual interview takes place.
Folks have a tendency to not do things they don't understand. Podcasting may be one of them. Don't run the risk of losing people by talking over their heads.
The Sure-fire solution - Get the "yes" first.
I hope this has been helpful and has given you new ideas for difference-making actions.
What's been the most profitable way for you to network?
REAL LIFE. REAL NEWS. REAL VOICES.
Help us tell more of the stories that matter from voices that too often remain unheard.