One of the newest, and surely more significant additions to the Lower East Side is Galerie Richard as it recently moved from Chelsea to its current location at 121 Orchard Street. The move was prompted by the recent changes in Chelsea's art district as low-rise buildings are quickly being demolished and replaced by largely hi-rise residences. Some say this will be the inevitable death of the Chelsea art scene. Who knows.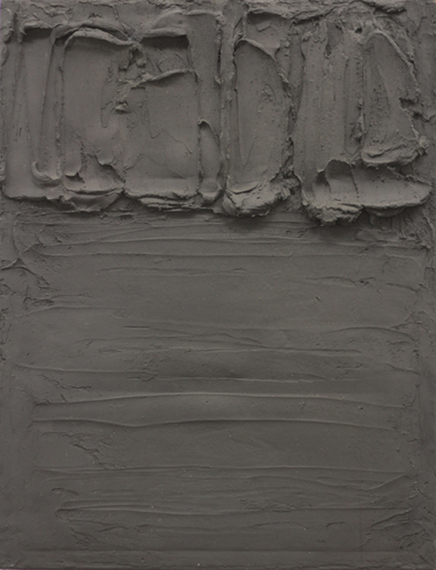 Bram Bogart, High Society, 1960, 46 ¾ x 35 ½ inches, 119 x 90 cm - oil and water color on wood panel
In any case, Galerie Richard will continue its strong program here featuring a number of artists who cover the spectrum between the conceptual to the figurative. The gallery's current show, Painting in 3 Dimensions, is something of an overview of art created on three-dimensional surfaces, some dating back as far as Bram Bogart's iconic High Society (1960), an oil and water color on wood painting that speaks volumes of the balance between pushing the envelope on texture and holding the line on scale resulting in a very curious feeling of stillness, even death. There are later Bogart's as well that, with equal tactile quality and more color prove equally potent.
Other early entrées of the modulated surface type are a pair very sleek and swift visions from a member of the Japan-based Gutai group, artist Norio Imai. Imai's two acrylic, cotton cloth and plastic mold works White Ceremony - 60 Degrees (1967/2013) and White Ceremony - Opposing Corner (1967/2013), with their simple compositions and buoyant and mesmerizing raised black circles clearly and overtly command this or any space they would be placed in.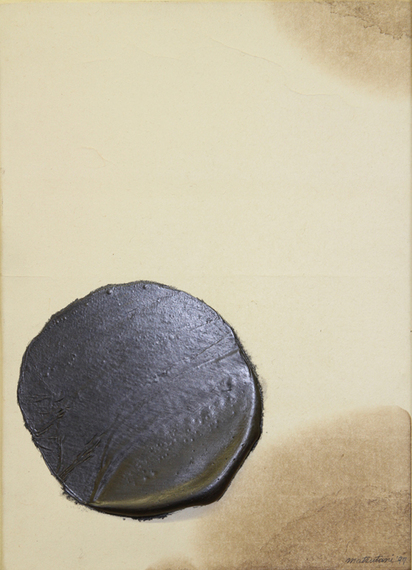 Takesada Matsutani, Cercle 97-7-2, 1997, 13 1/4 x 9 3/4 x 1 1/2 inches, 33,5 x 24,5 x 3 cm, wood glue, graphite, marouflaged and varnished paper on canvas
Moving forward in time we see two of Takesada Matsutani's mixed media works titled and dated Cercle 97-7-2 (1997). Each evokes a rather vague narrative played out with both the solid and dimensional, and the flat and somewhat nebulous as it builds in depth and meaning over time spent looking. It's as if the artists is saying stop and contemplate the simple and you will find the profound. A third piece by Matsutani, Black 7-2002 (2002), uses much different references and an obvious horizon line that divides a dead and darkened ebony sea with a wind swept cloud emblazoned with the word 'BLACK.' This last piece is as ominous as the other two are pensive as the artist offers us a range of conceptual options achieved with few elements and varying degrees of actual physical depth and dimension.
Nearby is Ron Gorchov's Martha (2009), one of his familiar concave shaped canvases that suggests something vaguely familiar as it reports rather effortlessly, content that is elegant, edgy and timeless.
The newcomers to the three dimensional type are Linda Besemer, David Ryan and Sven-Ole Frahm. Besemer goes to great lengths to project a surface that looks 3-D with suggestive optical patterns and tonal blending with only the slightest bit of texture or raised surfaces. Ryan and Frahm, on the other hand, clearly carry the torch for the aforementioned artists in the exhibition, as well as pay homage to artists like Lucio Fontana, Lee Bontecou and Frank Stella (the artist who inspired the premise of this exhibition) with a number of unforgettable works.
Working within square-ish or rectangular parameters Frahm transmits a clearly up-beat take on form and composition while wooing us with surprises both subtle and satisfying. In Untitled (#155) (2012), my personal favorite work in the exhibition, the artist utilizes back painting in one spot to add a subtle green cast to the wall behind; modulation in color to one patch of pink; and in a few spots, the linen canvas is cut and allowed to flow forward and down. A wildly vibrant painting that will stay with you long after you leave the gallery.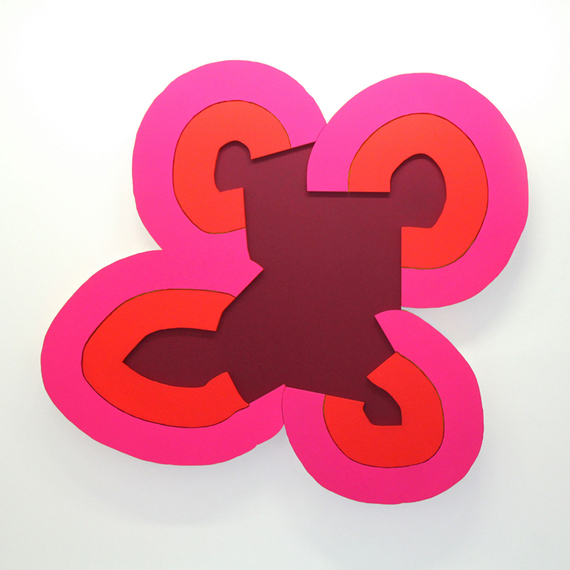 David Ryan, n2yo.com/?s=20580, 2013, 76 ½ x 84 x 4 inches, 194,3 x 213,4 x 10,2 cm, acrylic on gator foam
Ryan offers a more organic tone to his shaped and painted surfaces. They too are celebratory, but in a very different way. Here we see both centrifugal and centripetal forces working simultaneously as the colors and shapes play tricks with the eye. And like Imai's two pieces mentioned earlier, these works command, both emotionally and physically, much more than the space they occupy.
A wonderful exhibition, don't miss it. The exhibition ends February 28th. Gallery hours are Tuesday-Saturday 1 pm to 7 pm, Sunday 2 pm - 6 pm. The nearest subway station is Delancey/Essex Street from lines F, M, J, Z. The nearest bus is M15 or B39.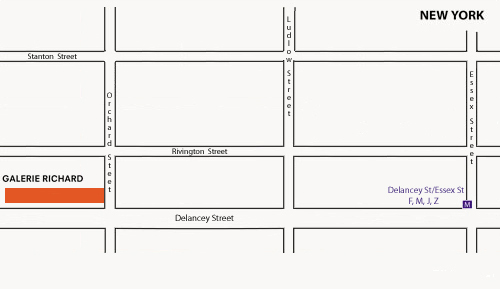 Related
Popular in the Community