Keeping "The Monster" Abyss fresh for viewers of IMPACT Wrestling after a historic 14-year run in Total Nonstop Action can be "challenging," admits grappler Chris Parks. The TNA Original behind the company's masked madman credits his character's latest television rebirth to two legendary rock stars.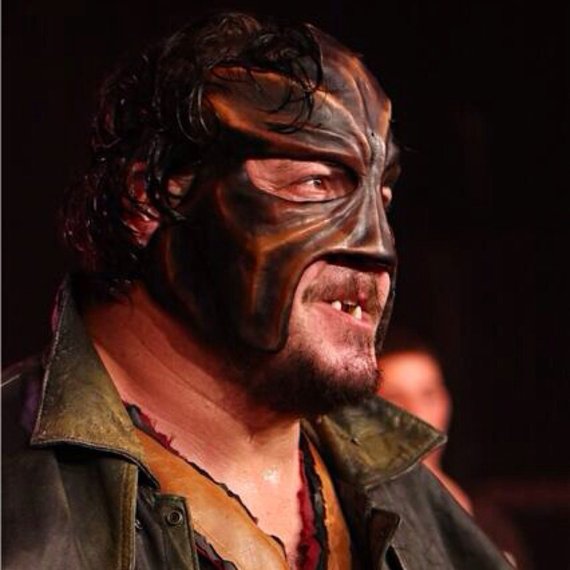 "Billy Corgan has been a big catalyst. He's taken it under his wing," admitted Parks of The Smashing Pumpkins singer's hands-on approach to the latest incarnation of his TNA persona. "He went to Marilyn Manson for us, for the company, and secured the rights to 'The Nobodies' -- the music we're using -- which I think is huge."
Beginning with IMPACT Wrestling's January jump to new cable home Pop TV, Abyss began a creepy new chapter in his storied career. Leading 'Decay' and partnered with "Crazzy" Steve and TNA newcomer Rosemary (recent signee Courtney Rush), the trio quickly emerged as major players in the company's tag team title picture.
"It is different than anything else happening on the show," Parks said of Decay's eerie on-screen presentation during a recent telephone interview. "It's a newer edge, but it's been really cool so far."
Only fitting, of course, is the veteran wrestler tracing much of the concept's origins to Corgan, TNA's Senior Producer of Creative and Talent Development. With multi-platinum selling rock act The Smashing Pumpkins, Corgan has alternately delved into gothic rock, heavy metal and was a defining player in the '90s grunge movement. Elements of all are present in Decay.
Portrayed as societal misfits, the masked Abyss and marginally zombie-like Steve and Rosemary -- with their smudged makeup and disheveled appearance -- make an imposing and gruesome collective. As Parks noted, it hearkens back to Abyss's early TNA days, which saw him as an otherworldly monster hell-bent on destruction.
Watch: Marilyn Manson Gives TNA Wrestlers Decay His Thumbs Up

Decay enters the ring to "The Nobodies," a song lyrically inspired by the Columbine shootings and taken from Marilyn Manson's 2001 album Holy Wood (In the Shadow of the Valley of Death). A series of promotional vignettes airing on TNA's weekly Tuesday night broadcasts further paints the trio as sadistic outcasts and feature clips of Manson taken from the song's music video.
According to Parks, this is a major nod to the rock star's belief in the group. Noting Manson is a "household name in rock 'n roll," he is "very flattered, very humbled" by the controversial icon's stamp of approval.
"To have that endorsement adds instant credibility to [TNA] not only as a company but us as a group," shared Parks. "Decay, the whole image and perception of the group, it adds a level of credibility having Marilyn Manson behind it with the music."
And it provides an exciting new beginning in an epic career for Parks, who as Abyss has collected nearly every title in TNA. In fact, a 2006 victory over "The Icon" Sting made him only the second masked wrestler in history (after Blue Demon, Jr.) to win the National Wrestling Alliance World title, the precursor to the current TNA World championship.
"There's no doubt about it; I've had a terrific career," conceded Parks. "There's no regrets. I've been with IMPACT since the very beginning, and I think I'm more proud of that than anything else in my career. Longevity in this industry is something to really be proud of, and I am."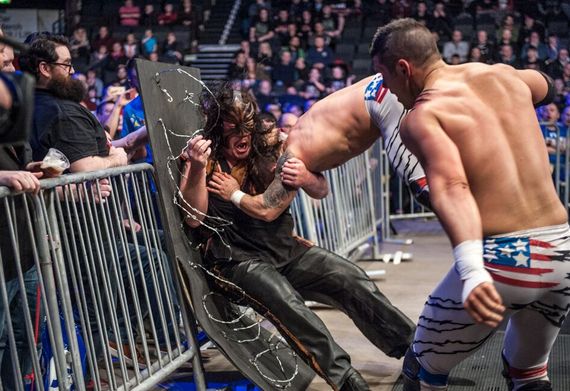 Former TNA World Tag Champs The Wolves Slam Abyss Into Barbwire.

Though he has accomplished everything an individual could hope to in pro wrestling, and rightfully brags being one of only two competitors with TNA since its first broadcast (the other being "The Cowboy" James Storm), Abyss isn't hanging up his mask -- or retiring weapon-of-choice Janice, the nail-infested 2x4 -- just yet. Both he and TNA see big things ahead for Decay, he stated.
"Obviously TNA IMPACT and the powers-that-be do want to develop the tag division, which maybe they've slacked off on a little bit," said Parks, who foresees Decay being a major part of that revitalization. "The tag team division right now is heating up, where for a while it wasn't quite as featured."
A key factor in that equation, it would seem, is Decay. Parks said the group "didn't waste any time" and "hit the scene running," attacking then-World tag team champions The Wolves -- Eddie Edwards and Davey Richards -- in their debut. They also "got into it" with the re-united Bobby Roode and James Storm, now five-time TNA World tag team champions as "Beer Money."
Clearly, TNA higher-ups are onboard with Decay being integral in the division as well. Their first IMPACT program was a bloody feud with Edwards and Richards for the TNA tag belts.
By defeating the champs in a nontitle match and stealing the physical belts, the new group finally got a shot at gold under Monsters Ball rules -- Abyss' anything-goes specialty. Though they came up short-handed in the confrontation, they certainly proved a force to be reckoned with in TNA. According to Parks, it only foreshadows future greatness for the group.
"Rosemary is very young, very athletic, very passionate... 'Crazzy' Steve, he hasn't even had a chance to scratch the surface of what he can do," stated Parks.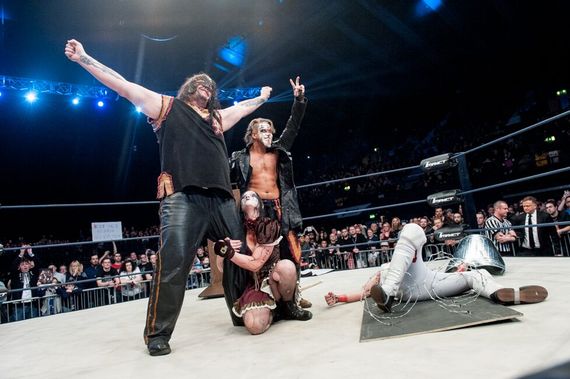 Abyss, "Crazzy" Steve & Rosemary -- Decay -- Stand Victorious.
(Well, Actually, Rosemary Is Kneeling.)

"I think this is really going to do wonders for them," he continued. "As young, up-and-coming talent with the company, and me being kind of the old, grizzly, wily veteran, I think it's a great mixture of old and new. There's a lot of excitement for it."
Recalling how difficult it was for him to break into pro wrestling 15 years, Parks says it's even more difficult now. That's why he is pleased he can help two "great young talents" like Steve and Rosemary gain their footing in TNA.
"I think people are going to be very surprised," he said of his tag team partner, who he admits "hasn't had a chance to show what he can do in TNA" previous to Decay. "Steve can do anything! He can jump to the top rope. He can be crazy. He can get hardcore. He can fly around. You're finally starting to get to see some of that now."
As for Rosemary, her character remains a bit more mysterious since her TV arrival just a couple months ago. Still, Parks says she is a future star. "I think she's really going to raise some eyebrows," he said.
Meanwhile, the TNA legend is grateful for the prominent position the company has given Decay since the group's formation -- and ready for the journey ahead. That includes living to the ample expectations backing from superstars like Corgan and Manson brings. Of course, he plans to do it as only Abyss can.
"We've held up our end of the bargain so far," he concluded. "We just need to keep pushing, moving forward and beating people up to get those opportunities we need and deserve."
Watch IMPACT Wrestling every Tuesday night on cable's PopTV (formerly TV Guide Channel). Check local listings for times and availability.

Popular in the Community