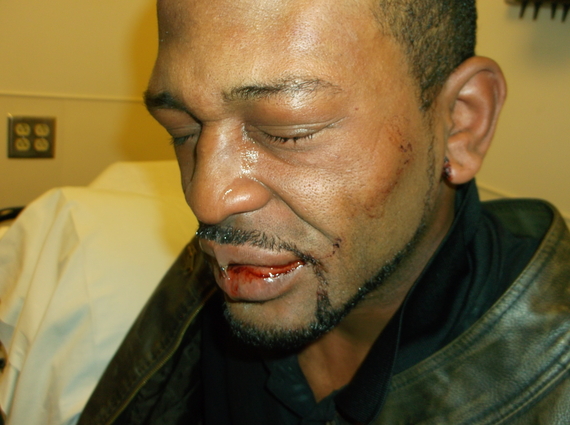 Benjamin Mann sits in a hospital in Champaign after an incident with police in March 2014. Officer Matt Rush, whom Mann sued, filed a recent lawsuit against Champaign's police chief and the county's NAACP director. Submitted photo.
In the truth is stranger than fiction department, Champaign Police Officer Matt Rush filed a civil suit earlier this month against Champaign Police Chief Anthony Cobb and local NAACP Executive Director Patricia Avery.

Through his lawyer, Matthew Zopf, Rush alleged that Cobb inappropriately let a driver with a lapsed driver's license go without penalty and conspired with Avery to deny Rush of his job after Avery's alleged comment that she wanted Rush's "head on a platter."

In so doing, Rush joined the ranks of Robert Rialmo, the Chicago police officer who sued the family of Quintonio Legrier, the black teenager he shot and killed, for more than $10 million for alleged emotional distress.

Although Rush did not kill anyone and the sum he is asking for is far more modest, the fact of his filing suit against Cobb and Avery is no less a cause for head scratching than Rialmo's suit.

In a statement Champaign City Attorney Frederick Stavins said the city will seek dismissal of Rush's complaint as soon as is practical.

Like Rialmo, Rush is white.

And like his Chicago contemporary, he has been sued due to his behavior on the job.

In Rush's case, it has been multiple times.

In fact, since December, the city has settled three cases against him for $320,000.

Like Quintonio Legrier, all of the people involved in these cases were black.

This group does not include Precious Jackson, who sued Rush in February for allegedly slamming her to the ground, punching her, spraying her with pepper spray and kneeing her in the thigh and groin area.

These actions caused Jackson to lose her unborn child, according to the complaint.

Rush denied wrongdoing.

When I spoke with State's Attorney Julia Rietz about Rush earlier this month, she said that a settlement is not an admission of guilt.

This is true.

But it's also true that City of Chicago has paid more than half a billion dollars for police misconduct since 2004, according to an analysis last year by the Better Government Association.

None of those settlements involved an admission of guilt, either.

Beyond the lawsuits, Rush's actions on the job led Cobb to fire him in 2014.

Cobb terminated Rush after three incidents in which he had been found by the department to have sworn at a resident during a confrontation, punched a woman while attempting to control her, and lied about the punch.
Rush exercised his legal right to arbitration.

In April 2015 arbitrator Fredric Dichter overturned the decision and reduced Rush's punishment to a series of suspensions.

The decision distressed many in Champaign's black community, according to Avery and Sundiata Cha-Jua, a professor of African-American history at the University of Illinois, Urbana-Champaign and a community activist.

When we spoke in January, Avery and Cha-Jua were waiting to see if Rietz would file criminal charges against Rush.

Last month she announced that she would not do so.

Rietz outlined her decisions in a seven-page memo, saying that the matters were "handled appropriately" in internal discipline and in civil court proceedings.

She added that the evidence from the incidents did not provide a reasonable likelihood that her office would be able to meet the standard of proof required for the filing of criminal charges.

"That does not mean I don't have concerns about Matt Rush as a police officer," said Rietz, whose office will not rely on Rush as a witness for the prosecution in criminal cases. "He is not someone I want in my community any more than anyone else does."

It's impossible to compare Rietz's desire not to have Rush in the community with others' concern about him.

But it is clear that for a community that is asking pointed questions about what recourse it has to hold police accountable after the overturning of Rush's firing and Rietz's decision not to file criminal charges, Rush's suit was another blow.

Longtime activist Martel Miller said the African-American community in Champaign had worked hard to build confidence in the police after the fatal shooting in 2009 of Kiwane Carrington, an unarmed 15-year-old.

The incidents with Rush, including his lawsuit, have undermined that progress.

"This has totally destroyed the trust in the police, especially with the younger generation," Miller said.
Related
Popular in the Community