"I didn't always feel a connection to pop stars," admits Elle King.
The musicians who dominated radio during her time as a quirky teen in Ohio simply weren't "relatable," King shared. Now 26, her own single "Ex's & Oh's" is burning up airwaves -- and the two-time Grammy nominee is coming to terms with what it means to be "pop star" herself.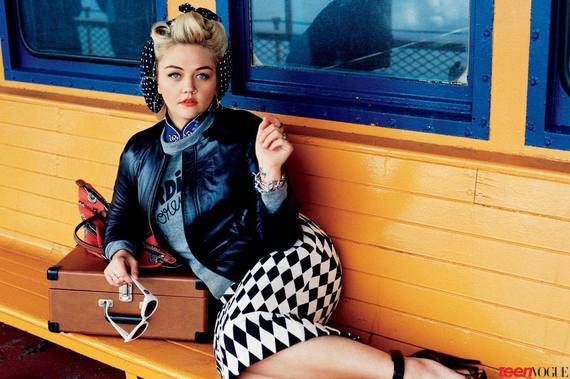 "The 'pop' I grew up knowing was N'Sync and Britney Spears and Backstreet Boys," shared King, a headlining act at the 2016 Dinah Shore Weekend in Palm Springs. "There's nothing wrong with that, but it's changed. The level of mainstream, and what's considered mainstream, is no longer just one genre."
For that, King must be grateful! Her 2015 full-length album Love Stuff puts musical influences from pop-punk girl groups like The Donnas and The Runaways to Blondie and even Hank Williams through a blender. The multi-instrumentalist's resulting concoction of rock, pop, blues and country is uniquely her own.
"I kind of developed a 'non-genre' type of music, I guess," stated King during our interview for "Party Foul Radio with Pollo & Pearl," promoting her April 1 concert. "I wake up in a different mood every day, so my music, I guess, reflects that in a weird way."
The singer's road to mainstream pop stardom has taken more than a year, with an array of stops along the way. "Ex's & Oh's" first dominated Billboard Magazine's 'Alternative' and 'Rock' charts. In early 2016, the song hit the Top 10 on the magazine's "Hot 100," earning the talented newcomer two Grammy nominations in the process.
Now a full-fledged pop-rock phenom, King is taking a different route than the musical stars she grew up hearing on radio. She hopes the authenticity of her music, and decision to lyrically bask in her own imperfections, make her more "relatable" than most of her contemporaries.
"Everybody wants to be able to relate to someone they're listening to. That's what music is for. It evokes an emotion, and you form a bond and connection with that," she stated.
"I think a lot of people hear my music and think, 'Shit, I could be her friend!'" King continued. "And, you know, I think that's true!"
Listen to Grammy-Nominated Elle King on 'Party Foul Radio with Pollo & Pearl.'
Also interviewed are DJ Chris Cox of 'ThunderPuss' fame
& International Mr. Leather 2015 Patrick Smith.
It might be particularly true when King lands in Palm Spring for Club Skirts Dinah Shore Weekend. Five full days of celebrities, pool parties, dancing and debauchery in the deserts of Palm Springs are already in full swing. Having kicked off Weds., Mar. 30, the world's largest lesbian party continues through April 3 with some of the biggest names in entertainment.
In addition to King's concert April 1 at Palm Springs Convention Center, the weekend is packed with other star-studded activities. Comedian and Orange Is the New Black star Lea DeLaria does stand-up. Lesbian-fronted band Hunter Valentine and bisexual hip-hop star Angel Haze perform. DJ sets by Samantha Ronson (once infamously linked to Lindsay Lohan) and Orange Is the New Black's "Pensatucky," actress/DJ Taryn Manning, are sure to be hits.
"I hear wonderful things," said King of the event.
For King, it's an opportunity to perform for a wildly enthusiastic audience, regardless of sexual orientation. According to the star, she views this as "another big festival, a giant party" rather than something exclusively for women-who-love-women.
Watch: Elle King's Grammy-Nominated "Ex's & Oh's"

"I want to choose my words carefully, because I think gay rights is very, very important," King stated, "But I see gay people as just 'normal people'... My best friend is a lesbian, but I don't see her any differently than any other person. It's just who she is."
"I love gay people as much as I love straight people," she continued, though she did confess, "I sometimes wish I was a lesbian, because I'm in love with a lot of women."
Then again, listening to the vampy blond, you start to wonder if she isn't perhaps having a mild identity crisis! Several months ago, I personally sent King a Tweet asking what she might think of drag queens performing her music. "I dream of it everyday!" she responded.
"I kind of feel like I am a drag queen," King later explained during the G Radio LGBT show. "I'm such a tomboy, but I get all dressed up, put on my lashes and love my wigs and everything.
"I saw a video of someone lip-syncing and performing my song in drag, and I thought it was the coolest thing," she concluded. "It's something I love and thing more people should do it!"
Catch Elle King in Concert at The Dinah Shore Weekend, Fri., April 1, in Palm Springs. For details, visit: TheDinah.com.
REAL LIFE. REAL NEWS. REAL VOICES.
Help us tell more of the stories that matter from voices that too often remain unheard.