Exercising power and control is a drug in itself. Young women and men are discovering this ability to covet entry into what used to be a hush-hush society, that is rapidly gaining momentum.
"He [the sugar daddy] almost fed off the fact that I was student. It was so effortless. It's fun to feel the tinge of power," said *Alexis Dunn, a newbie in the sugar bowl.
Welcome to the world of "sugaring" where, for a monthly fee, men and women can search for eye candy, someone to dote on them with affection in a mutually beneficial relationship.
SeekingArrangement.com is a self-proclaimed platform that provides"mentorship and quality companionship" for college students -- more often than not, young women. These women, "sugar babies," are showered with riches by much wealthier, older men, "sugar daddies," in exchange for companionship. It is inevitable to think the only thing men seek is sex. However, this new phenomenon is sweeping colleges across the nation, and the website skirts the issue of prostitution by promoting "Sugar Baby University," a platform where young women can exchange "companionship" for guidance, and in some cases, intimacy.
The website launched in 2006 and has over 5 million users of which 2 million are college students, according to the website's statistics, which tracks student registrations with their (dot) edu email addresses. The University of Texas at Austin ranks third out of 20 universities with 163 new sign-ups, according to SeekingArrangement's 2015 annual report. Other Texas colleges include Texas State University with 138 new sign-ups and University of Houston with 104 sign-ups.
The United States staffs the highest number of sugar babies in the world. Canada, United Kingdom, Australia and Colombia follow in descending order. In the U.S. these types of arrangements are not considered prostitution because there is consent from both sides.
Dunn, an advertising student at The University of Texas at Austin, entered the sugar bowl in February 2015, a few weeks before Valentine's Day. Her curiosity about sugaring stemmed from research and hearsay. She took a chance with a friend and set up a profile as a fluke. The joke quickly became a hobby after her first arrangement surfaced, a suave district attorney from Virginia, who took Valentine's Day to a whole new level in exchange for virtual companionship.
"He told me I deserved to have a valentine. I made an Amazon wishlist and everyday there was a gift sent to my apartment complex," Dunn said. "This was the fuel to the fire."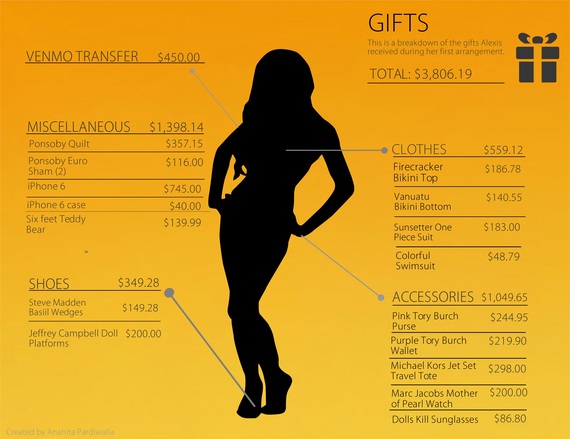 On average, "sugar babies" earn $3,000, which can be broken down into various categories. Most "sugar babies" receive expensive gifts, such as handbags and shopping trips. Seeking Arrangement categorized the average allowance spending into six categories.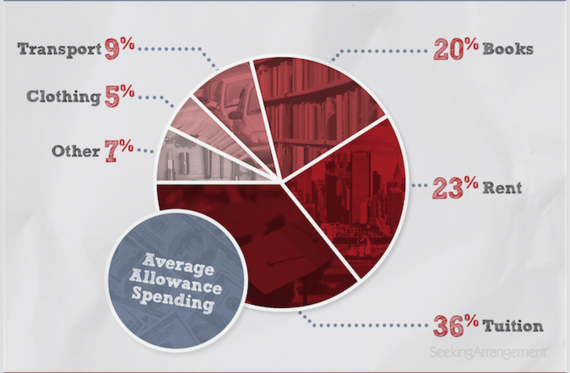 Courtesy of Seeking Arrangement
Risks are not unique to sugaring and can potentially occur in a normal dating setting. To minimize risks, Seeking Arrangement has levels of subscription for it's users. While sugar daddies pay $49.95 per month for a premium membership (or $1,200 a month for Diamond Club certification, which requires verification of his net worth through tax-return data), sugar babies can sign-up for free. It is easy to obtain a school email address, therefore any young adult is eligible to become a "sugar baby". A sugar daddy with Diamond Club certification has a green light for low-risk and a possibility for a large allowance, which is sugar baby jackpot. If a sugar daddy willingly spends money for certification, he is an ideal candidate.
There are many men and women on the website who demand sex in exchange for compensation in the first message and there are others who genuinely seek companionship. Dunn said 9 out of 10 times she's propositioned for sex.
Lisa Ling, a reporter with the Netflix Original show "This is Life with Lisa Ling," interviewed Seeking Arrangement founder Brandon Wade and discussed the mechanics of the website as well as his reason for starting the phenomenon.
At first glance, no woman noticed his intellect and he didn't have much luck with dating websites.
"On most dating sites there is no way for your intellect to stand out," he said.
According to Wade, the average sugar baby is 27 years old who is currently enrolled at a university or has a degree. A typical sugar daddy is 40 years old and earns $250,000 a year or more. Roughly 40 percent of "sugar daddies" are married. Wade's other ventures include MissTravel.com (for travel hookups), and WhatsYourPrice.com (where users bid on dates).
Dunn, 21, has been in three arrangements with men who are about 50 years old. The first arrangement was virtual and seemingly normal, similar to her second one. Her third arrangement required more effort on her part. The man was anxious about being exposed. None of these men were married at the time.
This website allows individuals to be explicit about what they are looking for. Many sugar daddies are seeking a young adult to invest their time and money in. Sugar babies welcome this investment for their own well being. Many deem this as a hobby, something fun to experience. However, more often than not, sugar babies need the funds in order to provide for themselves and help kickstart their goals in life.
Brooke Urick, spokesperson for Seeking Arrangement, said being a part of this website and learning about sugaring has been eye-opening. She spoke to many people who have had success with the site and now has a better understanding of all types of relationships.
"I think the more college students who are being honest about what they want and deserve in a relationship, the better. If college students are choosing to find relationships that help to fund their educations and futures, then they are doing it right as far as I'm concerned," she said.
In 2009 the website launched "Let's Talk Sugar," a YouTube show detailing their most popular blog posts. Videos showcase sugar baby essentials such as "Dressing for a Daddy" to how to avoid "Salt Daddies," a certain genre of daddies who seem saccharine in the beginning only to forgo generosity well into the arrangement.
In an episode of the show, sugar stylists encouraged young babies to take their bargain wardrobe to a whole new level. Dunn recalled how she "turned up" her confidence level just by dressing the part. In the end, daddies want the sprightly and vibrant arm candy they're essentially paying for.
Conventional dating methods are similar to that of sugaring. The stigma stems from the fact that the man or woman taking the role of a sugar daddy or momma is twice, or in some cases thrice, as old as the sugar baby. However, regardless of the age difference, at its core sugaring involves people meeting and attempting to foster a connection based on commonalities.
According to a blog post on the parent website, "More often than not, a sugar relationship will resemble that of a girlfriend-boyfriend relationship. There are real connections and real possibilities at romance, something that is not in the realm of possibility with an escort or prostitute. Just because a relationship doesn't follow the traditional rules of courtship, doesn't mean it isn't valid. It also doesn't mean it's illegal."
It does not even cross my mind that they're older. I feel weird about it because I feel as though I'm supposed to feel weird about it, but I don't.
Dunn recalled how normal her first date seemed despite her nervous instincts.
"I'd show up, we'd have dinner, glass of wine and talk about our lives," she said. Soon after, he took her gallivanting around town for spontaneous shopping excursions and movie dates. People glanced at her differently but most onlookers deemed she was with a "mentor or an uncle."
"These men are business professionals so they know how to behave in public. They aren't horny and ravage teenagers so it was never too weird," she said.
Throughout her first year in the sugar bowl, Dunn remained emotionally removed from her sugar daddies, but kept an open mind about developing "dating-like" emotions. In her mind, she was dating a much older, richer man. Age didn't bother her. Sex was on the table, but on her terms. She wanted to develop a physical relationship that was organic not forced. However, she wanted to stay away from exclusivity. Her second arrangement ended for this reason.
Nothing is more important for Dunn than her career. She is attending UT on scholarship and her parents support her living expenses. In her parents eyes, her rich boyfriend is showering her with affection. If they knew the truth, all hell would break loose.
"I'm not selling myself for what I'm getting. I approached it as almost a relationship in itself," Dunn said. "This is a hobby for me."
Most sugar daddies are business professionals and prefer not to have their lives exposed to the public. Many ask for discretion when it comes to social media.
"You are on a website where men are looking for younger girls so we treaded cautiously," she said.
She was on alert at all times and checked in with herself to solidify each decision she made throughout her respective arrangements.
"If I feel like he has done something or said something or acted in a certain way I am uncomfortable with, I will analyze my thoughts. If he is trying to control me or the relationship in any way, I find it as a red flag and end the relationship," she said.
For those who prefer local sugar daddies instead of virtual arrangements, SeekingArrangement recently launched an Android app that encourages consumers to view this as dating and pursue it further.
"I would have to consciously make the decision to get on the website: pulling out my laptop and logging in. Now with the app, I can check my messages anywhere and respond faster," Dunn said.
Dunn dated a man looking to be a father figure, a mentor, to a daughter figure. Her part in the arrangement is listening to men vent about their lives and act as a "shoulder to cry on." She doesn't disclose her personal information, but has no issue talking about her academic life and her goals.
"I feel like I can be more of myself around them. I don't owe them anything. They are there for me so I don't feel like I have to lie about anything or hide anything," she said.
We are a culture that glorifies materials. We want instant gratification and we want it now. Seeking Arrangement enhances our materialistic instincts. Dunn isn't ashamed of her sugaring hobby. Her peers want to cross the threshold into this clandestine affair based on her good experiences.
Reddit user Hedonester is a male sugar baby who experienced the dark side of sugaring which encompassed greed and prostitution. Though never having a "sugar daddy" per say, he dated two millionaires on the cusp of turning 18 years old.
"Leading a double life can be very difficult and tiring, and constantly playing the fantasy (be it for an emotional affair, whirlwind sexual adventure, or father-daughter/son bond that a lonely old widower is willing to pay for) can be emotionally draining," he said.
There's a fine line between job and hobby. That line is the "taxman." As a hobby, there is low risk when sugaring. It becomes illegal when babies are dodging the government and seeking ways to "lock up" their savings.
Hedonester said compensation usually turns into a rainy day fund when leading a double life. Experiences vary with each arrangement the respective parties involved.
Dunn exhibits very real concerns about her hobby and takes utmost precautions to ensure her safety.
"[This coming back] to haunt me is a huge concern. I'm not doing anything illegal. I'm just dating older men," Dunn said.
It's so empowering for me to know that I have 100% control. Relationships are weird but with this it's all control.
Seeking Arrangement is hosting a bash in honor of their 10th anniversary in Hollywood, Calif. on May 20. Unlike past mixers, there will be no media at this event. Daddies can feed their sweet tooth with newbies in the sugar bowl or seasoned babies and can mingle to find new arrangements that last for the night or longer.
*The name has been changed to protect the privacy of our source.
Related
Popular in the Community