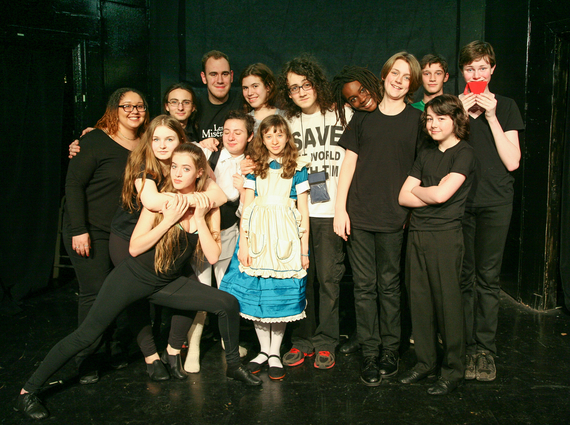 (Photo: Katherine Bourbeau)
Firebird Youth Theater can't be stopped. The New York City theater company, whose shows are directed, produced, and acted entirely by homeschooled teens, is currently gearing up for its fourth off-Broadway production. Buoyed by the success of their last show, an adaptation of Alice's Adventures in Wonderland, Firebird are putting on their own adaptation of another nineteenth century classic, Robert Louis Stevenson's Treasure Island.
Firebird's sixteen-year old director, Leo Lion, has been deeply inspired by exciting and inventive theater ensembles such as Bedlam and PigPen Theater Co. and he hopes that his young company will bring Treasure Island to life in similarly inventive and energetic ways.
I sat down recently with Leo, who is also Firebird's founder and artistic director, and seventeen-year old Thomas Pflanz, Firebird's stage manager. We talked about the founding of Firebird and the highlights and challenges of being a teen-run theater company in New York City.
How long have you been working together as director and stage manager and what prompted you to start Firebird?
LL: Firebird Youth Theater started in 2013 with the mission of young people making art happen - I founded it shortly after a community youth theater I'd worked with for years closed down, because I felt that as the youth it was our job to carry the torch.
TP: We've been working as a stage manager and director going on three years. I started stage managing for Leo during Firebird's second show, eXpresso. However, I started working with Firebird during their inaugural production as a stagehand and prop master.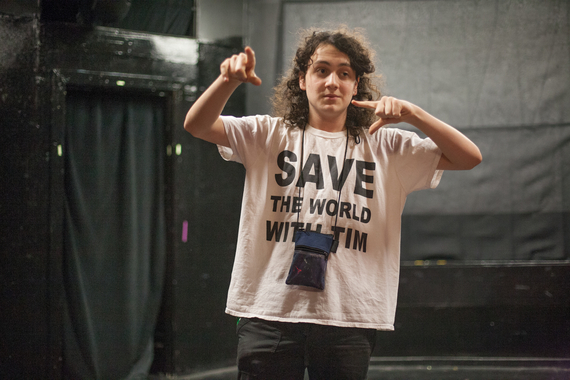 Leo Lion (Photo: Katherine Bourbeau)
What are the highlights of being an entirely teen-directed, produced, and acted company?
LL: Creative agency is a big highlight for me. Being able to create exactly what we set out to create. We are youth theater that comes directly from the youth - when we rehearse, when we perform, there is some really fresh energy in the room. And I think because I'm young, and because Thomas is young, our teens really feel like we're on their level, like we're collaborating. You don't see teens every day excited about being part of a stage crew, or teens passionate about being a stage manager.
TP: You definitely get a different feeling from a teen-run production. The cast feels more like a cohesive unit, as we're all around the same age.
LL: Certainly expectations are a challenge. We're not what people expect us to be. When people find out I run a theater company, their responses are often "Oh, how neat!" or even "cute!" The challenge is separating ourselves from this amatueristic image, which means we have to work twice as hard to make our work exceed expectations. But the responses I've heard from people after seeing our shows are an altogether different tune - audiences are thoroughly impressed.
TP: The challenges have a similar cause as the highlights. As we're all around the same age, it creates some issues of respect, where we're treated less like a director and stage manager, and more like friends. Fortunately, as the years go on, it's becoming less of an issue.
Putting on off-Broadway performances is an ambitious venture. Why did you decide to do this?
LL: I am a huge theater geek - I'll often be in an audience three or four times a week. We are in New York, where there is a beautiful bounty of theater. So for me, it's about holding ourselves to professional standards. Firebird rehearses mere blocks away from other Broadway shows. We're not a school theater, and it's important for me to erase the line in the sand between our age and the professional theater world.
TP: I love to create theater where we have more than one performance, because it is more of a challenge for the actors (and myself), and it's so interesting to see how everyone changes over the multiple performances. It also means that we can excite and entertain a larger range of people.
You are both homsechooled (as are most of your actors and crew). How has this helped and/or hindered the whole process of putting on Firebird shows?
LL: Our schedules (and theirs) are certainly more flexible. We can distribute our time differently than kids who are in school all day every day. I would never have even gotten into theater if I wasn't homeschooled, and I certainly wouldn't put the time I do into it. But it's also a question of creative spirit, something I think the school system can often diminish. Not to rag on schools or school kids, but it's a different world.
TP: Being homeschooled means that it's possible to have rehearsals during the school day, which makes scheduling rehearsals, possibly, easier, as well as having an easier time missing out on any classes during tech week.
What do you enjoy about working with each other?
LL: Thomas is endlessly dependable and pragmatic - he keeps my feet on the ground when my head is in the clouds. He's also someone that people take seriously, which is great to have handy when you're a bit of a goofball. But he has a sense of humor, and a deep appreciation for art, and I think that's what makes him so great to work with - he understands where I'm coming from, I can count on him to love where I'm going, and he supports me every step of the way.
TP: Leo is always so brilliant and creative, and has such a positive, and contagious, energy when he is directing. He has so much fun with his work, and this makes working with him a joyful experience. It's also been wonderful to watch as he's grown as a director, and as a person, over the past three years.
What is one of the most memorable Firebird moments for you?
LL: Being with my cast at National Youth Theater Awards in 2015 was a real honor. Alice's Adventures in Wonderland was nominated for two and received three awards - for Outstanding Ensemble, Lead Actress, and Direction. To have Firebird in its third year be recognized in that way was amazing for all of us - and at risk of sounding smug, I was the youngest national-award-winning director in the room. So that was crazy.
TP: For me, the most memorable moment with Firebird is from this year's production. We were thinking of staging for a swordfight scene, and Leo says something like "Ah! Then, we can have someone jump up on the counter... Wait, does that make sense?" He turned to me. My face, I can only imagine, looked like a combination of angry, concerned, and incredulous. My eyes were probably the size of saucers. I shook my head "no" with vigor. He then said "Yeah, okay. Nobody's gonna jump up on the counter".
Do you plan to go on working together into the future?
LL: Oh, there's no doubt about it. Thomas is an amazing friend, and a perfect partner - in a world this competitive and complicated, you don't let go of a find like him. Here's to much more work to come!
TP: Absolutely! As long as Leo can put up with my occasional backseat driving (mainly it's me telling him not to jump up on a counter made up of crates), I want to continue working with him. For me, the great thing about working with Firebird is that I'm doing what I love, what I want to do with the rest of my life, with my best friend.
Treasure Island opens on May 5th at the Roy Arias 777 Theater - 777 8th Avenue (between 47th and 48th Street), 2nd floor, New York, NY. Tickets are available at https://web.ovationtix.com/trs/pr/957232
REAL LIFE. REAL NEWS. REAL VOICES.
Help us tell more of the stories that matter from voices that too often remain unheard.