Street Art events which pair local and international talent with bare walls continue to multiply in unexpected locations around the world as young Street Artists and their fans push forward this D.I.Y. scene that had early roots in graffiti. From festivals and week-long events in Toronto to Melbourne to London to Paris to Stavanger (Norway) and Grottaglie (Italy), the first worldwide people's art movement continues to enliven previously moribund areas of cities and engage local conversations about culture and public space.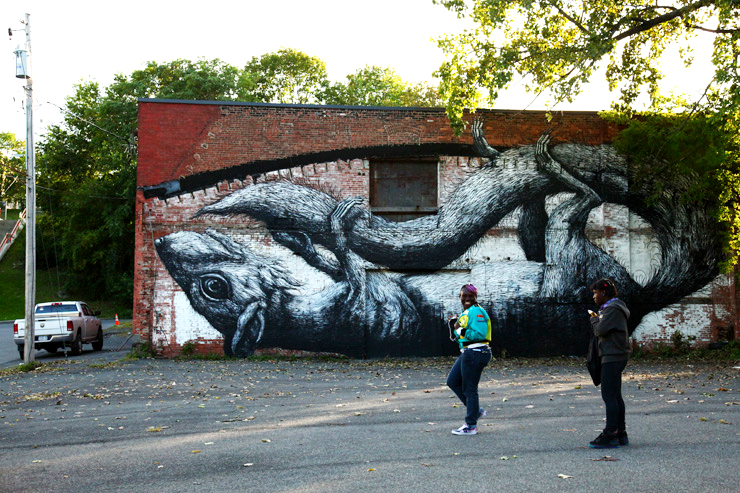 Two youth pose in front of a new piece by Street Artist ROA in Albany, New York (photo copyright Jaime Rojo)
After a successful first tentative "Living Walls" event in Atlanta last year, the city of Albany, New York had its first "Living Walls: Albany" street art show last week. The themes weighed heavily toward figurative surreality and the animal kingdom aesthetically, and toward a broad discussion on the appropriate use of public space for art.
Mostly, we just saw people stop and stare as these pieces were going up in their neighborhoods, and we watched as kids could barely hold back their enthusiasm and curiosity. For some areas, this was the first time any new visuals had appeared in years, unless they were pitching tobacco or soft drinks.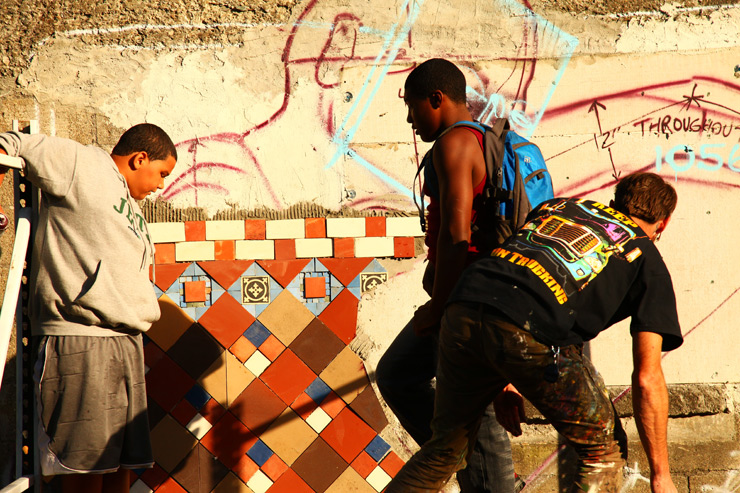 Street Artist Overunder with his assistants Roberto and Messiah (photo © Jaime Rojo)
As Street Artists installed new works on walls around Albany the common story was the level of engagement of adults and kids stopping on the sidewalk, in their cars, watching the process, photographing and discussing the art, exploring the creative process. Some kids even became assistants to the artists, creating a sense of ownership, and yes, community.
During a period of retrenchment and after years of incremental cuts to arts programming in public schools and cultural institutions at every level, it would appear that an event like this is filling a void in kids' understanding of their own creativity. The organic route of Street Art's popularity has shape-shifted yet again and its emergence looks sometimes like a democratic movement, messily reaching a new generation while budgetary axes continue to fall around them.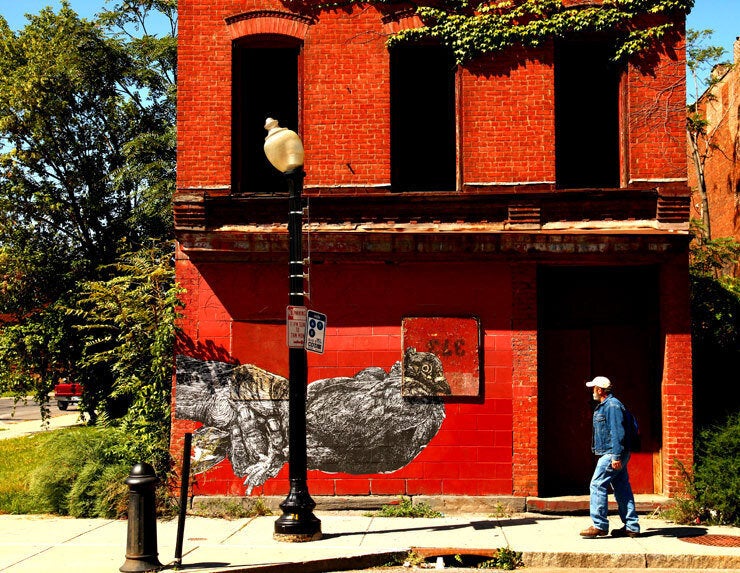 Living Walls : Albany
As the official media partner of "Living Walls: Albany", Brooklyn Street Art compiled an archive of some of the events as they took place, Archived Here
Related
Popular in the Community